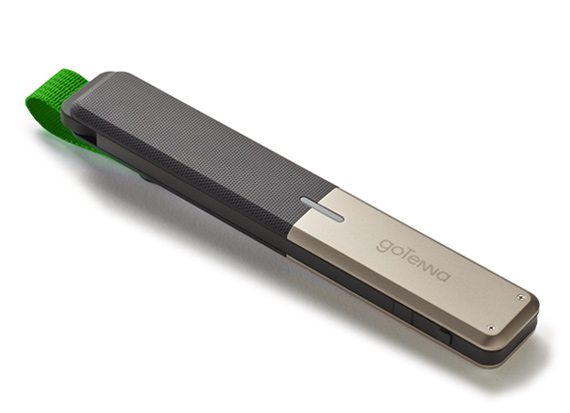 You can now text anyone without internet access or cell service, as long as you and the person you are texting have a goTenna device AND you are within a few miles of each other. How does it work? You first link your phone to goTenna via Bluetooth LE, then download the goTenna app, and register using your phone number or a goTenna randomly generated ID for those using non-phone devices (supported devices include those running at least iOS 7 or Android 4). When you send a text to any other goTenna user within range, the end-to-end encrypted message (224-bit elliptic curve) is sent from your phone to your goTenna via Bluetooth LE then to the recipient's goTenna via long range radio waves (151-154 MHz) which is then sent to their phone via Bluetooth LE. The range of the device is dependent on your surroundings and the height of the device. If you increase the height and decrease the number of obstructions of the goTenna, you will increase the range. So if you are hiking and wish to increase the range, you might perhaps hang the goTenna on an upper branch of a tree. If you can get the goTenna to an elevation of 500 feet, it is possible to attain a range of up to 50 miles. 
Sample ranges when the goTenna is at a 4-6 feet off the ground:
City street to city street: 0.5-1 mile
Forest to forest: 2-3 miles
Water to water: 4-6 miles
Desert to desert: 4-6 miles
Key app features
Send & receive text messages for free
Share locations on detailed offline maps
Instantaneous transmission within range
Automatic message retry & delivery confirmation
Individual & group messaging
"Shout" broadcasts to anyone within range
Proximal friend map & location pinging
Emergency chat
End-to-end encryption (224-bit elliptic curve) & self-destructing messages
Compatible with iOS & Android
Key hardware specs 
Antenna
2-watt radio
Flash memory good for 1000's of messages
Rechargeable Lithium-ion battery
Micro-USB connector
BluetoothLE data interface
Status indicator lights
Nylon attachment strap
Water-resistant
Dust-tight
The goTenna is a small bar shaped device made of metal and silicone (with a nylon strap) that measures about 5.8 inches by 1 inch by 0.5 inches and extends in length up to 8 inches long. It is water and dust proof and has a lithium ion battery that will work continuously for up to 30 hours and can be recharged using the provided micro USB cable. For more information or to pre-order the goTenna visit goTenna.com. goTenna has a one year warranty and is selling at half price right now for $149.99 for two devices (you may choose between purple and orange or green and blue nylon straps). If this doesn't work for you, you can always send smoke signals which can be seen for miles and cost nothing. 😉
Support The Gadgeteer
:
We may earn a small affiliate commission from purchases made from buying through links on our site. As an Amazon Associate I earn from qualifying purchases. Learn more.