We use affiliate links. If you buy something through the links on this page, we may earn a commission at no cost to you. Learn more.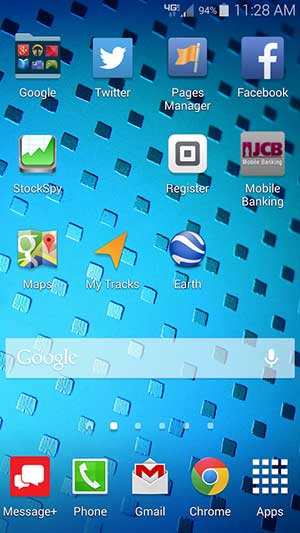 Earlier this week my friend and occasional Gadgeteer reviewer Bill Ray upgraded his Samsung Galaxy S3 to a shiny new Samsung Galaxy S5. I was surprised by a few of the features that Bill discovered after only using the phone for a couple of days. They are features that I don't recall noticing when I had a loaner of this same phone a month ago during my review. I thought that other new owners would find these Samsung Galaxy S5 tips useful, so I decided to write up a little post about them.
Ok Google
The first tip is actually one that I did know about and shared with Bill. If you place a Google search widget on one of your home screens, your phone will respond to your voice commands just by saying "Ok Google". As long as you are on the screen with that widget, you don't need to press the microphone button to initiate the feature. This can be very useful for quick handsfree commands to make calls, send texts, launch apps and ask important questions like "How old is Morgan Freeman" and "What is the meaning of life?" You can find more info on Ok Google Now commands here.
Home screen fun
Have you ever wanted to add a new icon or widget to one of your home screens only to find that there's no room for it? The S5 helps you figure out where you have space by showing you a row of thumbnails that represent each of your home screens. You'll see these thumbnails when you are trying to move an icon or widget. Don't like swiping left to right to change home screens? No problem, the S5 gives you an alternate way to switch screens. Just hold your finger down on the row of dots above the dock that represent your home screens and it will turn into a slider.
Where did the menu button go?
One change to the Samsung Galaxy S5 from previous versions of this phone is that the soft touch menu button that was located on the left side of the home button has been replaced with a recent apps button. Most apps now have their own contextual menu button located in the upper right corner of the screen that is similar to the three horizontal bars that you see above in the Pandora screenshot. But some apps haven't been updated for Android 4.4 and still rely on a dedicated menu button. Since one doesn't exist on the S5, you might think that you're out of luck for that particular application, but you're not. Just hold down the recent apps soft button and the contextual menu will appear. Yay! Hope you enjoyed these four quick tips for new Samsung Galaxy S5 users. If you know some other little known features for this phone, please share below in the comment area.