We use affiliate links. If you buy something through the links on this page, we may earn a commission at no cost to you. Learn more.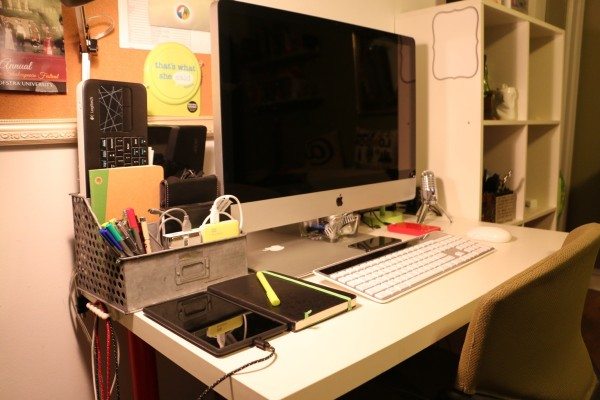 Hey everyone, welcome to my desk this time!  My room – er, I mean, office – has way more gadgets in it than these couple of photos show. I figure I'd stick to my main space to keep it short and sweet. 
My main desktop is my trusty 27″ iMac from mid-2010. Over the holidays, I decided to take it apart and replace the 1TB SATA hard drive with a 256GB SSD. It's like a brand new machine! I'm super happy and recommend doing so if you want to breathe new life into your computer. I also use a 13″ Macbook Air (late 2012), and a Chromebook which I love, when lounging in bed and strictly browsing the web. The gadgets in my silver bin usually contain my Nexus 7, Logitech keyboard k400 (for my HTPC), Kindle Paperwhite, a couple of hard drives, paper notebooks, and tons of pens. 🙂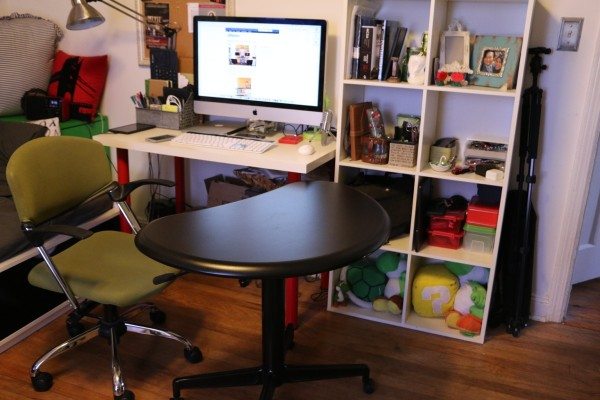 When I'm doing photos for a review, I usually place the items on my funky bean-shaped desk, covered with a color scarf or material to make it easier to see in photos.  I'd like to eventually create a small photo box like the other Gadgeteers have since my room lights tend to have a yellow tinge to them.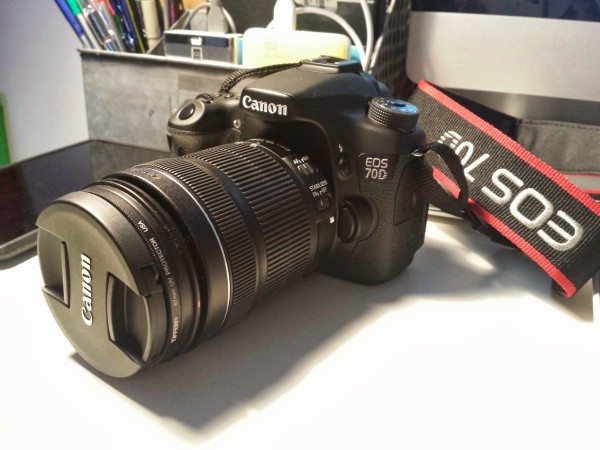 Speaking of photos, I use my new Canon EOS 70D for some of my gadget shots (I'm still learning!), a small point-and-shoot Canon PowerShot ELPH 115IS, and my Nexus 4 mobile phone.  It depends on the item, the lighting, and where I am when I do the review.   I love photography, so I need to keep using and learning about my DSLR! Missing from the photos are my LED TV, custom-built gaming/HTPC, HP Microserver N36L  running Windows Server 2012 as a test box and file server, and of a couple of Raspberry Pi's.
I hope  you enjoyed this short and sweet post about my home office. I like to keep it colorful and cool since it's my only space at the moment to do pretty much everything in my online world. Hopefully that will change next time we do a desk series post!