We use affiliate links. If you buy something through the links on this page, we may earn a commission at no cost to you. Learn more.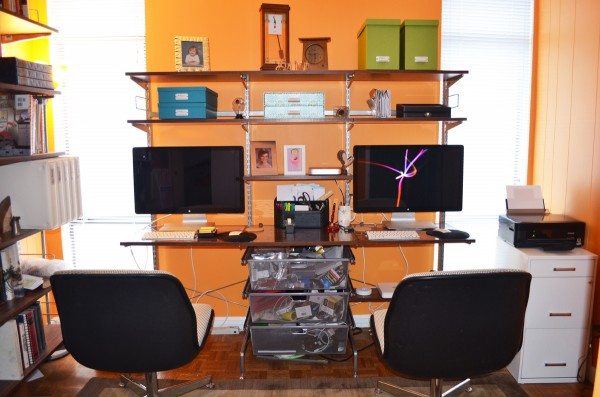 I already told you about my spiffy elfa design-it-yourself desk.  (Check the related links at the end of this post to find the original post about my desk.)  Since I built that desk, I've moved to a new house, and my desk easily disassembled and reassembled at the new place.  It looks like it was built for my new office, because it fits almost perfectly between the two windows in there.  You'll maybe notice that we have an elfa bookcase at the left of the desk.  What you can't see is it's floor-to-ceiling, and it also stands on feet, just like my desk does.  We love the elfa system so much that we also built a desk for our daughter's room.  The filing cabinet to the right has my Epson Stylus NX430 small-in-one printer on it.  Our two vintage Steelcase chairs are sitting in front of the desk.  Now let's take a closer look at some of the things on my desk.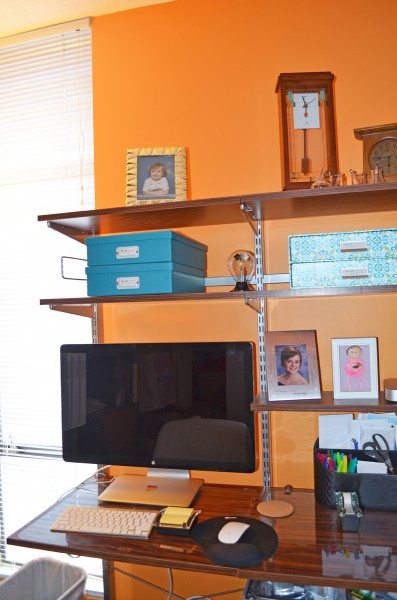 If you read my original article, you'll remember that I originally had only the middle and rightmost sections of this setup.  We added a second desk area for my husband, Butch, which you see here.  On the shelf under an old picture of my daughter, you'll see a couple of Bigso Bright Stockholm storage boxes from The Container Store.  Beside it is a classic radiometer – geeks must have their toys!  On the desktop, you see Butch's 27″ Apple Thunderbolt display with his 11″ MacBook Air sitting on the display's base.  He can disconnect his Air and hook up his work-supplied 15″ MacBook Pro and use it with the monitor and Apple Bluetooth keyboard and Magic Mouse, too.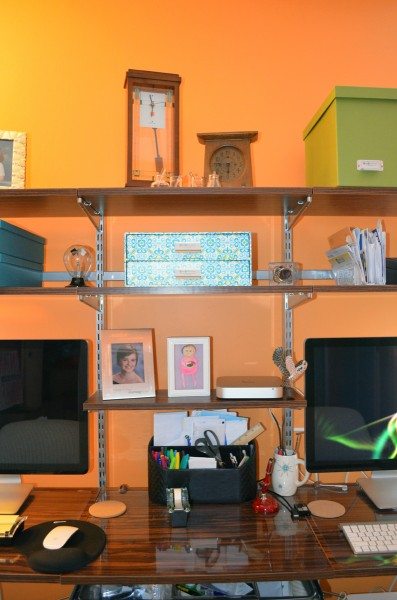 The middle section has a set of three very messy drawers underneath.  You can see them in the lead picture, but they are too messy for a closeup!  I need to buy a bunch of clear organizer boxes to go in those drawers, but until I do I'll just have to keep digging around in them to find my stuff.  Anyway, the top shelf has the little "laboratory" glassware shot glasses from ThinkGeek (see related links) on display with my clocks.  The second shelf has another Bigso storage box for printer papers, and there's a gyroscope in a display box sitting beside it.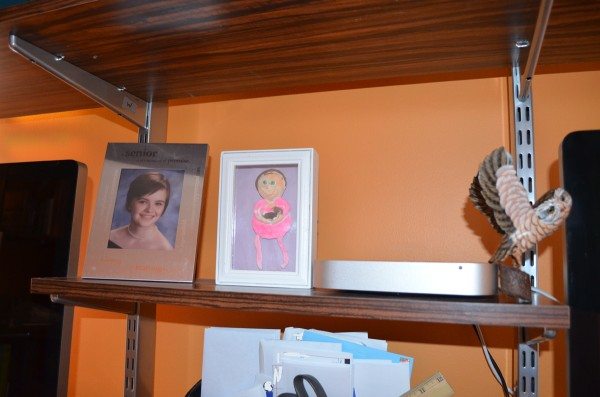 The third shelf has some photos and art, plus my Apple Mac mini computer.
The desktop has a discontinued Levenger leather desk organizer stuffed with papers, scissors, pens, and some of my Sharpies.  The red pen and stand is also from Levenger.  Because the USB ports are on the back of the Mac mini, you'll see I have a USB extension cord run down to the desktop, and there's a little SD card reader beside it that I use to transfer pictures from my Nikon camera's SD card to my computer.
By the way, all three desktop sections are protected with vinyl desk protectors we found at Staples.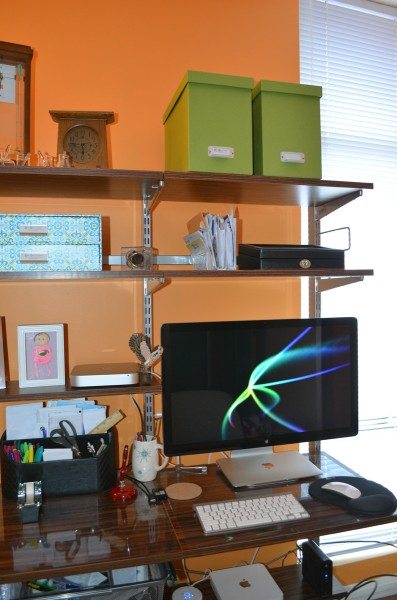 The rightmost section is my desk area.  I have more Bigso boxes on the top shelf, and a letter organizer and a storage/display box for my fountain pens on the second shelf.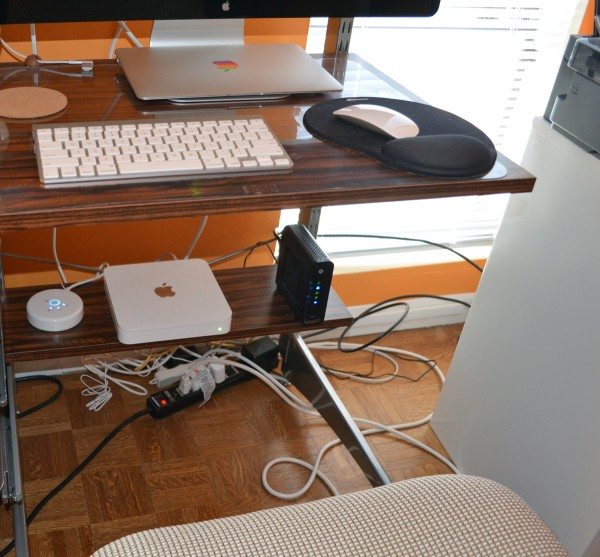 My 11″MacBook Air is sitting on the base of my 27″ Thunderbolt display.  I don't usually hook my Air up to my display, though.  I use the display with the Mac mini and use the Air as just a laptop.  I also have an Apple Bluetooth keyboard and Magic Mouse.
A small shelf below my desktop holds the cable modem, our Apple Time Capsule router/backup disk, and the controller hub for the Phillips Hue light bulbs we use in the living room.  And we'll pretend we don't see that snake's den of cables bristling off the power strip…
There you have it – my home office and half the stock from the local Apple store!  😉