We use affiliate links. If you buy something through the links on this page, we may earn a commission at no cost to you. Learn more.
Portable speaker systems range in price from $20-30 for the little pocket-sized ones to huge $600-800 units that can become your entire stereo. Where's the sweet spot? We've reviewed many here at The Gadgeteer, and the ones I actually consider for purchase or gifting usually fall somewhere in the $100-$250 range. I was sent Sherwood's Excape EXM-30, and have been listening to it for a few weeks now, using it around the house and out on the deck (when it's not snowing or raining!), so thought it was about time to share my thoughts on it.
Note: Photos can be tapped or clicked for a larger view.
Like many such units, the Excape is BlueTooth, has up-down volume buttons, charges via your phone or tablet adapter via miniUSB, and also has a AUX input for non-Bluetooth devices.
Here are the specs from Sherwood's website:
● 3W x 2Ch Power Output
● Speaker : 1.5" x 2ea
● Color Availability : Black, White
● Operating Frequency : 20Hz~20,000Hz
● Bluetooth Version : V3.0
● Bluetooth Profile : A2DP, AVRCP
● Communication Distance : 10m
● Charging Time : 3hours
● Battery : Rechargeable (1,100mAh Li-Polymer)
● External Input : Micro USB, AUX IN
● Input Port : Micro USB, AUX IN
● Size : 185.25 X 65 X 62.35 mm (W X H X D)
● Weight : 377g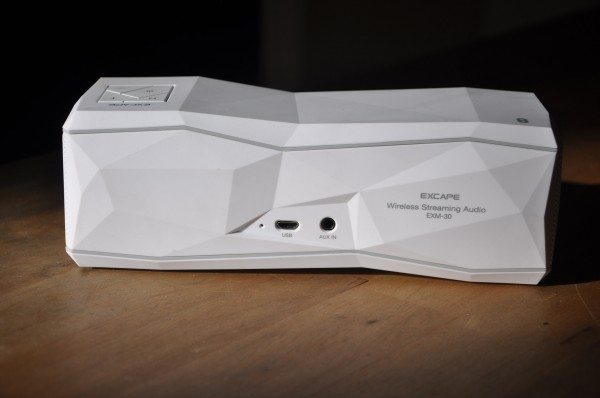 The two speakers in the system put out an adequately balanced amount of sound. As expected, there's not a huge amount of bass, but it's quite nice for watching videos on a tablet with less than stellar speakers, or for listening to music while you read email on your phone on the front porch.
It's light, can pair with two devices, has voice assistance for pairing and has a play-pause button for your audio, in case someone interrupts your listening session and you'd like to quickly pause the sound. There is no input microphone, so it's not going to compete with the higher-priced units that can be speakerphones, but at $80, it's not going to break the bank, either. I found Bluetooth range to be very good in most settings. I never got a wall between my phone and the speaker, but could be 20+ feet away on the other end of the deck and never lose the signal.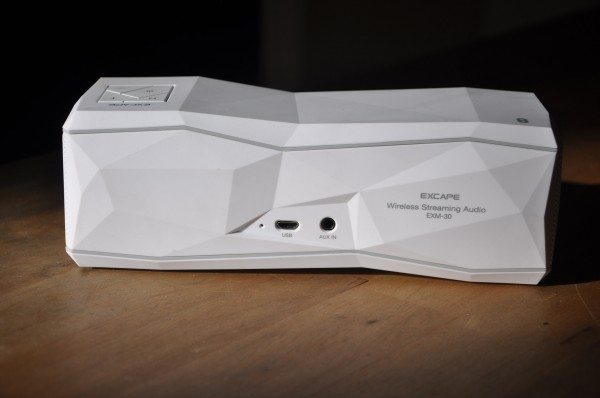 The website states that the unit is "Available to use both indoor and outdoor." I took this to mean that you would be able to use it in moist conditions, like foggy mornings on the deck by the firepit, or at the pool or lake. Turns out you can, but the owner's manual warns "Do not use this apparatus near water." Not sure if that's just blanket text pasted in for all products (along with "Only use attachments/accessories specified by the manufacturer." and "Keep these instructions."), but it seemed to rule out "outdoor use" other than less-than-rugged situations. I expect more from an "indoor/outdoor" music system. I don't demand IPX-6 certification, but I'd expect at least IPX-3 or -4. (Check out IP Codes on Wikipedia – good stuff for gadget lovers.)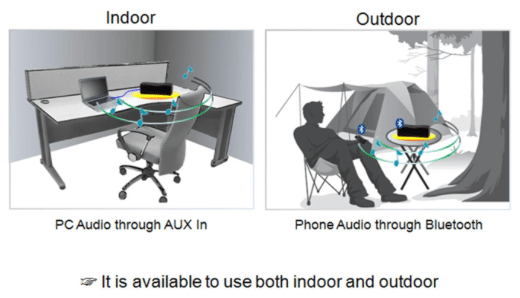 Battery life is good, charging time is within normal limits and will depend on if you're using your iPad Air 12-volt or your old PC's USB 2 connection. I found phone and tablet and batteries designed to recharge them would easily charge within the 3 hours of the spec list, and could never seem to burn through an entire charge in one day, which is great for me. Even with the deceptive-seeming "indoor/outdoor" moniker, I'd rate it three stars out of five. It'll fill your den or breakfast nook, or provide decent low background ambiance on your deck while grilling, but grab it first when heading in due to a sudden shower.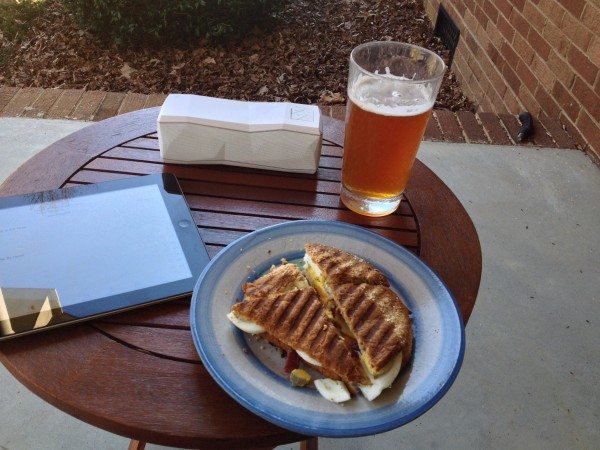 Product Information
Price:
$80
Manufacturer:
Sherwood
Requirements:

USB for charging, Bluetooth or AUX stereo for playback.

Pros:

Compact
Good battery life
Balanced, moderately room-filling sound

Cons:

Not waterproof, even though stated to be "indoor/outdoor"
No speakerphone function