We use affiliate links. If you buy something through the links on this page, we may earn a commission at no cost to you. Learn more.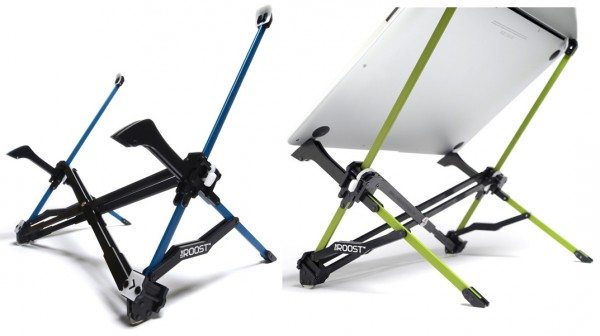 The Roost laptop stand started out as a successfully-funded Kickstarter project, and it's now available for direct sales.  It was designed in response to physical ailments suffered by the inventor because of sitting hunched over a laptop for hours as he worked.  The Roost is built of carbon fiber material and a sturdy plastic; it's strong enough to withstand 137 pounds of weight – so more than enough for a laptop.  It works only with laptops with clamshell hinges.  There are models to fit 13-15″ Apple MacBooks;  other models work with non-Apple laptops with a clamshell hinge.
Your laptop is very stable in the Roost stand.  Because its center of gravity is low, it resists falling, even when the Roost is tipped.  Because the laptop is surrounded by air, it helps prevent overheating.  The Roost positions the laptop screen about a foot above the desk, so it's at the right height for sitting and working at a desk with a separate keyboard.  It also puts the keyboard at a good height for working while standing at the desk.  When folded down for travel, it's only 1″ x 1.5″ x 13″ and 7 ounces.  It comes with a microfiber travel bag that can also be used as a cleaning cloth.  The Roost is available in a variety of colors and in models to fit a variety of laptops (list of compatible laptops is available at the Roost website).  The Roost is available now for $80.00.