We use affiliate links. If you buy something through the links on this page, we may earn a commission at no cost to you. Learn more.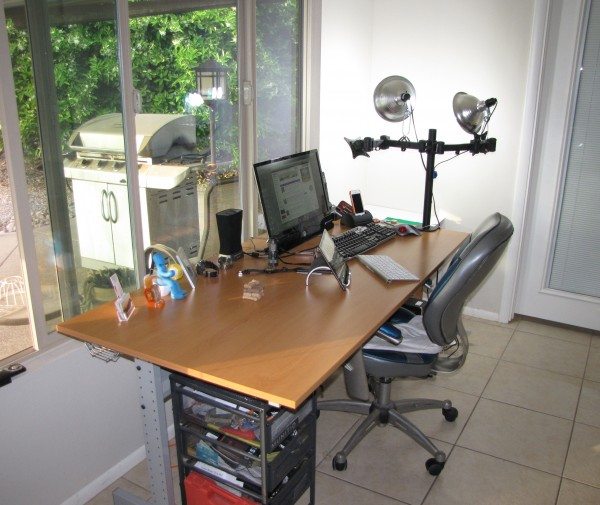 So, Julie started this "Show us your desk series" and I thought I would add mine to the list. As you will see I don't have the same amount of cool bric-a-brac that Julie posses, but then again she has been at this longer than I have 🙂 . What you do get to see is that I have a compact work surface with a nice view and a rather weird lighting contraption I will explain later.
Note: Images can be clicked to view a larger size.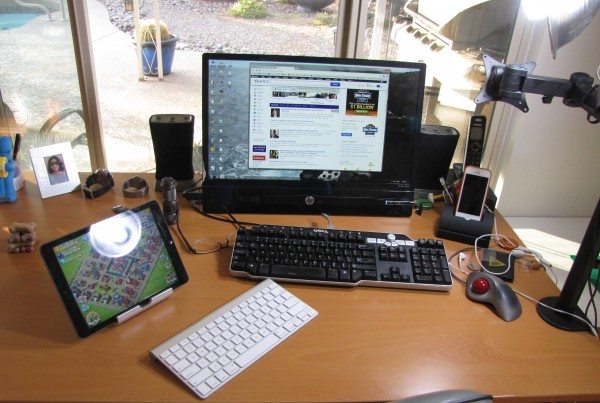 First, let me apologize for the bad lighting, we don't actually use much artificial light in the work area as we have two large windows that let in natural light. In my main work area you will see that I have my HP HD monitor (connected to Windows 7 HP system), a Dell keyboard, a Logitech rollerball mouse, a Cooler Master Duo iPhone stand with my iPhone 5, a set of SuperTooth Disco Twin Bluetooth speakers, a Panasonic link to cell phone system, a couple of QooQi cable holders, an Apple Bluetooth keyboard (used to write all my Gadgeteer stuff), an iPad Air sitting on the Cooler Master Duo iPad stand, my Truelite flashlight, my glasses, two watches (a Citizen Eco-Drive Titanium and a Citizen Eco-Drive Professional Diver), a supply of Milk Bones for my daily visitor, a picture of my daughter and various cables and knickknacks.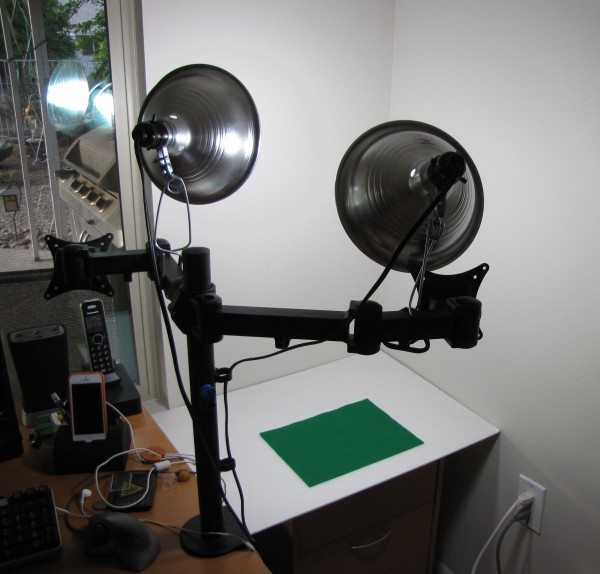 Now for the weird lighting contraption on the right side of my desk. That is a lighting rig I made out of a no longer used dual monitor stand. This area is used as my main photo area, it is basically two clamp on lamps with some true light fluorescent bulbs shooting down hooked to the monitor stand aiming down on a piece of Styrofoam project board. The articulation of the arms allows me to change light angle and has helped improve my pictures greatly.
So, that is my office desk layout, it grows and shrinks with various review items I am evaluating and project I am working on. I hope you have enjoyed the tour.