We use affiliate links. If you buy something through the links on this page, we may earn a commission at no cost to you. Learn more.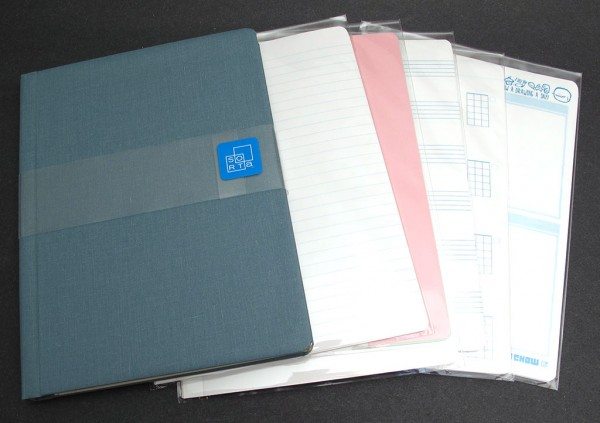 Does this sound familiar? You're happily writing in your brand new hardbound journal when you suddenly make a mistake. Maybe you misspelled a word, your penmanship was sloppy or you just weren't happy with an entry. Now you feel like you ruined your journal. If you've ever wished that you could remove pages, add pages or rearrange pages in your bound journal, I have a notebook that might interest you. It's the Sorta adaptive notebinder. It changes for you instead of the other way around.
Note: Images can be clicked to view a larger size.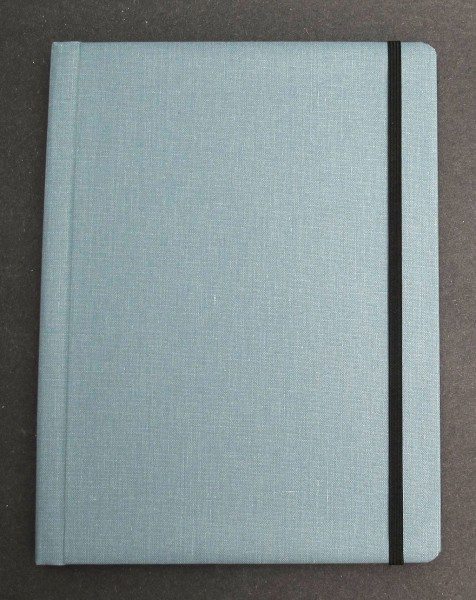 The Sorta notebinder is actually a binder, but not the type of binder that you are probably familiar with. Instead of having rings that snap open and pages with holes on the edge, the Sorta is more like a traditional book, but with a spine that flexes open and closed.
Sorta notebinders are 8.5 x 6.25 inches and are available in ten colors / styles. There are cloth covered binders like the one they sent me, leatherette binders and hard board binders.
Each notebinder has an elastic band to hold the cover closed. There's also an option to add an additional band to serve as a bookmarker.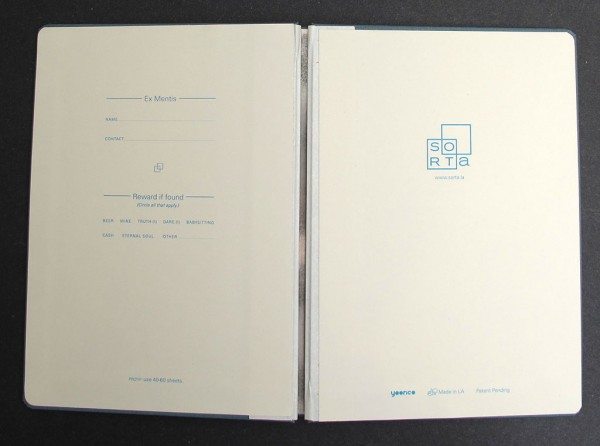 On its own, the Sorta notebinder feels like a hardbound book that is missing its pages. The covers are nicely wrapped with cloth and there are end papers on the inside of each cover with a place to add your contact details on the front cover.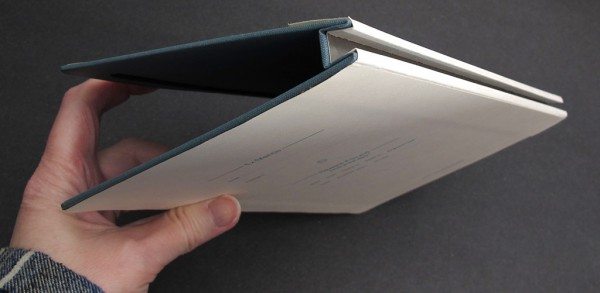 What makes the Sorta unique is that you can fold back the covers and pinch them together like a huge binder clip. When you do this, the spine flexes open to accommodate pages.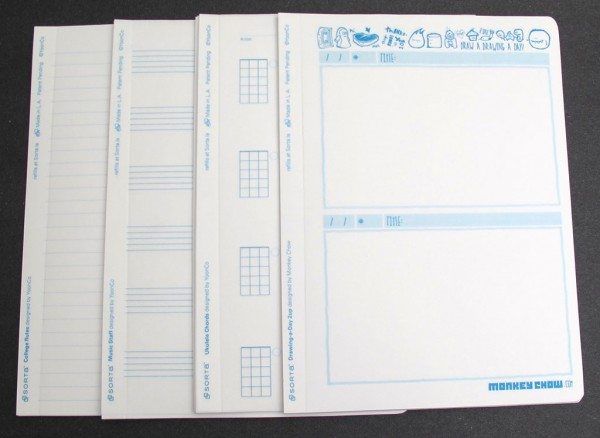 There is a diverse selection of Sorta stationary that should appeal to almost anyone. There are packs of traditional day and week at a glance type journal pages, lined pages, grid pages, dotted pages, to-do list pages, contacts pages, drawing pages, water color pages and more.
Each package of pages is sold separately and most packs contain 25 pages.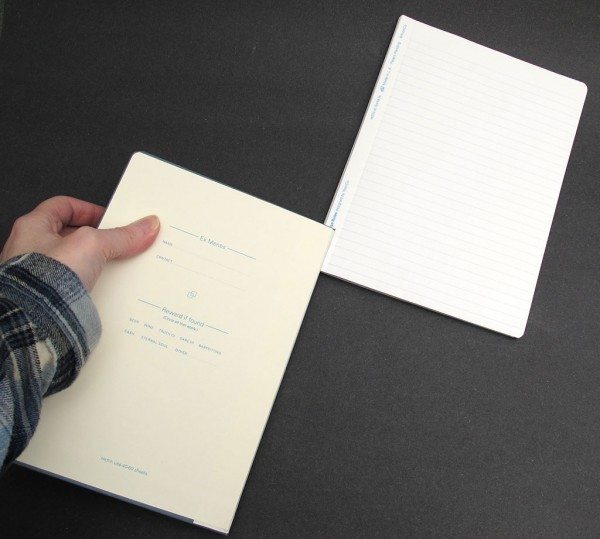 Each notebinder can accommodate between 40 and 60 pages. You can mix and match the sheets to create your own custom notebook. Just flex the front and back covers backwards to open the spine and then slide in the pages from the top.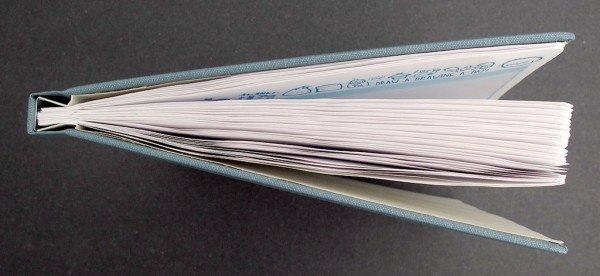 When you're done, you have what looks and feels like a hardbound book.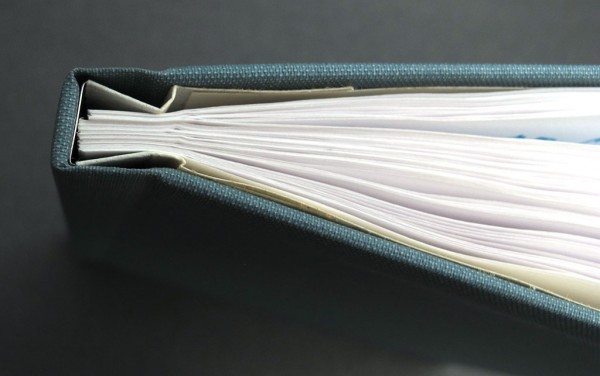 The spine keeps a firm grip on the paper. I wasn't able to pull out individual pages from the middle of the book without tearing them.
I've only been testing the Sorta for a few weeks, so it's hard to say how well it will hold up over time. It doesn't seem like the spine is losing its grip even when I fiddle with the pages a couple times a day.
Tip: Having the ability to remove pages so easily makes it a snap to scan them for digital backups.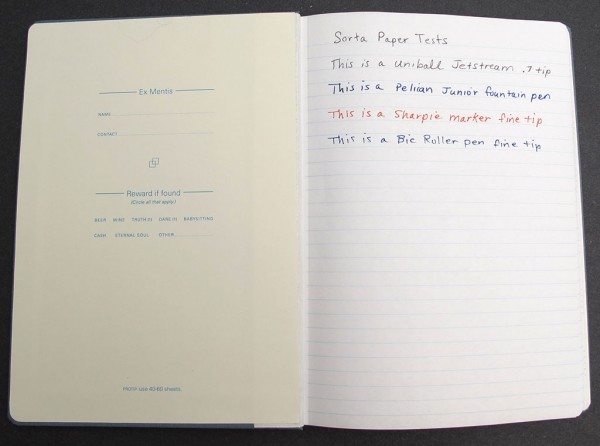 The front cover stays open nicely, but the pages will flop back in place if you're not holding them down with your left hand. That's the only thing that keeps me from adopting this system as I like a notebook that can stay open.
The quality of the Sorta stationary feels a little generic, but it's neither too thin or too thick. I performed a quick paper quality/bleed through test using four pens: Uniball Jetstream, Pelican Junior fountain pen, Sharpie marker and a Bic Roller pen.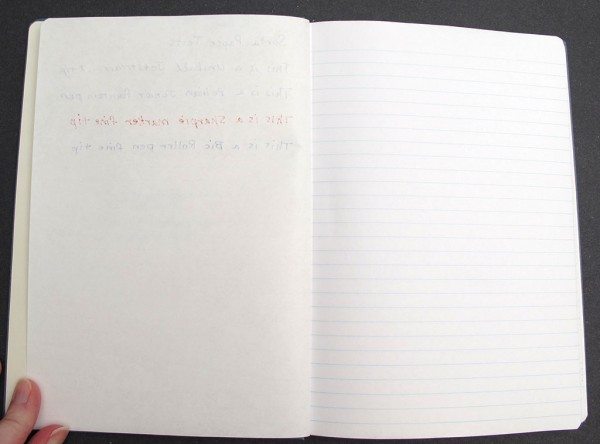 Only the Sharpie had issues with ink bleeding through the page, but not horribly so.
The Sorta notebinder is obviously going to be more expensive that buying a cheap 3-ring binder and some paper. But a person who would buy a Sorta probably isn't someone who would be happy with a standard 3-ring binder in the first place. The Sorta system is for office supply, journaling and writing geeks who are always trying different notebooks and systems. If you've been looking for a notebook that can adapt to the way you work, try the Sorta system, it just might become your new favorite.
Product Information
Price:
$15.95 - $28.95 per notebinder, $2.49 - $5.49 per stationary pack
Manufacturer:
Sorta
Pros:

Easy to customize and rearrange pages
Lots of stationary styles
Makes page scanning easier

Cons: