We use affiliate links. If you buy something through the links on this page, we may earn a commission at no cost to you. Learn more.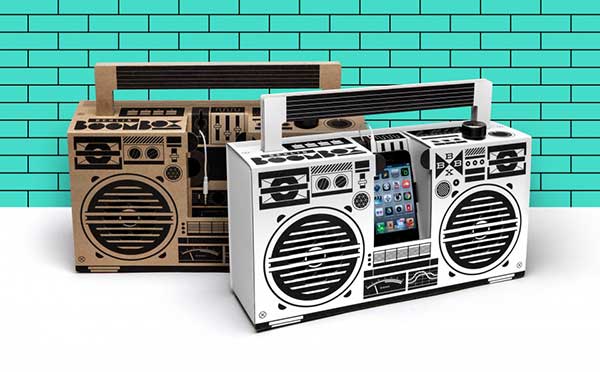 If you would like to relive the 80's, Berlin Boombox will take you back in time when big hair was in style and boomboxes were our audio players of choice. The Berlin Boombox has paired retro style with a modern environmental sensibility by offering a speaker designed for your iPhone, Android smartphone or Windows phone. It is constructed of heavy corrugated cardboard and comes in a kit that you can build yourself in a few minutes without the need of tools, glue or electronic knowledge.
The Boombox has screen printed black and white graphics with a strong carrying handle and a single big aluminium knob for power and volume. Electronic parts include an integrated digital 2x5W amplifier powered by 3 AA batteries and Hi-Fi speakers. The 3.5 mm stereo jack plugs into your iPhones and larger smartphones like the Samsung Galaxy 4. You can also connect your PC, Mac or tablet using the included extension cable. All electronic parts are German engineered by Mivoc Pro.
The Berlin Boombox comes in several colors and styles and is priced starting at 65€ (about $86 at current rates).