We use affiliate links. If you buy something through the links on this page, we may earn a commission at no cost to you. Learn more.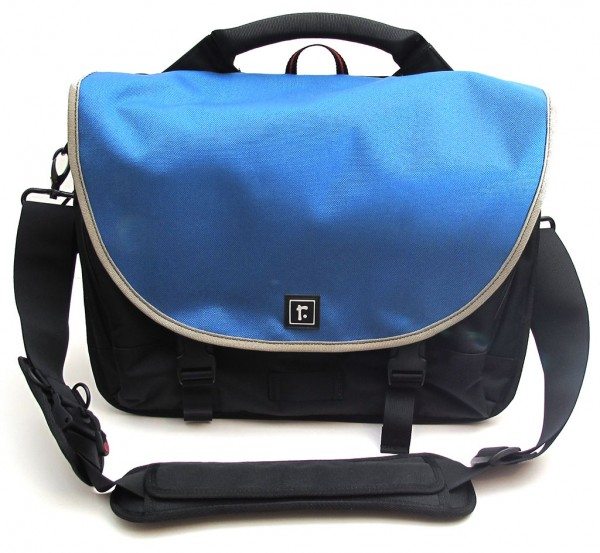 Carrying your gear to and from work or school every day requires a reliable bag. This is especially true if a laptop happens to be one of the items you carry. I'm partial to messenger style bags because they are roomy and casual. The problem is that they are not always the best type of bag to protect a laptop. For the past couple of weeks I've been carrying a Rickshaw Bagworks Commuter 2.1 Laptop Bag, which combines messenger bag style with laptop protection.
Note: Images can be clicked to view a larger size.
When Rickshaw asked if I would like to review their Commuter 2.1 bag, they offered to let me go through their customization process so I could have one made with my favorite color or type of fabric. I ended up choosing a royal blue flap with flannel binding and a silver logo. Note that the main bag color can't be customized. It's always black.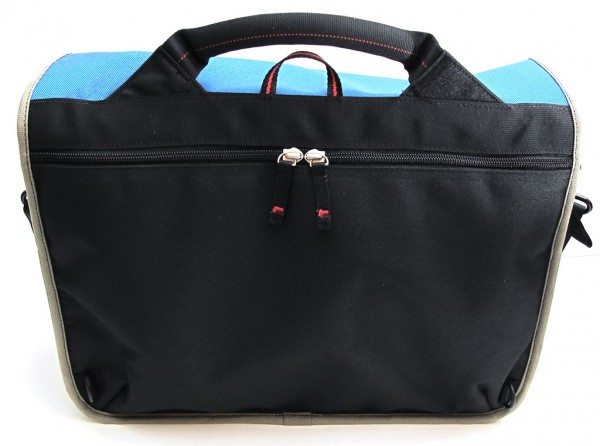 Rickshaw makes their bags from Cordura nylon. The flap fabric is made of Cordura, Performance Tweed (100% recycled polyester), Waterproof X-Pac (high performance sail cloth) or waxed cotton canvas. The bag I customized has a flap made of Cordura.
The Commuter is 15.75″W x 10″H x 4.75″ D and is built to order in San Francisco, California from some handmade components built here like the flap and other components like the main bag chassis, which is made in China.
The bag features a comfortable grab handle along with a smaller loop (not sure what the smaller one is for). The back of the bag is padded and has dual zippers that open into a storage area with pen slots and other pockets perfect for holding your wallet, journal, etc.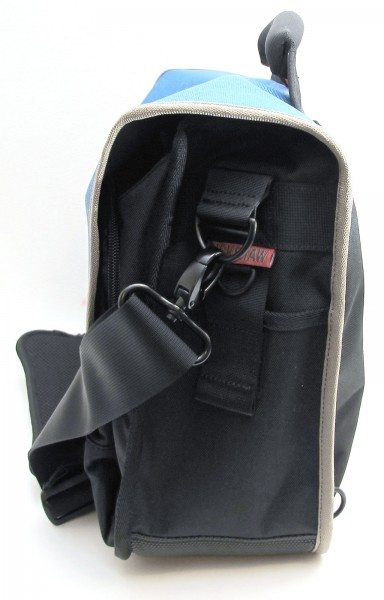 Both sides of the bag has an outside pocket with a Velcro tab closure. The side pockets are large enough to hold a Samsung Galaxy Note 2.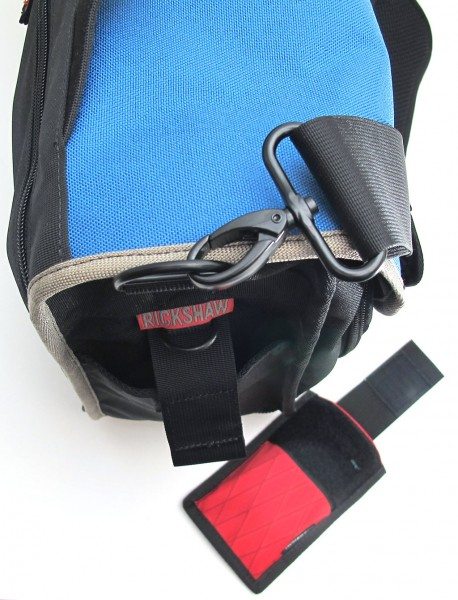 One of the side pockets came with a removable holder made of X-Pac material. The holder was too small for my Samsung Galaxy Note 2 and S3, but my old iPhone 4S fit just fine. I'm not sure if this holder is included with every bag, but I did not find it for sale in the accessories section of Rickshaw's site.
Note that the Velcro tab on each side pocket has a metal D ring attached so that you can clip something to it.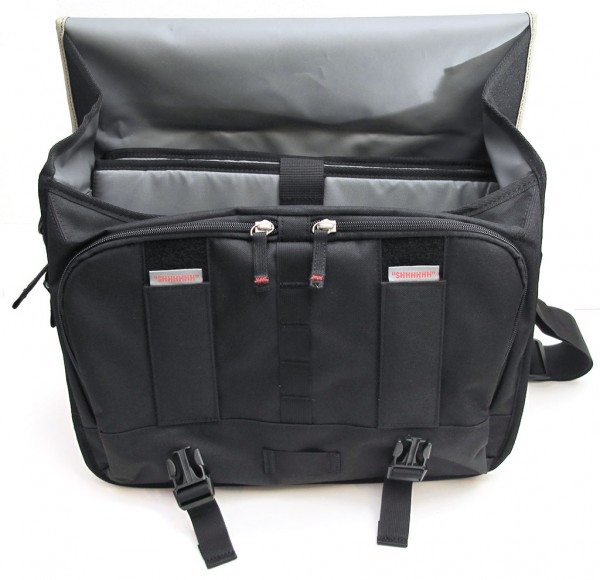 Lifting the flap on the bag will reveal two large zippered pockets and a row of loops that can be used to attach various items. I use one of the loops to hold a tube of lip balm 😉 You'll also notice the two Shhhhhhhh strips. What are Shhhhhhhh strips you ask? They are a Velcro hater's wish come true.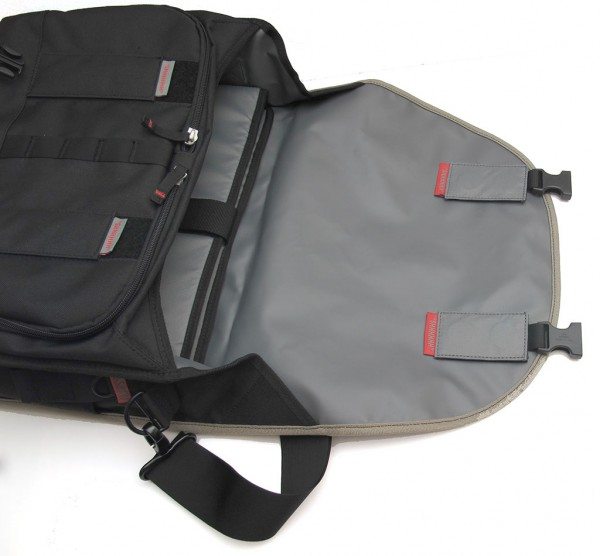 These are removal strips with built-in magnets that cover the Velcro. If you hate Velcro, you'll love these strips because the flap will be held closed with silent magnets. That's right, no more rrrrrrrrrrrrrripping noise when you open the flap. When I first saw this, I had a light bulb moment thinking wow, why didn't I think of that?!
I should also mention that the underside of the flap and the interior of the bag is lined with a light grey waterproof wipe-clean liner that has a slight rubbery feel to it.
The bottom of the bag has a rubber boot that protects it from water and dirt if you have to set it down on the ground or a less than clean surface.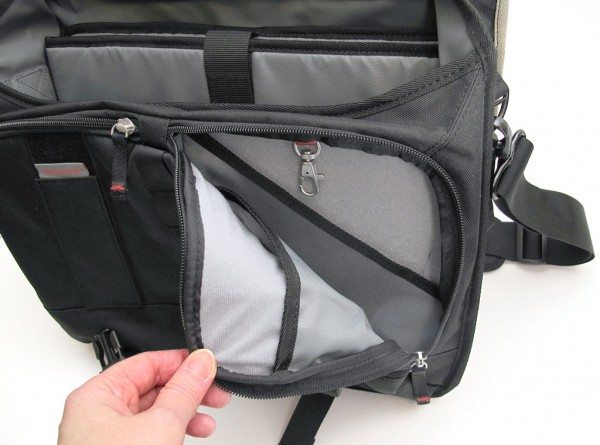 Each zippered pocket on the front has two slash pockets inside that are lined in a soft fuzzy fabric, making them perfect for storing your phone or other items that you don't want scratched. There is also a metal clip at the top of each pocket that can be used to hold your keys.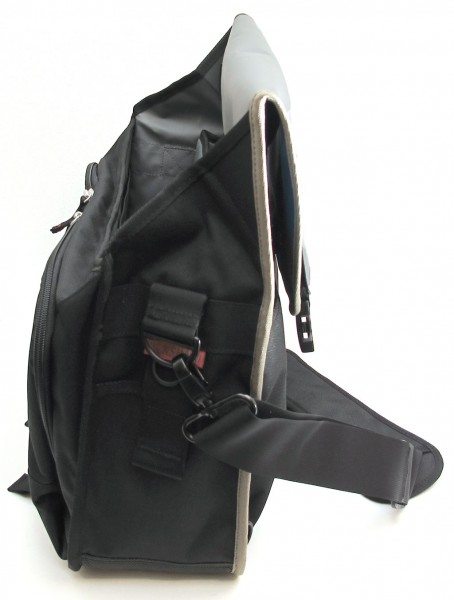 You'll notice that the flap is designed for weather resistance. When it is folded closed, the sides fold in to keep rain, snow and dirt out.
I'll also mention that the Commuter 2.1 has a removable and adjustable shoulder strap with a strap pad. The strap is comfortable enough, but I did have trouble with it twisting on me because of the metal swivel clips it uses to attach to the bag. It's not a big deal, I'm just being nit-picky because I'm so used to the bag I carry every day that does not have a removable strap.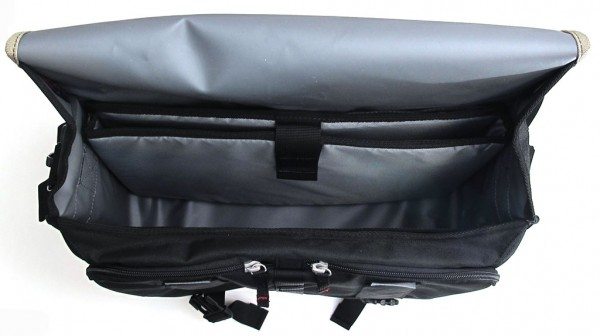 The inside of the Commuter has a removable padded laptop sleeve with a Velcro tab closure. This bag can hold up to a 15″ laptop. I tried it with my 13″ Macbook Air, 13″ Macbook Pro and a 15″ Macbook Pro. The 13″ laptops were easier to manage. The 15″ Macbook Pro fit, but the fit was very snug, making it a little difficult to remove the laptop without some effort. It's possible that the sleeve might loosen up with use though.
On the opposite side of the bag is a flat open topped pocket useful for holding magazines, papers and other flat items like a tablet.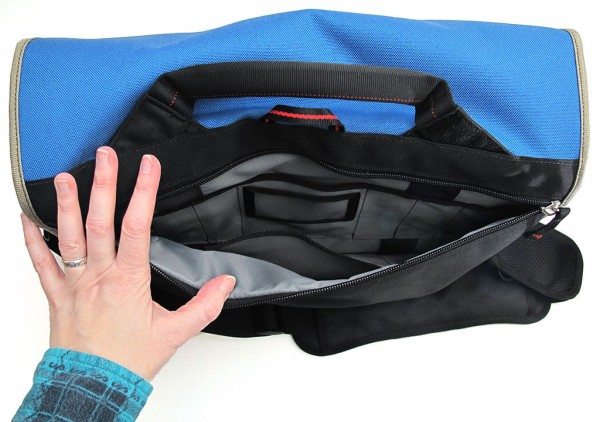 I mentioned that there's a zippered pocket on the back of the bag too. Inside this area are 6 pen / pencil slots, an ID slot and open topped pockets roomy enough to hold a wallet, journals, charging adapters, etc.
I found the Commuter 2.1 to be comfortable to carry with the strap across my body bandolier style. The quick adjust strap makes it easy to lengthen or shorten the strap for just the right fit. I had no troubles wearing it to walk to and from the building where I work during the day, which is slightly longish walk to and from the parking lot.
The construction and design of this bag is very nice and I could find no defects in materials or workmanship. I really appreciate the extra little touches like the Shhhhhhh strips and the extra Velcro attachment strips inside each pocket so that you can secure the Velcro strap inside the pocket if you don't want to use it to keep the top of the pocket closed. The Rickshaw Bags Commuter 2.1 Laptop Bag will protect your laptop and everyday gear while looking nice and holding up to daily wear and tear. Also impressive is that they offer free shipping, a 30-day money back guarantee for any reason and also a lifetime warranty where they will replace or repair your bag. If you're in the market for a laptop bag, you can't go wrong with this one.
Product Information
Price:
$180
Manufacturer:
Richshaw Bagworks
Pros:

Nicely organized pockets
Comes with Velcro silencers
Stands up on flat surface
Grab handle

Cons: