We use affiliate links. If you buy something through the links on this page, we may earn a commission at no cost to you. Learn more.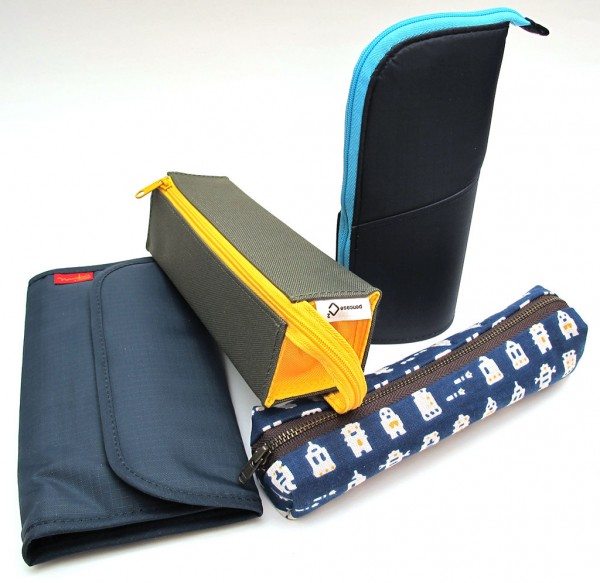 If you are a pen, pencil or even a stylus collector, you should check out all the handy pencil cases from JetPens.com. JetPens sells a large variety of pen and pencil cases, so there is no way that I could cover them all, but I picked out four of them to show you today. Let's take a look…
Note: Images can be clicked to view a larger size.
Miyamoto Collection Retro Komon Pen Case

Let's start with the smallest, but cutest pen case. The Miyamoto is available in 12 patterns and colors, and really isn't anything out of the ordinary, But I just had to include it because, well… they have one with robots on it!

This small case is made of 100% cotton material with a metal zipper and a metal ring attached to one end of the case.

Never miss one of our posts again. Sent MON, WED, and FRI with the latest gadget reviews and news!
The interior of the robot case is lined in brown cotton material. Although this case is small, it can hold quite a few pens. I was able to stuff 15 pens of various thicknesses and was still able to zip it up. The case itself is about 8 inches long. I found that the little ring attached to the right side comes in handy for holding onto the case when you're zipping it up. It would be nice if there were a matching ring on the other end to help you unzip the case.
A $16 price tag seems a bit spendy considering the size and design of this particular pencil case, but if you are a robot geek, you might want to add it to your collection.
Miyamoto Collection Retro Komon Pen Cases
Price: $16.00
Kokuyo C2 Tray Type Pencil Case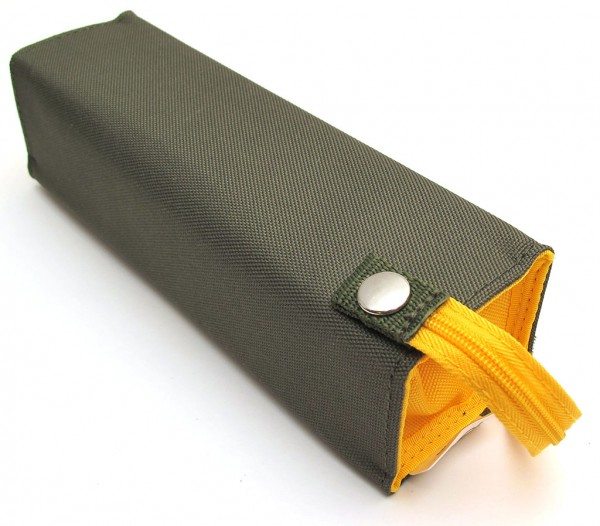 The Kokuyo C2 Tray case is another long zippered pencil case. But where the Miyamoto has a very simple design, this one offers a little something extra to set it apart. First of all, it has a diamond shape that is made of nylon with reinforced panels. It's available in 3 different colors including the green and yellow version that you see here.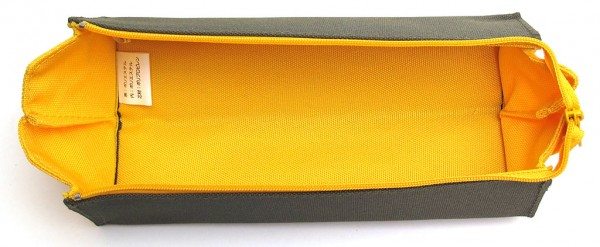 When the case is unzipped, it turns into a large tray.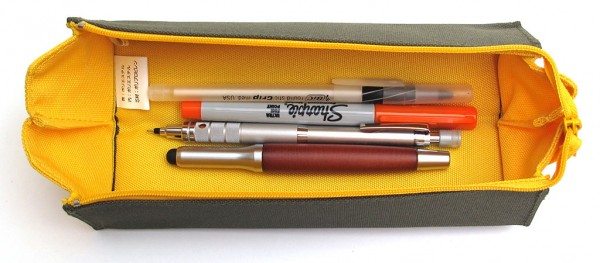 I was able to fit the same 15 pens I was using with the Miyamoto case along with five more pens, for a total of 20 pens and pencils. I really like this pencil case because when it's unzipped you can easily view and remove pens without having to dump them out to find a certain one.
Kokuyo C2 Tray Type Pencil Case
Price: $12.75 – $14.00
Kokuyo NeoCritz Transformer Pencil Case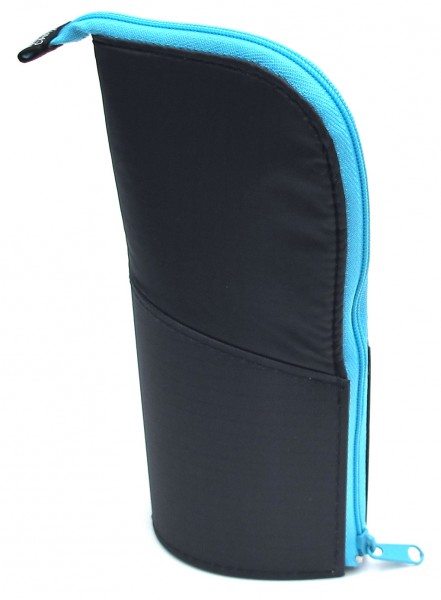 Here's another pencil case from Kokuyo. These guys must think outside the box, because they have been able to design some innovation pencil cases. This case is available in eight colors including the navy & blue that you see here. It is made of nylon with padded sides and a nylon zipper.
The first thing you will notice is that the case can stand up on a flat surface.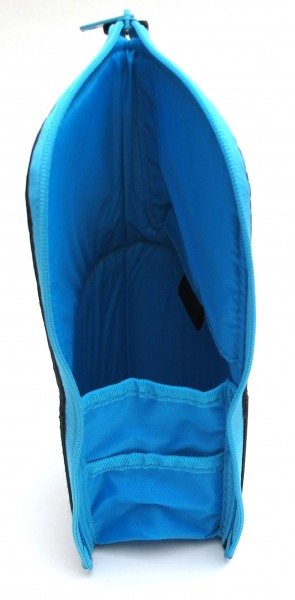 When you unzip it, you'll discover why that's a cool feature. When unzipped, the case "transforms" into a pen cup.
To make the pens and pencils even easier to access, you can fold back the sides as shown above. The case also features a small pocket in the front and another on the side inside that is secured with Velcro.
The case can comfortably hold 15 pens or pencils. You could probably fit more, but then it gets a little difficult to zip it up.
Kokuyo NeoCriz Transformer Pencil Cases
Price: $14.50
Nomadic PE-10 Tri-Fold Pencil Case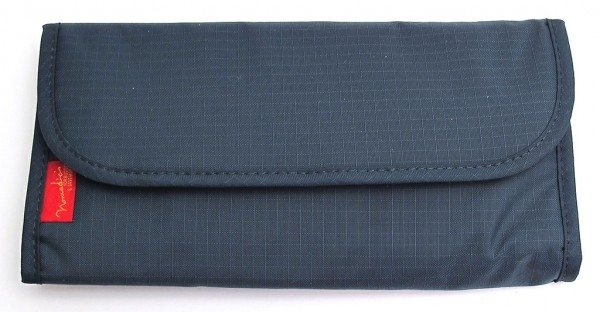 This last pencil case is a little more utilitarian than the others. It is constructed of nylon and is available in four colors including the navy version you see above. The material reminds me of the same material that Tom Bihn uses for some of their small pouches.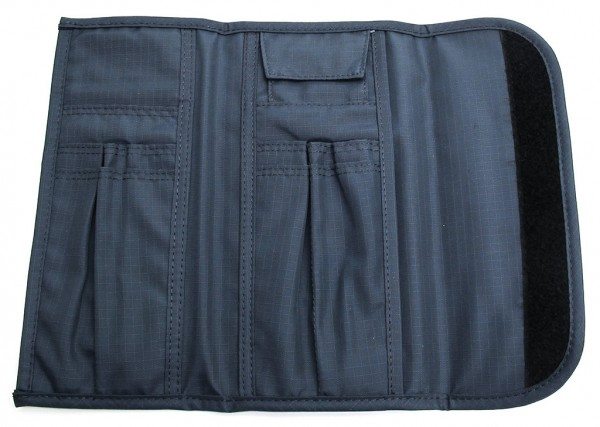 The case is secured with a large strip of Velcro which you'll either love or hate…
Inside are 10 pen / pencil slots, a small pocket with a velcro flap in the center and a long open pocket behind the center pen slots.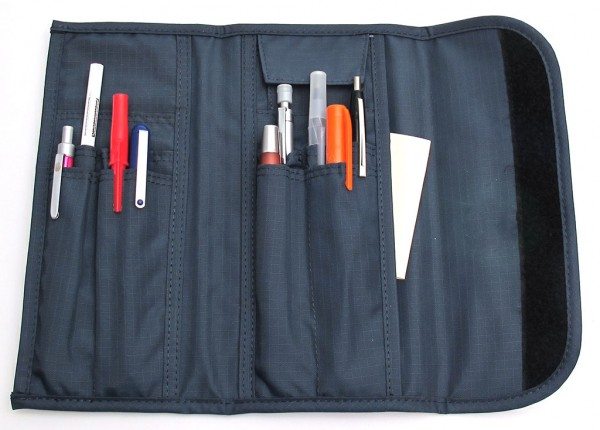 The slots are wide enough that they can hold more than one pen or pencil each. I was able to store 18 pens in the slots and the flap was still easy to close. Although this pencil case isn't flashy, it is the easiest to use and offers the easiest way to see and retrieve specific pens/pencils because you can instantly see the one you want. The only things I don't really like about it is the Velcro and that there isn't a flap to fold down over the pens to keep them from accidentally sliding out if you would hold the case upside down.
Nomadic PE-10 Tri-Fold Pencil Case
Price: $14.00
It's funny, but I could become addicted to pen/pencil cases about as badly as I am already addicted to pens and pencils! JetPens has too many to choose from, which makes me want to try all of them 🙂
Product Information
| | |
| --- | --- |
| Price: | See above |
| Retailer: | JetPens |
| Pros: | |
| Cons: | Nomadic uses Velcro and has nothing to secure pens from falling out |