We use affiliate links. If you buy something through the links on this page, we may earn a commission at no cost to you. Learn more.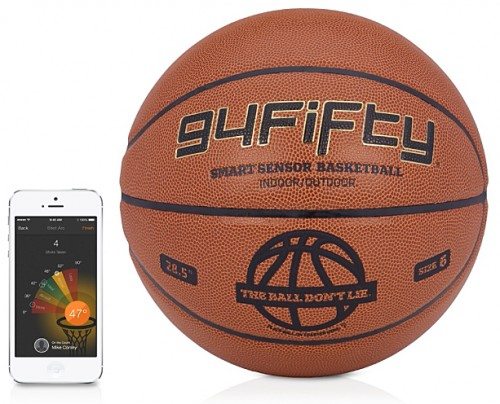 The Infomotion 94Fifty Smart Sensor Basketball has miniaturized sensors inside, so it retains "regulation size, weight, spin, and bounce."  When you pair it with the free app, you can get visual and audible feedback within seconds of each shot and dribble, so you can adjust as you play or practice.  The Bluetooth connection allows you to keep your mobile device up to 90 feet away, where it's safe.  You set goals for more than 50 drills and competition and watch your progress as you build your skills.  With the app and the basketball, you'll have these tools at your fingertips:
Shot Arc Analyzer helps you learn to shoot with a more consistently ideal arc
Shot Release Speed Timer lets you increase scoring opportunities by keeping you aware of game speed
Shot Backspin Analyzer improves accuracy by developing your wrist for better follow through and a shooter's touch
Dribble Power Meter teaches you how to dribble harder under pressure with either hand
The Infomotion 94Fifty Smart Sensor Basketball is $299.95 at Apple's online and retail stores.