We use affiliate links. If you buy something through the links on this page, we may earn a commission at no cost to you. Learn more.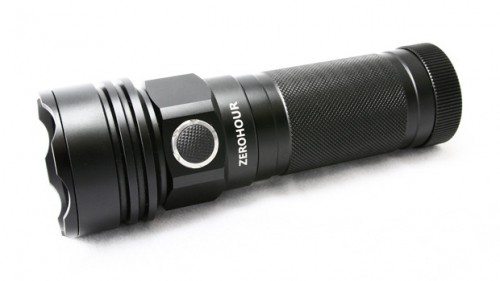 There are a lot of multi-purpose flashlights on the market today with a lot of different options and sizes. So how do you make your multi-purpose flashlight stand out? The ZEROHOUR modular tactical USB battery backup flashlight, a Kickstarter project from Amy Truong and Aaron Son, does it by being versatile and modular. As the name implies, this not only a flashlight, but also a backup battery pack to recharge your cellphones or tablets. But unlike some other flashlight/backup battery combos, this one has some rather unique qualities. The first being the ability to change out the rechargeable batteries used by the device. While most backup battery packs are sealed, the ZEROHOUR is designed to allow you to access the battery compartment that uses up to three 18650 lithium batteries so you replace one of the batteries should it fail instead of replacing the whole device. The second being the modular design, which allows easy replacement of parts and removal of the battery/light housing to use the cavity of the light as a waterproof container. To me, it seems like a lot of thought went into this design, making it practical and useful and giving it longevity.
The main body is made of 6061 aircraft aluminum with a 304 stainless steel bezel and a CREE XM-L U3 LED light source. The charging end of the ZEROHOUR features a 1.5 amp USB port and a 2.1 amp USB port.
The ZEROHOUR is being funded with three main options: with no batteries, with a set of Sanyo 2600mAh batteries, or with a set of Panasonic 3400mAh batteries. There are many pledge options for this project, with a pledge of $120 getting you a ZEROHOUR, a stainless steel bezel, a flat cap, an open cap, an AC adapter, a USB charging cord, and a carrying bag (batteries are not included). Funding for this project runs through December 23, 2013. If successfully funded, it is scheduled to ship in the March 2014 time frame.