We use affiliate links. If you buy something through the links on this page, we may earn a commission at no cost to you. Learn more.
Dave Rees recently told us about his experiences when he and Ryan Chapman bought Apple's new iPad Air on release day.  I also bought a new iPad Air on release day, and I had been happily using it as a replacement for my first-gen iPad mini.  Eventually both Dave and I replaced our new Airs with the new iPad mini with Retina display.  Why?  We're happy to tell your our reasoning.  My comments will be in black and Dave's will be in blue italics.
Click on any image to enlarge it.
I had only gotten the first mini because there was a promise of a job requiring one.  That job fell through, and I returned the 16GB WiFi mini.  I wasn't going back to my big iPad, though; I swapped the 16GB for a 64GB model and used it every day, all day long, for months.  The mini replaced an iPad 3 for me, so it was a step backwards in technology.  The first-gen mini was essentially an iPad 2 in a smaller body.  It had the dual-core A5 chip instead of the A5X chip in the 3rd-gen iPad, but most importantly, it didn't have the gorgeous Retina display that the bigger iPad had.
Janet's and my paths are surprisingly similar; last year I also "downgraded" from an iPad 3 to the first-gen mini. While it was not as fast or the screen as clear, its size and portability more than made up for its mediocre specs.
I loved how small and light the iPad mini was, so I quickly acclimated to the grainy screen again.  It was a small trade-off, in my mind, for the much lighter form that was so easy on my hands.  No more "iPad thumb" for me with the tiny mini.  I also could throw it in most of my purses and bags to take it with me everywhere.  That doesn't mean I wasn't anticipating the second generation of the mini, which would hopefully have the Retina display.
The mini's form factor is perfect for how I use the smart-device. Like Janet, I take it with me nearly everywhere I go – errands with the family, work travel, vacations, to and from the office, etc. The mini's width allows me to thumb-type pretty darn fast and accurately. Its functionality enables me to leave my MacBook Pro at home 90% of the time.
I can type faster on the mini, too. I always use it horizontally, and I hook my fingers at the top while my thumbs fly around the screen.
On October 22, I was thrilled to hear that the 2nd-generation mini would have a Retina display.  I was also thrilled that it would have the same internals as its bigger sibling, the new iPad Air.  It was going to be everything I had hoped for and more!  Then I came crashing down to earth when Apple announced a release date for the iPad Air and said the mini would be available at some vague date in the future.
I too, was happy and bummed at the same time, wishing that Apple would release both new iPads at the same time. The new iPad mini was everything I had hoped it would be (less thumbprint reader), but the wait was going to be painful.
My husband, Butch had toyed with the idea of getting a mini if/when they added a Retina display, but the vague release date seemed to make him decide to just stick with the bigger form factor.  He decided he'd get an iPad Air as soon as they were released.  I decided I couldn't live with the tech envy if he was parading around with a new iPad while I had no idea when I could have a new one.  I thought about the size and weight reductions Apple had made in the new Air, and I decided I'd go back to the 9.7″ size.
I debated which new iPad to buy while waiting for the Air to be released, waffling daily, if not hourly, on what form factor would work best for me. It was good of Apple to make the Air and mini equals in the specs department, making the only decision points size and weight. As Janet mentioned above, I finally went with Ryan and purchased the iPad Air online within minutes of becoming available. We picked up our gorgeous new tech-toys @ 0800 that morning.
The Air lived up to its name.  My jaw literally dropped when I lifted the Air from the box; it was so light that I almost threw it over my head picking it up.  I like the bigger screen and the louder speakers (compared to the mini), and I loved having the beautiful Retina display again.  I almost felt like I had new eyes using that wonderfully sharp, clear display.  The Air is fast!  Surfing is faster than ever, and even my books seem to open faster in iBooks.  Despite what Apple said about a 10-hour battery life, I never got less than 12 hours out of a charge.  I had even found a back cover that I really like to complement the Smart Cover, and I was happy with the Air.
Without a doubt, the iPad Air is an incredible piece of technology… light, fast, and gorgeous from both the hardware and screen experience standpoints. When I turned on the Air, it was as if I had suddenly put on a pair of glasses with the correct prescription. I had forgotten how clear and crisp a Retina display is or what no lag truly means.
But there were a few little problems.  I couldn't fit the iPad Air into most of my bags, so I had to use a separate bag or my huge purse when I wanted to take it along.  And I had started to have pain in my hands again, and my fingers were stiff and sore when I'd wake up in the mornings.  And even though it is much smaller than previous generations, an iPad Air to the face when I doze off while reading in bed hurts like the dickens!  (To be truthful, an iPad mini to the face hurts almost as much.)
Because I had a new iPad, I recently started getting my old iPad mini ready to pass along to a family member.  I regretted giving up that tiny, powerful, fits-anywhere mini.  I briefly thought about giving my daughter the Air and just using my old mini again.  Luckily, the local Apple store got the white, WiFi-only, 64GB iPad mini with Retina display in stock.  I decided I'd just go look at them and maybe get one after Christmas.  I walked out of there with a brand new iPad mini with Retina display as quickly as the sales associate could get it out of the back storeroom and ring it up.  I tried to talk a couple of customers into getting the mini with Retina instead of the Air while I was waiting.

I did not even last 2 days before I had packed up the iPad Air and took it back to the Apple Store. It just wasn't me, and when I went back to my first-gen mini, it was as if all was put back to normal. I missed the Retina display a little, but knew I would be buying the mini with Retina display soon enough. That said, I was glad I had the opportunity to try the Air. Knowing myself pretty well, if I had gone directly from the first to second generation iPad mini, I would have forever pondered if the Air would have been a better choice. Now I know without a doubt that the mini is for me. 😉 With the assistance of a few websites that tracked in-store availability, I was able to quickly (within a few days) snag a 128GB LTE space gray mini and have not looked back.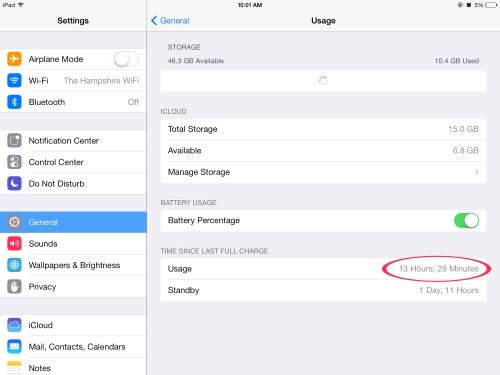 So, I did trade the Air for the new mini with Retina display, but not because anything was wrong with the iPad Air.  It's perfect for people who want that size tablet.  For people like me, who prefer a smaller tablet, the iPad mini with Retina display is perfect.  And this time, there are no compromises.  You get everything the bigger iPad has in the smaller package, but you get to give up the sore hands and experience a little less pain when you drop the iPad on your sleeping face.  I even got 13 hours of a battery charge with the mini.  I'm happy with my mini, and my daughter is happy with her Air.
I have zero buyer's regret either, happy to have the latest and greatest tech in a small, portable package. The RDmini's "no compromises" performance and beautiful screen are a great upgrade from the original.