We use affiliate links. If you buy something through the links on this page, we may earn a commission at no cost to you. Learn more.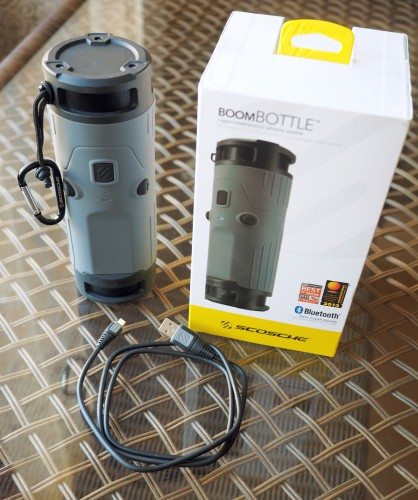 Let me start off by saying the Scosche boomBOTTLE is a really nice speaker for cycling, or for wherever you want to carry your music.  This speaker has high quality construction, great sound, durable rugged exterior, splash proof design, and it fits in most bicycle water bottle cages and cupholders.  If you frequently participate in outdoor activities including camping, hiking, canoeing, bicycle touring, laying by the pool, or splish-splashing in your bathtub, you'll be very pleased with the sound coming from this 6W speaker.
I have a similarly-featured Braven 625s (see related links) speaker that I used to compare sound quality, and I prefer the sound coming out of the Scosche boomBOTTLE.  There's a bit more bass to it, and its dual 40mm drivers with passive subwoofer produce a richer, fuller sound compared to the Braven's clear, clean sound.  The bass won't boom you out of your seat, but in my humble opinion, it's just the right amount.  This speaker has a diffuser for 360-degree "omnidirectional" sound, which might limit the actual stereo quality, but you will never notice it while cruising on your bike or trudging up a steep trail.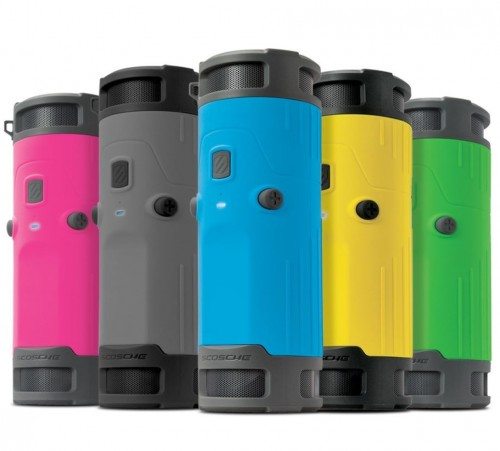 The boomBOTTLE is available in four different colors (green, blue, yellow, or magenta with black accents), and in grey/black, as shown in this review.  The colors are a little on the fluorescent side for me, but might make it easier to find the boomBOTTLE in an overstuffed backpack.
In the package
BoomBOTTLE wireless speaker
Durable all metal carabiner & mount cord
High quality microUSB-to-USB charging cable
Guide
No wall charger!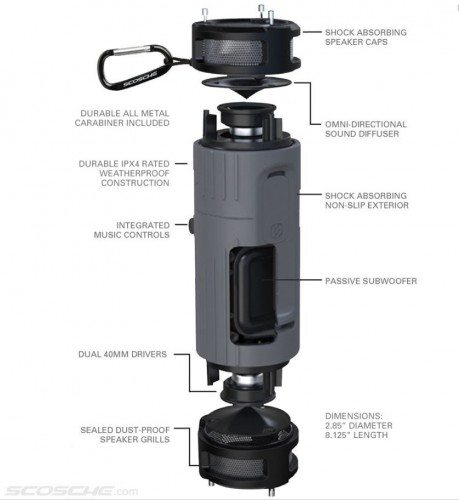 Features
Dual 3W, 40mm drivers and passive subwoofer produce rich, clear sound
Rugged weatherproof portable speaker
Fits in most bike water bottle cages and cupholders (also stands or rests on nearly any surface)
IPX4 splash-proof construction
Omnidirectional speakers send music in all directions
Control play/pause and skip tracks from the boomBOTTLE
Integrated mic for handsfree phone conversations
Rechargeable lithium-polymer battery provides up to 10 hours of continuous music playback
Dust and debris protective screen
Shock-absorbing TPU speaker grill covers
Shock-absorbing non-slip exterior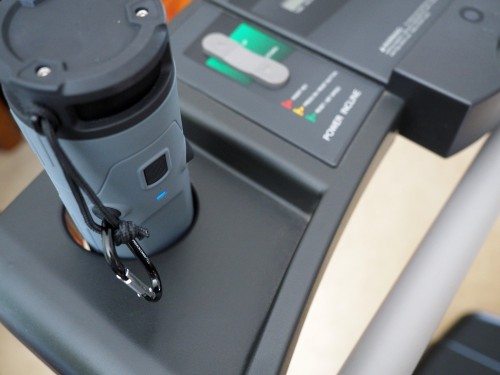 The rubberized silicone boomBOTTLE's shock-absorbing outer shell is easily gripped and instills confidence that it is built to take a fall. The speaker dimensions are 2.8″ in diameter and 8.125″ in length. It weighs in at ~15.8 oz. Unlike the pocket-able Braven 625s, the boomBOTTLE's size is beyond a pocket. Though the boomBOTTLE does include a carabiner, allowing it to easily attach to a backpack or a belt.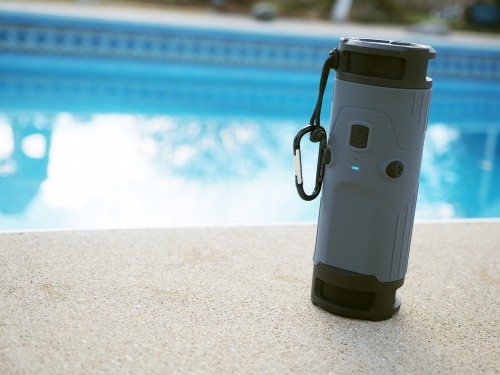 Although the speaker is not waterproof, it is IPX 4-rated splash-proof ,which is up to 2.6 gallons of water per minute for five minutes.  I tested it out in a light rain for 15 minutes.  I'm not sure how many gallons per minute it was, but after it stopped raining, I dried it off and found it survived without a hiccup.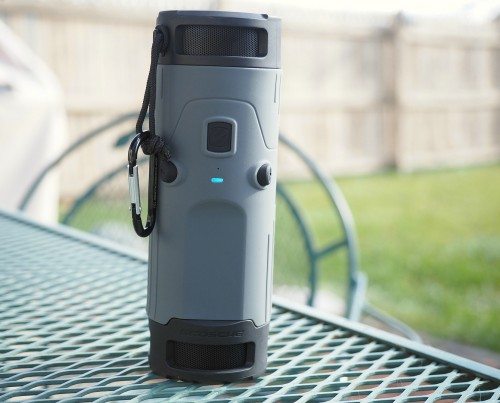 The boomBottle even talks to you using female voice prompts.  When you hold down the power button to turn the unit on it announces "Power on" and "Connected", if you've already paired it.  If it hasn't been paired, it will announce "Pairing Mode" and give you time to find the device on your phone for streaming.  In a sad female voice it will report "Disconnected" if you remove it from your device list when paired.  The speaker will automatically go into pairing mode when powered on.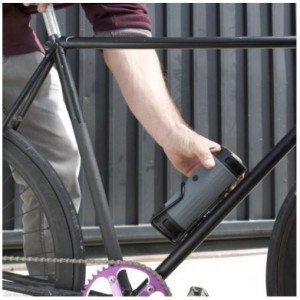 The wireless boomBOTTLE can stay connected up to 33' with Bluetooth 4.0.  The sound is a little louder than the Braven and is loud enough for bike touring, no headphones required.  You will lose some volume to the wind when cycling at fast speeds.  The only problem with not using headphones is anyone around you, be it people you're passing or critters in the woods, are going to get an earful of whatever you're listening to whether they want to or not.  Even at high volume, this speaker does not have any noticeable distortion.
If you use this speaker in the cupholder of your car, you do lose sound quality and volume due to half the speaker being covered by the cup holder itself.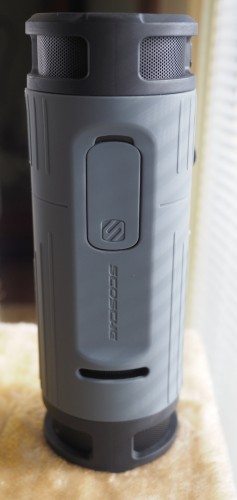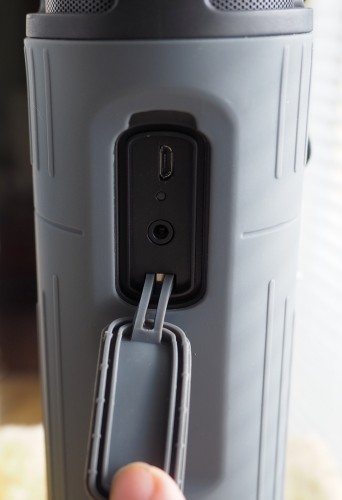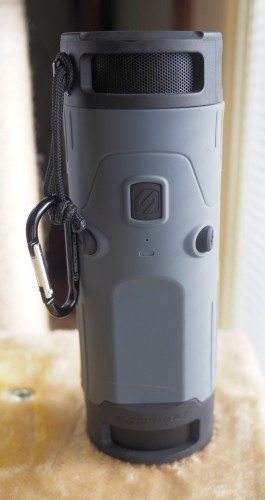 The boomBOTTLE uses Bluetooth 4.0 A2DP, AVRCP, and HFP BT profiles and includes a 3.5mm line-in jack for non-Bluetooth devices.  The charging port and line-in jack are covered snuggly with a rubber seal to keep out rain, dust, or dirt.  Runtime on the speaker with a full charge is excellent, rated for 10 hours, but I can get more like 12 hours out of it when not running at full volume non-stop.
It has a built-in rechargeable lithium-ion battery, but no power out standard USB port for charging your devices.  You can easily control volume, play, pause and skipping tracks directly from the boomBOTTLE itself.
This award-winning boomBOTTLE from Scosche offers great sound quality with a rugged, splash-proof exterior and almost no downside.  At a price of $139.99 direct, it is in line with competitive models with similar features.  It works as well for your bicycle water cage as it does for parties on the patio,  or even in the bathroom getting cleaned up to go out.  Even with my limited experience, I can tell this Bluetooth wireless speaker should stand up well to its competition.
Product Information
Price:
$139.99
Manufacturer:
Scosche
Retailer:
Scosche
Requirements:
Pros:

Splash proof, sporty and rugged exterior
Great sound with just the right amount of bass
Excellent 10-12 hour play time
Automatic pairing mode

Cons:

No wall charger
Sound quality compromised in most standard cupholders