We use affiliate links. If you buy something through the links on this page, we may earn a commission at no cost to you. Learn more.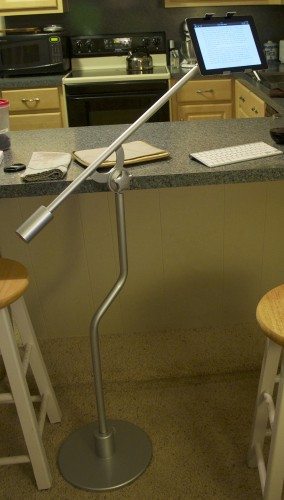 The tablet stand is a totally new market, yet another that has sprung into being since the advent of the iPad and similar tablets in 2010. Two years ago, when you searched for iPad stand, or tablet stand, you got a few custom-built device holders, crafted in wood or acrylic, and most were more concerned with adding the tablet into a specific environment – music, point-of-sale, stand-alone store display, reading, typing, etc. Some of my favorite video podcasts spent months seeking out stands for their sets, and they always felt there was a compromise. Now, however, there are many, many stands in metal, wood, Fiberglas, and about any other imaginable substance, and many have been designed for general use, rather than being niche products. The m2 Floor Stand from Flote is one that recently crossed the threshold of the Gadgeteer Southeastern Outpost. Let's take a detailed look, shall we?
Note: Photos in this post can be clicked or tapped for a larger version.
When it arrived (in two boxes!) I was worried that I wouldn't have room for it in my home. Opening the packaging, I found in the heavy squarish box a silvery, smooth disc with a heavy, thick cylinder either cast or machined with the disc or welded so cleanly that I can't find a seam, top or bottom. This piece pushes my bathroom scale toward 30 pounds. It feels like it weighs a ton, though, because it's so flat and slick. There are five Teflon pads glued onto the bottom of the disc, and there's a hole through the center of the cylinder that goes through the center of the disc as well. The other piece is an articulated arm assembly that has an angled post attached to a weighted crosspiece. The end of the arm is attached to the post by a piece of metal welded at two points.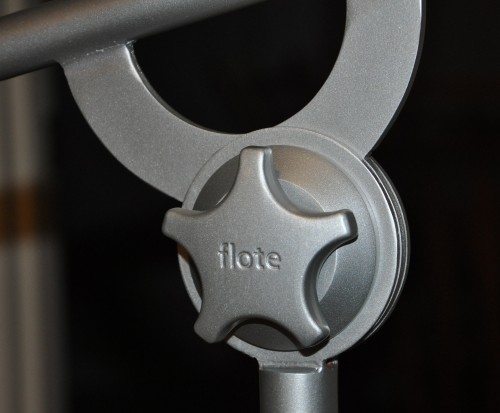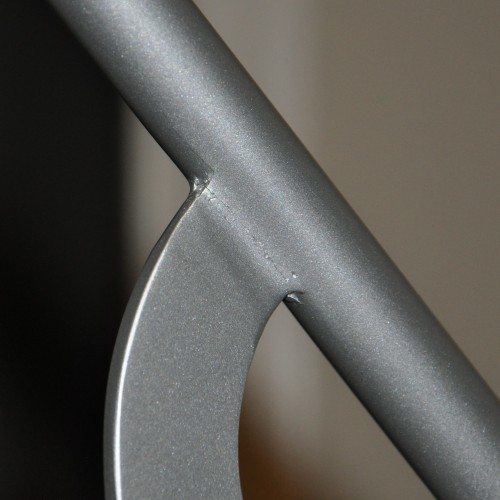 That attached piece has a ring to connect it through a bolted disc atop the post, attached with a five-pronged knob for tightening. This is all assembled for you. There's also a cradle for a tablet that is spring-loaded with two padded jaws facing each other about 7″ apart.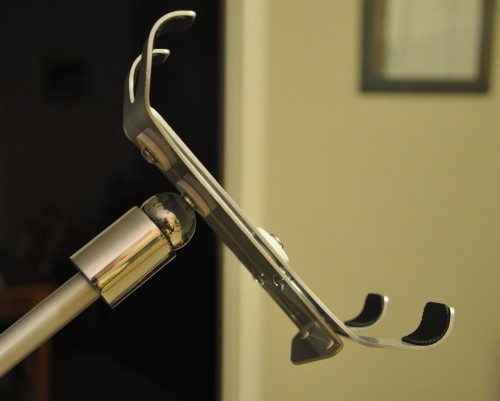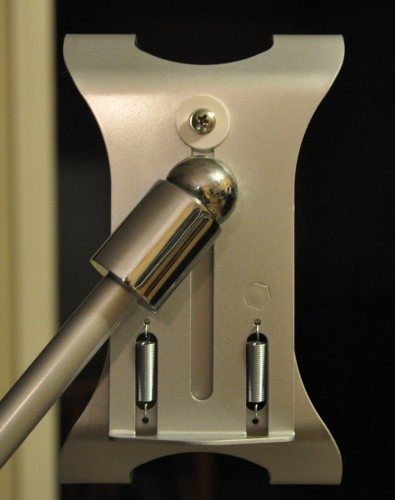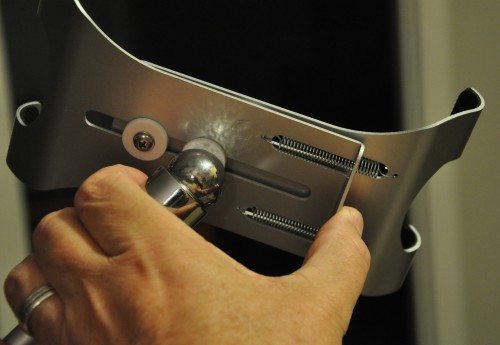 There's a ball joint bolted into this assembly, and a curved bit to allow easy opening of the jaws for attaching your tablet. (See photo above.) The post-and-arm piece slips into the center hole of the disc, and is fastened with an included Philips-head screw and washer. (This step is your only need for a tool.)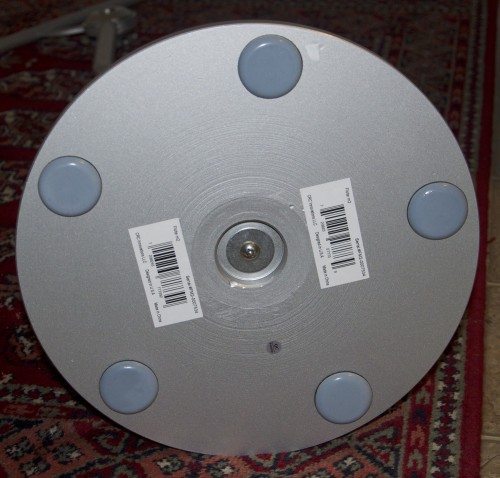 This is not a rigid attachment, because the post goes a little further into the socket, so that the whole post arm swivels easily, yet does not pull out, should you decide to grab the post and carry it to another room.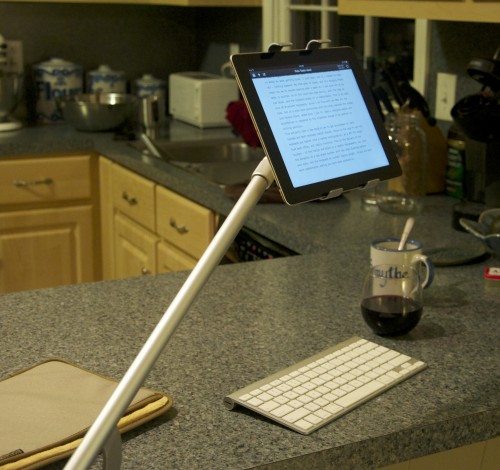 The non-weighted end of the arm is extendable and tipped with a shiny, chrome-looking knob with a concave scooped out tip. This looked like a good place to put a screw-type ball and socket joint, so I picked up the cradle and moved the ball toward the tip of the arm. About two inches away – SNAP! – the ball slammed into the socket magnetically with a huge force! I was glad I didn't have my iPad in it, or a finger in the line of fire. The ball swivels easily, yet can be made to stay in most positions. Once you pinch-and-capture your iPad into the rubber-cushioned case, you'll have a post that swivels with an adjustable cross arm attached on top, and a tablet magically floating off the end of the arm.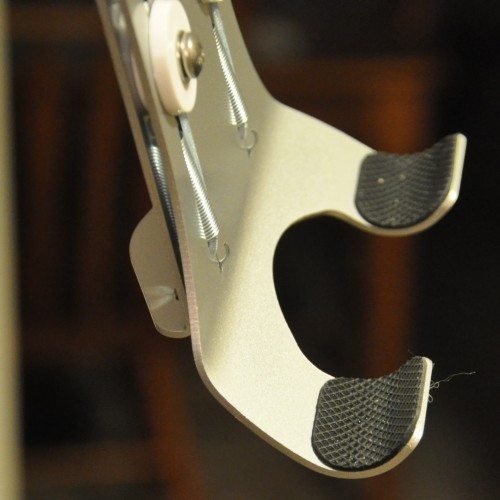 The tablet can be placed anywhere, at any angle, and it just stays there when you let go. If you ever moved Apple's G4 iMac screen around, it's much the same feeling, except that screen would not adjust angles.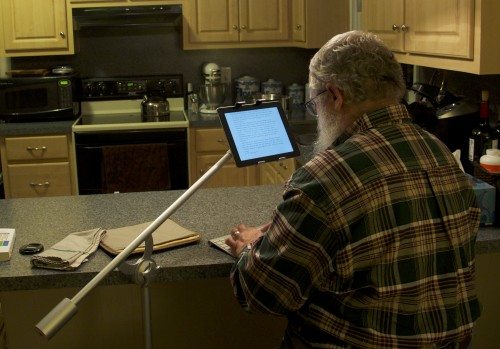 I am really in awe of what having my iPad at any angle, over any surface, in any situation around my home and office has done. I now can recline on the sofa and read blogs or Zite as easily as I used to read a magazine held over my face. I don't worry about it falling, or about my arms getting tired. I just read. And if I happen to doze off – nothing happens. My iPad goes to sleep, and it's hanging there, ready for me to resume reading when I wake up. I can also sit at my desk, a counter, or on the couch and type easily, with the iPad at eye level, and the keyboard where it is comfortable. This is my real love of Bluetooth keyboards, since I do this with my iMac all the time, but it's even more pronounced with the iPad, because the screen just hovers there,  wherever I put it, easily changing angles and orientation in response to the slightest change in my posture or sitting position.
This actually took a few days of use to get accustomed to. With laptops and most keyboard tablet stands, there is the urge to get the keyboard and tablet into a laptop configuration, at a 65°-75° angle from each other, but nearly touching. Maybe it's just a habit because most of us have been using laptops for so many years. This is the fallacy of the Surface and other "laptop-like" tablet/keyboard combinations – if the tablet and stand is nothing more than a laptop replacement, you lose the benefits of a two-piece system. With the iPad floating before your eyes, and the keyboard at correct typing height, things are much more comfortable, making you much more productive.
Tablets are taking over the world. Whether it's children in school or at play discovering new information through learning games, presenters from the home improvement salesperson in your living room, to the passionate human rights advocate on stage at a rally, or retailers from your local coffee shop or food truck to the plumber fixing your leaky kitchen sink, tablets have infused themselves into life in 21st Century America to a degree and at a speed we've not seen in a while. From many reports, this is a global phenomenon, but I can only speak from personal experience. I have personally seen each of those above scenarios in the past two months. What differed in each instance was how the device was controlled while doing something else with your hands, or for sharing easily with someone else. Of the ones I have seen or used, none come closer to being a "universal" stand than the Flote. Whether the desktop model or the floor model, it can fit into and improve tablet use and ergonomics in a way unmatched by competitors.
I wrote most of this review in various places around my house, all using the Flote stand. I worked at my den/kitchen peninsula, on the deck seated in a mesh chair, and at my desk with both keyboards for iPad and for iMac trying to confuse me by being identical. (Yeah, first world problems, I know…)
So, let's get down to brass tacks. The Flote stand is beautiful, functional, flexible, and useful. It is also expensive ($400), bulky, and difficult to move around. You'll have to decide if it's worth your investment, but I'm sold! Other than the ball joint slipping when using the iPad at an extreme angle a few times, it's not let me down once. And repositioning the arm and tablet angle was a simple fix on those few occasions.
Five stars.
Updates 03/31/16
I still use this occasionally, but with some of the cases I've been using, it doesn't seem to hold the iPads up as well. The problem is with the ball joint smoothing out in use. It simply can't hold up the iPad Pro, or an iPad air 2 with a case.
Source: The sample for this review was provided by FloteYourTablet. Please visit their site for more info.
Product Information
Price:
$299.99
Manufacturer:
CRC Innovations LLC
Retailer:
FloteYourTablet
Requirements:
Pros:

Infinitely adjustable
Stable yet easily adjustable
Works with virtually any tablet

Cons:

Expensive
Really, really heavy
Quite bulky