We use affiliate links. If you buy something through the links on this page, we may earn a commission at no cost to you. Learn more.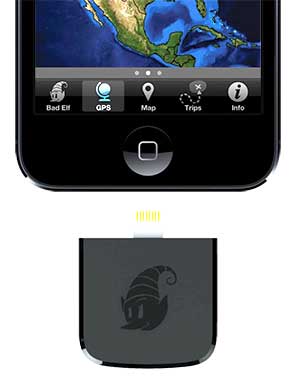 Using your iPhone's built in GPS to navigate from point A to point B is easy to do as long as you have a cellular signal. But get off the beaten trail and you'll quickly find yourself lost. If you want to add a high performance GPS to your iPhone, iPod Touch or iPad that doesn't rely on cell towers or WiFi hotspots, consider a Bad Elf GPS. This small plug-in GPS comes in 30pin and Lightening connector versions. It supplies GPS/GLONASS satellite derived data that is accurate to 8 feet at elevations up to 60,000 feet and speeds up to 1,000mph. It also offers a micro USB port that allows pass-through charging to the iOS device via the Lightning connector. In addition to navigation tasks, this GPS is also useful for photo geotagging and geocaching activities.
Each Bad Elf GPS for Lightning Connector includes a free upgrade to CoPilot Premium, available in the app store. CoPilot Premium delivers offline road maps for voice guided turn-by-turn, vehicle navigation without requiring an Internet connection or wireless data plan. This upgrade is limited to USA purchases only.
The Bad Elf GPS is available now for $129.99 ($119.99 for 30pin version).