We use affiliate links. If you buy something through the links on this page, we may earn a commission at no cost to you. Learn more.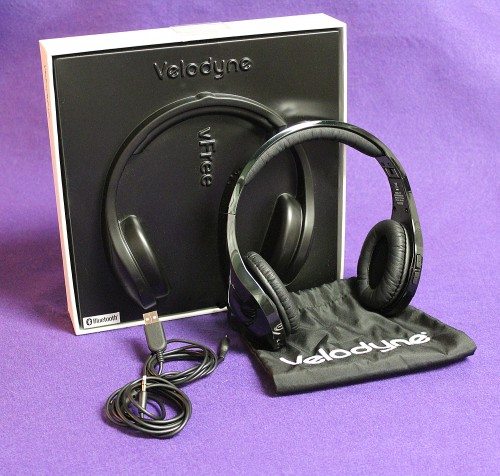 As our society becomes more and more mobile – and wireless – headphone makers are stepping up and providing consumers with choices. Some of those choices are a new breed of Bluetooth headphones that provide a freedom that could only be imagined just a few years ago. Velodyne – famous for subwoofers – now offers the vFree On-Ear Bluetooth Headphones. Let's rephrase that: Velodyne has come from nowhere and exploded with almost too many headphone choices with the vFree being just one. Their current selection is quite impressive. After reviewing the nice vPulse earphones and the massive vTrue headphones, I was anxious to see what Velodyne could do with Bluetooth. I was wondering if the audio quality would be typical Bluetooth (and all that implies). I was curious if the famous Velodyne bass would be there. I was … well, you get the picture.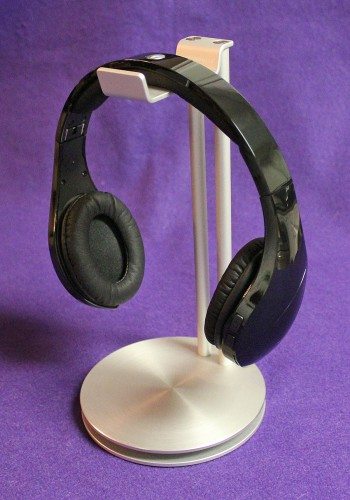 The Velodyne vFree's name simply means that it is free of wires – allowing the listener to move around, so long as they don't wander more than 25 ft from the Bluetooth signal source. However, the convenience of wireless mostly comes from that iPhone/Android in your pocket or being paired with a desktop computer without wires getting in the way of a keyboard. At least, that's how I use the vFree. And the more I use them that way, the more I like them. 
Granted, being wireless and relying on Bluetooth compromises the audio. I don't care what improvements in Bluetooth have been made, it still can't compete with hard-wiring, even if it is the latest apt-X Bluetooth. Every wireless headphone I have heard sounds clearer and louder when wired. However, I (and countless others) are willing to put up with these shortcomings for the sheer convenience of going wireless. It's in that spirit that I like the vFree.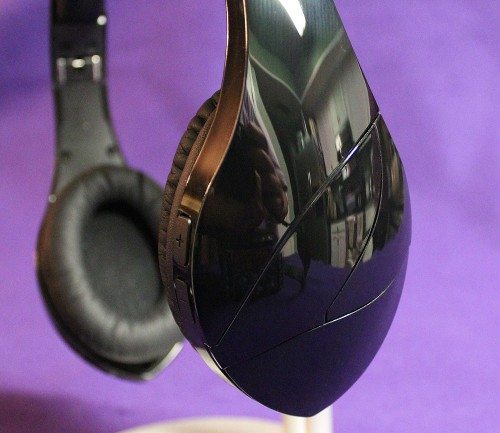 What I don't like is the overuse of plastic. The vFrees squeak and twist too much to feel secure. It makes me wonder how they will hold up over time – something I can't report on early in the testing. Plus, when you factor in the $300 price, it becomes even more of a concern. They just don't feel like $300 cans. I'm hoping the expense is in the impressive tech the vFrees incorporate. Note: As the time of this post, Velodyne offers a 2012 version of the vFree for $179 – a substantial savings. The specs are identical for both versions.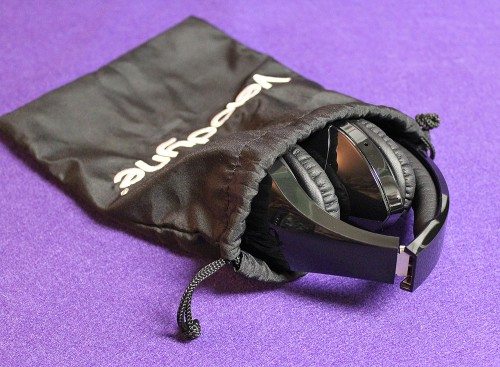 The vFree comes in three colors: Black, white, and silver — all glossy fingerprint magnets. Velodyne offers various designed outer snap-on skins which can customize the look of the vFree. However, the extra $40 cost added on the already expensive headphones place them in a price range well above most people's comfort level. Plus, you can't design your own skins – only choose from what's offered.
The vFree folds up for easy carrying in an included carrying bag. No hard case, though.
Three over-sized and free-form control buttons are somewhat randomly placed on the right ear cup. Velodyne calls them intuitive. I had fun (not) figuring out which button does what, because they have no markings. I was constantly pressing the wrong one. However, with time, it's easier to figure out this unique arrangement. The vFrees have a built-in rechargeable battery with 10 hours talk/music and 100 hours standby. The mic/play/pause is controlled by one of the intuitive buttons – don't ask me which one. Thankfully, the volume buttons are on the side of the ear cup and easier to navigate.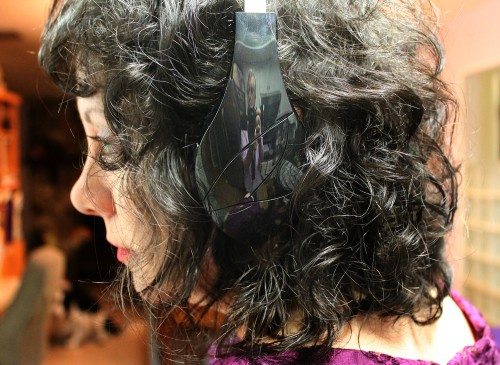 I had fit issues with the vFree. Interestingly, I had the exact, same issues with the much larger vTrue headphones. I just couldn't seem to pull them down far enough on my head. It's like the headband was a fraction too short. I have a big head, but not that big. I could never get quite comfortable enough for longer listening periods.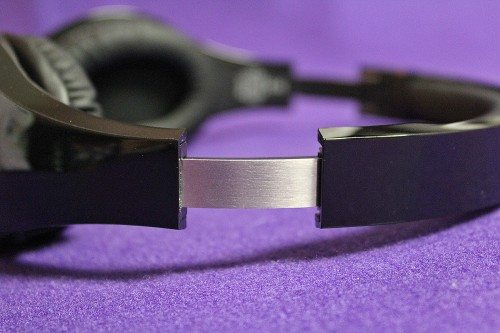 I wasn't surprised by the audio quality on the vfree. Predictably, the audio was much cleaner and had more punch when wired. However, the Bluetooth packed a bit more power than I expected and you can't argue with the convenience of going wireless, … but, it's still Bluetooth. If a person only used Bluetooth, they would be happy with the vFrees, as long as they refrain from hardwiring them to an iPod. Once you do that, Bluetooth's audio doesn't quite measure up anymore. Pairing the headphones with an iPhone was straightforward and fairly simple. Be warned though; there is a dizzying array or red/blue LED lighting combinations that all mean something. I never learned them all.
Bass on the vFree is what you would expect from a subwoofer company. It's potent and a bit up front. Hip hop fans should like the sound as will fans of more modern music. What the bass is not is overpowering. While this may be disappointing at first listen, it's a good move on Velodyne's part to rein in the bottom end. As a result, the vFree headphones can easily be listened to for extended periods – provided they fit your head properly.
For my ears, classic rock fares well with the vFree headphones. Those older recordings were usually mixed for radio and cheap record players which accentuated the vocal and higher frequencies. As a result, the bass and drums were pushed back. The slightly enhanced bass on the vFree balance out the weak bass nicely on those older recordings. Older vocal recordings, like Frank Sinatra or Nat King Cole sound warm and inviting, as they should – not clinical in any way.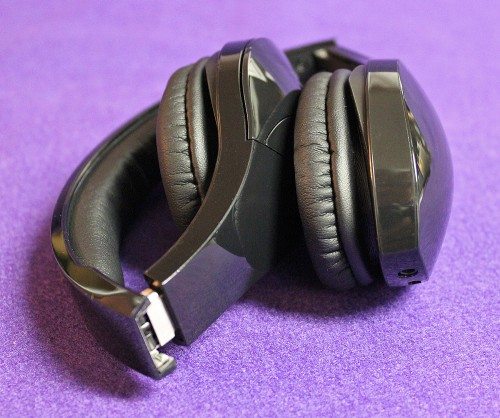 Velodyne's vFree headphones sound good and are extremely convenient when going wireless. The apt-X Bluetooth is about as good as Bluetooth gets. While it's better than older versions of Bluetooth, it still can't match real cord. The $300 price can be off-putting for many, especially considering the overuse of shiny plastic. But it's hard to beat the convenience of wireless.
Product Information
Price:
@299 US ($179.99 for 2012 version)
Manufacturer:
Velodyne
Requirements:
Pros:

Good use of Bluetooth
Incorporates apt-X
Comfortable
Warm, easy to listen to sound
"Art skins" available
Good battery life

Cons:

Over-use of plastic
Fingerprint magnets
Confusing buttons