We use affiliate links. If you buy something through the links on this page, we may earn a commission at no cost to you. Learn more.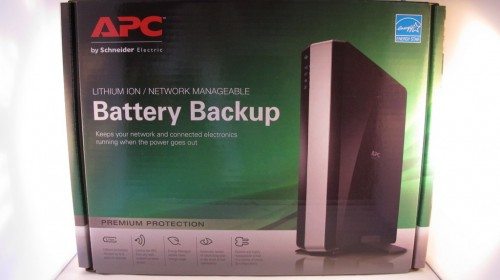 For those of us that are dependent upon the Internet for all the information that streams into our homes, battery back-up of  the hardware that makes it possible is important.  The BG500 by APC not only keeps the power on, but it also has features to monitor energy use, a watchdog function that can reboot your network if connectivity is lost, and UPS monitoring from a web browser.   It may take some time to figure out all the features, but it's worth it in the end.In my case, all my communications comes via the Internet.  I have 3 VOIP lines, Aereo for local television, surveillance cameras I access remotely, alarm sensors I access remotely, several PC's and tablets that are used for video/audio streaming, and of course ,the normal stuff we all do on the Internet.  So, a power failure brings everything to a halt at my house.  Of course, a piece of battery back-up equipment isn't going to keep everything going for long , but in conjunction with a back-up generator, I can keep connected.
Features:
Back up and protect your hardware and data during power outages, surges, and spikes.
Provides protection of connected equipment from power surges on the data lines.
Energy-saving feature automatically powers off peripherals when the master device, usually a PC, hibernates or is shut down. Power to peripherals is immediately restored when the master device wakes up or is switched on.
Remotely manageable Smart Outlets can be individually configured to provide battery backup and surge protection or surge protection only. Smart Outlets also monitor and control energy usage to optimize power efficiency, reduce energy costs, and minimize your environmental impact.
Use your PC to access additional power protection and management features for your UPS via a USB Port.
Provides notification of changing utility power and UPS power conditions.
Monitor your power status and manage your UPS via a web browser.
Keeps you connected to the internet by detecting the loss of network connectivity and automatically rebooting network devices.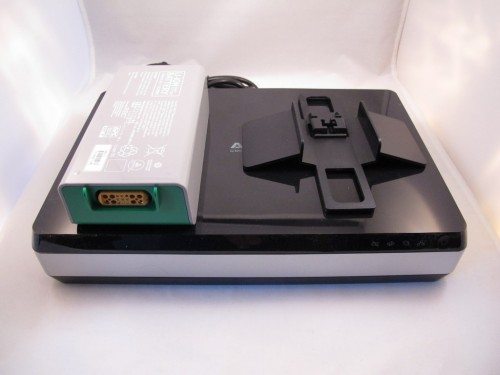 The back-up unit comes with the battery not installed.  It's easy to slide into the UPS.  It also comes with a stand to position it vertically.
Specifications:
500 VA
Maximum Load 300 W
Nominal Input Voltage 120 Vac
Green Standard Mode Power Consumption 0.86 W
Online Input Voltage Range

Default Setting: 92 V – 139 V
Low Sensitivity Setting: 88 V – 142V
High Sensitivity Setting: 96 V – 136 V

Frequency Range 50 Hz – 60 Hz auto sensing
Total Amperage (all outlets) 4.2 A (including UPS output)
Voltage – On Battery 115 Vrms ± 8% step approximated quasi sine wave
Frequency – On Battery 50 Hz/60 Hz ± 1 Hz
Typical Recharge Time 12 hours
Transfer Time 10 ms, maximum
Operating Temperature 10C to 40C (50F to 104F)
Storage Temperature -15C to 45C (5F to 113F)
Unit Dimensions 29 × 19.1 x 5.4 cm (11.42 × 7.52 x 2.13 in)
Unit Weight 2.2 kg (4.85 lbs)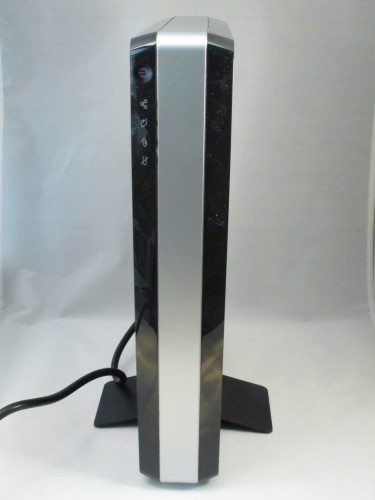 Here's the unit using the vertical stand.  The LED indicators on the left show the battery back-up status.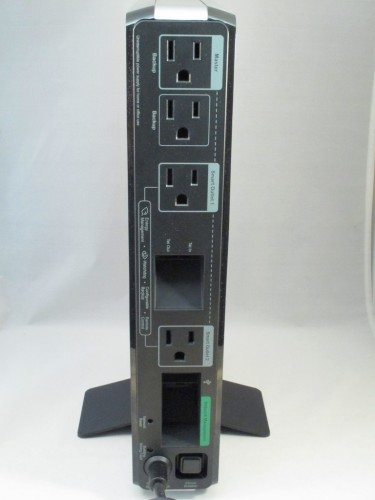 On the back are the outlets for back-up and surge protections.  All the outlets have surge capability, but several have additional features.
The top outlet, labeled main, always supplies power during a power failure, but in addition it is used when configuring either of the smart outlets below.
The second outlet from the top, supplies back-up power always and is not configurable.
The bottom 2 outlets, called smart outlets, are what differentiates this back-up supply from others.  They can be set in energy management mode or watchdog mode.
In energy management mode, smart outlets monitor the main outlet, and if the equipment connected to it is powered off, the smart outlet(s) also turn off until power is restored to the main outlet.  For example, you might connect your PC to the main outlet and a printer or monitor to the smart outlets.  When the PC shuts off or goes into sleep mode, the peripheral equipment will also turn off.
When the smart outlets are configured in watch dog mode, upon loss of network connectivity the smart outlet(s) will be turned off and then on (reboot).  This is the mode I use.  The BG500 UPS is connected to the net via my router.  The Ethernet connection is at the bottom of the UPS and a cable is provided.  It pings an address every so often, and if there is no response, it will toggle the smart outlets off and on.  I have my cable modem plugged into the top smart outlet and my router into the bottom one.  I have it set so that the modem boots in 60 seconds (this is configurable) and the router in the second smart outlet boots next.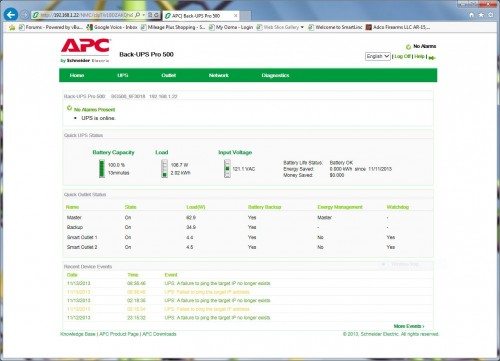 The BG500 is configurable through a web page built into the UPS, which is accessed using a browser.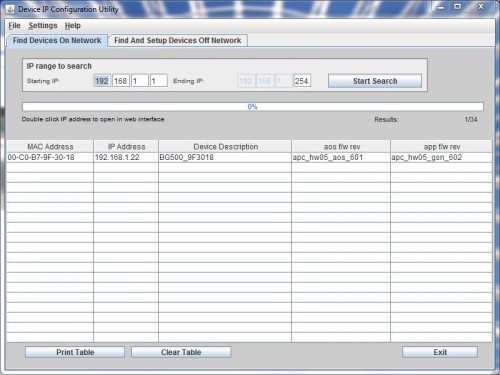 Of course, you'll need to know the IP address of the configuration page.  APC provides a Java routine to find out what it is.  I also determined the IP address using the Netgear Genie program that came with my router.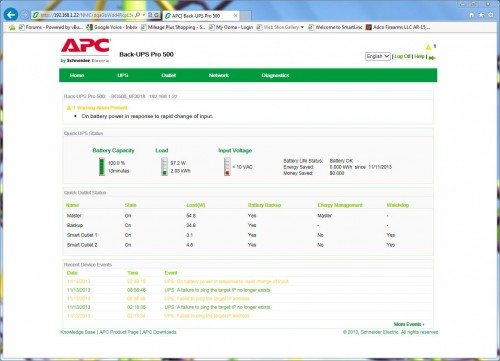 Here the web interface shows that the UPS is in a power failure mode.  It indicates there are only 13 minutes left of UPS power, but I was able to extend this by using another feature of the device.  One can also connect the UPS to the PC via USB when using Windows. On my Windows 7 system, the UPS is recognized as a battery and I have adjusted power settings so that both my PC and display will turn off after 3 minutes when on battery power.  This increased the back-up time to over one hour from the battery for the modem and router.  This gives me plenty of time to go outside and start-up the gas powered generator and flip the transfer switch. In addition to the BG500 powering the modem and router, I have another battery back-up device providing back-up power to my Ooma and Obi boxes plus the cordless telephone handsets.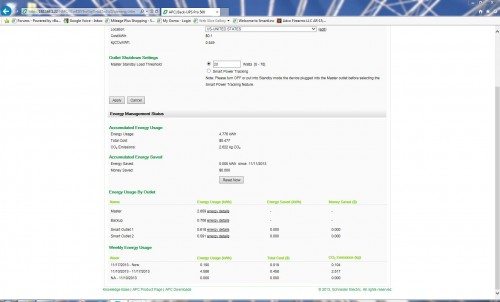 As an added benefit, on one of the pages of the web interface, there is data about how much power is being consumed by the devices plugged into the UPS.
The BG500 works well for me.  I especially appreciate the ability to have the unit reboot my modem and router in case of loss of network.  There have been several occasions when I was attempting to access my home network remotely that I couldn't.  To get it back up I would have to call someone and ask them to go over to my house and reboot everything.  Even if there was someone was at my house, I couldn't call them to reboot because the home phone was also not working because of the network issue.  Now, the BG500 will automatically reboot the network upon a failure.
If you can't tolerate system downtime, a UPS is necessary.  The BG500 from APC will definitely keep your devices running and  it provides additional features for web-based monitoring and control.  It also addresses user needs for network rebooting and energy savings.
Product Information
Price:
$299
Manufacturer:
Schneider Electric
Retailer:
Amazon.com
Requirements:

Windows operating system to use USB interface

Pros:

Many features
Small and slim design
Automatic network reboot upon failure
Smart outlets

Cons: