We use affiliate links. If you buy something through the links on this page, we may earn a commission at no cost to you. Learn more.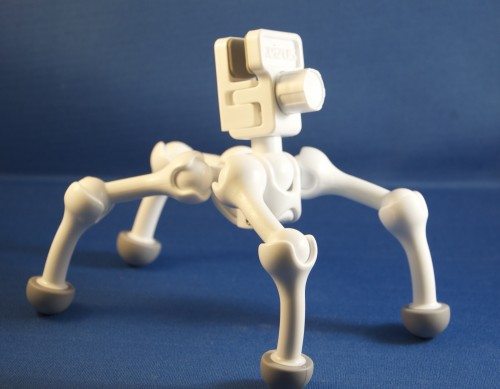 Holding onto our devices during use can be a hassle. Be it a smartphone, tablet, phablet, iPod touch, or anything else, if you want to prop it up to use it to take a photo, watch a video, or have a video chat, an adjustable stand is something that's going to come in  handy. Several designs have come into the market, but something versatile, light, and easy to travel with (the sweet spot for my needs) has been tough to find. Enter the Keizus Quadropod – a white, four-limbed creature with rubber feet and an adjustable screw clamp for a head.
The overall device is a central body 1.34″ long and about an inch thick. It has four round knobs and a socket that holds a ball joint with a  quarter-inch post into which a 1/4″-20 threaded post will fit. A screw clamp with parallel rubberized faces is screwed into this. It's opened and closed with a thumb-screw knob. Since that screw post is the same as standard photo tripods, any attachments that work with a tripod will work with the Kezius. The limbs are made from two snap-together pieces about 1.75″ long and 3/8″ at the center. The ball and socket joints are about an inch in diameter.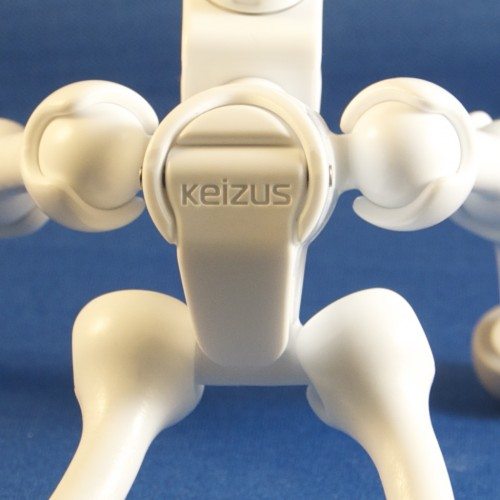 The material it's constructed from is a hardened engineering plastic, which is the same as that used in small car engine gears and the like. The manufacturers have a quite humorous video on their site showing the device being attacked by a car. It's well done, and shows the strength and durability of the material under adverse conditions.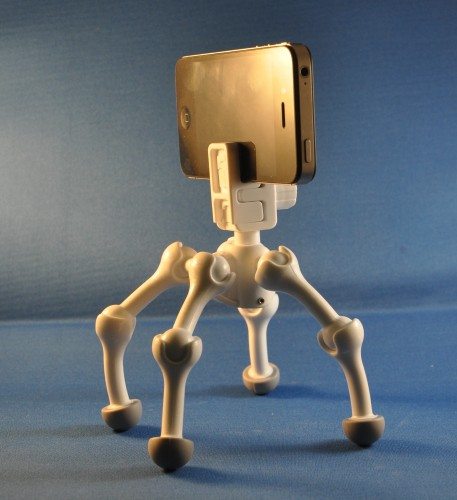 The ball socket can be locked in place with a friction lock that is operated with a lever on the underside of the body.  The "arms and legs" can be popped out and connected into any configuration imaginable in order to adjust to varied terrain.
I tried it with my iPhone 4s, with no case, and it performed admirably. With a 3GS or similar phone with a curved back, it held, but was a little less secure in the vise. Stable enough, but you'd not want to move it around too much with that device inserted.
Ignoring the clamp, you can still form the Kezius into a stand that will support tablets or books. Holding it in portrait is kindy tipsy, but landscape is fairly solid. You're not going to play twitchy first-person-shooters with it balanced there, but watching a video or typing up word processing documents or email will be easier standing upright.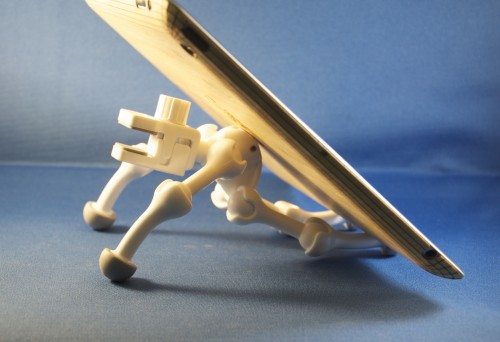 I love taking photos with my iPhone, but trying to steady the phone is sometimes difficult. I've tried using monopods, pistol grips, and mini-tripods of several sizes and designs. I've tried steadying my phone against fence posts, street signs, and parked autos. They all work somewhat, but are not dependable. With the Kezius, it holds the phone, but the joints are not as tight as you'd need to hold a heavier unit. In some positions, it had to kind of "settle" into where it stayed, so if you need rock-solid positioning, this may not be for you. But, for most of us, taking casual pics with our smartphone or a point-and-shoot, this is a really versatile stand.

Product Information
Price:
$40
Manufacturer:
Keizus
Requirements:

Device that needs to be stabilized.

Pros:

Light, strong, versatile.
Works with many different devices
Works with a tripod

Cons:

A little fiddly at times
Sometimes doesn't stay in position