We use affiliate links. If you buy something through the links on this page, we may earn a commission at no cost to you. Learn more.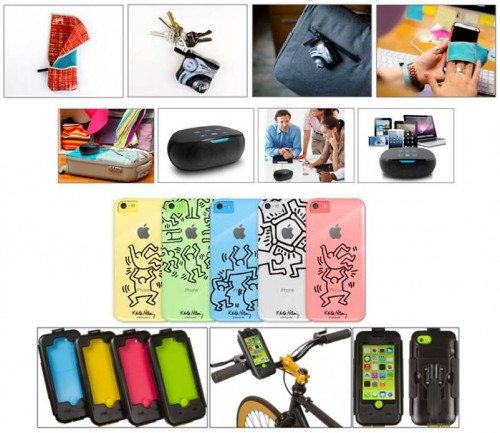 Did you buy a brand new Apple iPhone 5C and now need to accessorize it? Then you will definitely want enter this giveaway for 4 prizes that will keep your iPhone 5C protected, smudge free and hands-free. Don't have an iPhone 5C? No problem, 2 of the prizes will work with any device. Full details after the jump.
Prizes:
1 lucky winner will win 1 each of the following prizes – 4 prizes in total:
Case Scenario: Keith Haring Crystal Case for iPhone 5C
Lightweight transparent case shows off new iPhone 5C's color
Available in four iconic Keith Haring designs
Flexible case adds flair and impact protection
Transparent design shows off iPhone 5C's new design
Price:  $20 value
Website: www.case-scenario.com
Satechi: BT Touch Speaker
Portable Bluetooth speaker delivers high quality audio and allows for hands-free calling
2.5 X 2 watt dual-channel speaker system delivers crystal clear, room-filling audio
Integrated built-in mic allows for hands-free calls from any Bluetooth-enabled smartphone
Modern, blue LED touch buttons control audio playback, volume and answer calls
Features a rechargeable lithium ion battery and 3.5mm jack to directly connect devices
Glossy, sleek black design matches any office aesthetic
Price: $49.99 value
Website: www.Satechi.net
Toddy Gear: Pocket Toddy
Unique travel-sized, tech cleaning accessory delivers dirt-free and smudge-free electronic maintenance in a convenient form factor
Smart Cloth crafted with a built-in pocket that is made with a 100% microfiber plush and microfiber silk dual-sided design
Engineered to clean an array of sensitive items including smartphones, glasses, camera lenses, and laptop screens
Features an elastic tab for on-the-go functionality and easy key-chain, backpack, or purse affixation
Available in 3 stylish designs: Nantucket, Lexe, and Filter
Price: $9.99 value
Website: www.toddygear.com
Bike2Power: BikeConsole Smart Mount
Heavy duty, waterproof and shock proof mount splashed with vibrant colors to match the iPhone 5c
Protects your phone against rain, snow, dust and dirt
Secure versatile mounting system connects to bicycle bars, strollers, scooters or anything with a bar or stem
Features a 360° swivel design to rotate horizontally or vertically for optimal viewing of any cycling app, GPS instructions or music track selection
In-bracket safety lock provides complete protection from impacts during rides on tough terrains
Comes equipped with a sound-boost and anti-glare technology for optimal sound and veiwing
Provides full accessibility to all smartphone functions including touch screen, front/rear cameras, and wake/sleep and home buttons
Price: $47.95 value
Website: www.bike2power.com
How to enter (please read carefully – any missed steps and your entry will be disqualified):
1. Between now and 11/06/2013 11:59PM EST leave a comment with any suggestions that you have for the site layout. I'm currently working with a designer to redesign the site, but would love some extra feedback and ideas before we get too far along.
2. At some point on 11/07/2013, I'll pick 1 random winner using random.org. The winner will be contacted by email and will have 48 hrs to claim their prizes. If I do not receive an answer to my emails in that time period, I'll do other random.org drawings till the prizes are gone.
Rules:
1. Only one entry per person (warning: I check IP addresses).
2. Gadgeteer writers, family members and close friends may not enter this contest.
3. the-gadgeteer.com is not responsible for any lost packages or incorrect shipping addresses.
4. Winner must have a US shipping address.
Update:
The winner is #22 Craig Benedict. – No response
The winner is #3 Daniel Bertalotto
Thank you to everyone who entered. I'll be using your ideas for the new site layout.
Also thank you to the sponsors of this contest.