The Gadgeteer is supported by readers like you! If you buy something through links on our site, we may earn an affiliate commission. Thank you! Learn more.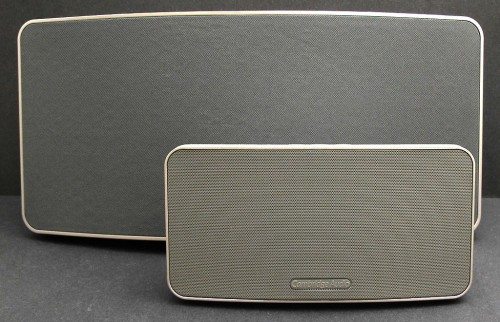 A couple months ago I posted a review of the Cambridge Audio Minx Go and concluded at that time that it was my current favorite small speaker. Then I was given the opportunity to try the Minx Go's bigger brother, the Cambridge Audio Minx Air 200 Wireless Music System. At twice the size and four times the price of the Go, is it a worthy speaker system? Let's see.
Note: Images can be clicked to view a larger size.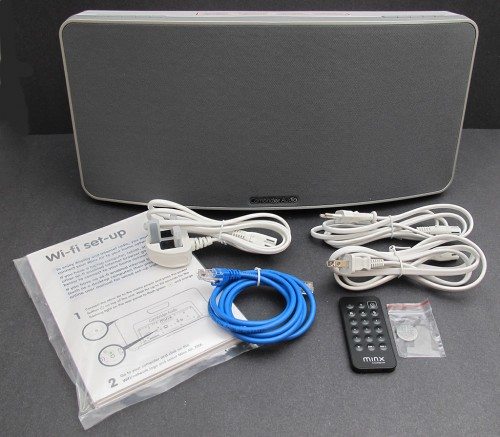 Package Contents
Cambridge Audio Minx Air 200 Wireless Music System
Power cords for US, UK and EU
Ethernet cable
Remote with coincell battery
Setup guide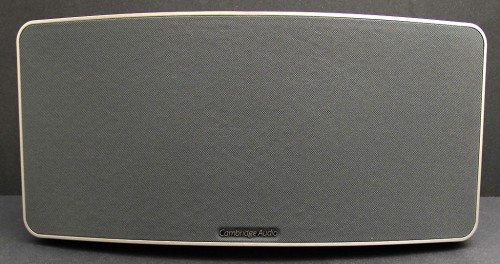 The Minx Air 200 is a beast as far as size goes. With a foot print of 17.7 x 7.2 x 6.9in (450 x 220 x 174mm) and weight of 11lbs (5kg), this speaker is not meant to be carried around to and fro even though it has a built in handle.
The front surface has a grey knit cover over the front firing speakers. I'm not a fan of knit covers because dust and fuzz (aka cat hair) sticks to them. I prefer the metal grill cover of the smaller Minx Go. That said, the speaker does have a nice classy look that should fit into any decor, from home to office.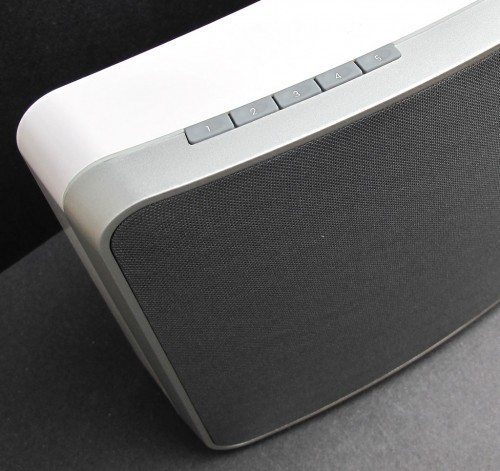 Along the top of the speaker are two banks of rubber buttons. On the left side are 5 preset buttons that can be assigned to internet radio stations. More about the "radio" feature in a minute.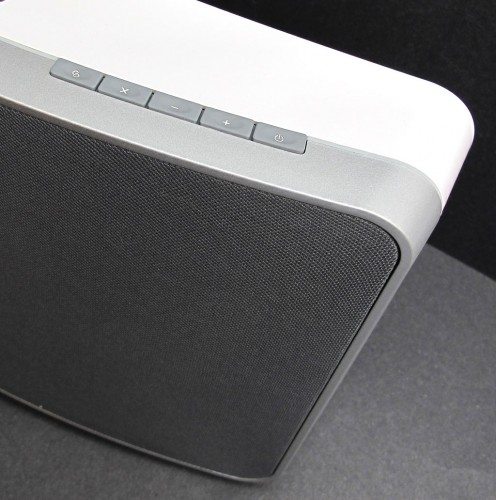 And on the opposite side you'll find power, volume, and pairing buttons.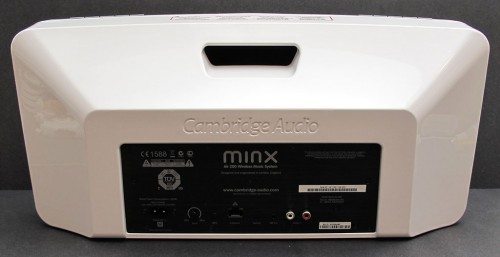 The bass port is on the back and doubles as a handle. It does make it easier to relocate the speaker if you need to move it from place to place. But just remember that the Minx Air is not a "portable" speaker in the true sense of the word, because it lacks a built in battery. If you want to take it outside with you, you're going to need a power outlet near by.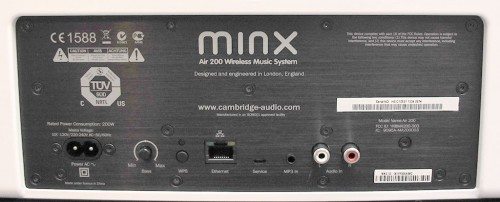 Also located on the back of the speaker are the connection points for power, Ethernet, 3.5mm line in, and left/right RCA jacks. There's also a service port and a bass adjustment knob.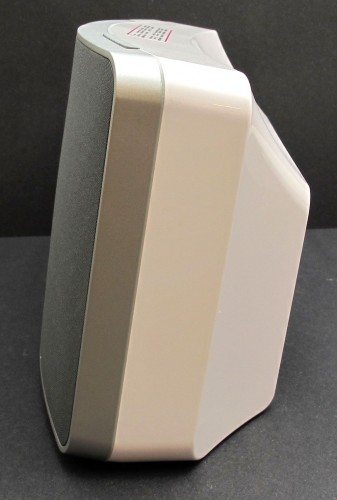 Side view…

Bottom view. The bottom has a nice wide rubber base that will keep the speaker in place where ever you decide to locate it.
The case of the Minx is made of plastic, but it doesn't feel cheap at all. It looks and feels like a quality product.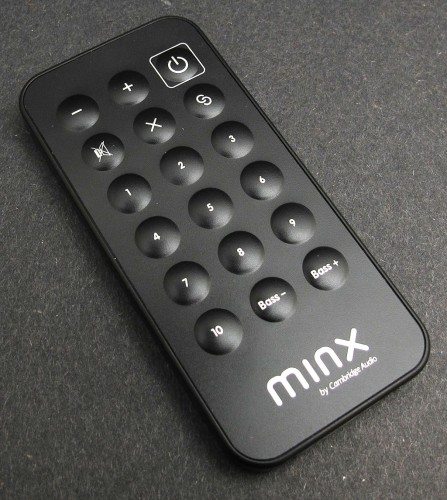 Also included is an IR remote that can be used to control the Minx Air 200.
Setting up the speaker to use AirPlay and access internet radio stations is really easy as long as you have a WiFi connection and a computer. Basically you just turn on the speaker and then go to your computer and look for the new WiFi access point that the Minx creates for setup. You point your computer to that connection and then bring up a webpage where you tell the speaker which WiFi access point to use. Then you point your computer back to your original WiFi connection and you're done.
Once it is connected to the internet, you can use the Minx Air 200 to play internet radio stations simply by turning on the speaker and pressing one of the numbered buttons on the top of the unit or remote control.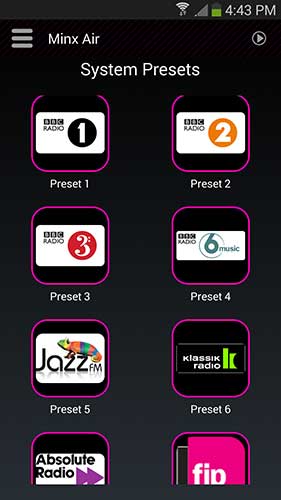 If you install the free Minx iOS or Android app, you can access 1000's of other stations and change the button presets. The nice thing about this feature is that it allows you to quickly get some music pumping out of the Minx and doesn't require you to fiddle with Bluetooth connections or AirPlay. Just press the power button, wait a few seconds and then press one of the presets.
Of course, you can also pair the Minx Air with a Bluetooth device like your smartphone, and play tunes that way. You can also connect an audio device to the speaker using a 3.5mm patch cord plugged into the line in jack or the RCA jacks on the back of the speaker.

My favorite way to use the speaker though is with my Macbook Air and Apple's streaming technology called AirPlay. AirPlay is cool because unlike pairing via Bluetooth, where all your audio gets channeled to the paired speaker, AirPlay only streams from the AirPlay enabled app like iTunes. That means that all my notification sounds or anything else I'm doing on my Macbook Air will come out of the laptop's built in speakers instead of the Minx.
Ok, let's talk sound. For $600, you would expect the Minx Air 200 to sound awesome right? The sound is rich and warm, with very good bass. It is the best large speaker I have right now. But I can't say that it has impressed me to the level I was hoping it would.  I enjoyed listening to all types of music on it, but nothing made me say WOW. I do think the speaker sounds best when you crank it up. But then it's too loud for a smaller room. There's also a hiss in the background that you'll notice whenever music is paused. Little things like that drive me nuts.
When it comes down to it, I think the Cambridge Audio Minx Air 200 Wireless Music System is a very well made and good sounding wireless speaker. I just don't think it's $600 nice. $300 maybe. But for $600, I think you can do better.
Support The Gadgeteer
:
The Gadgeteer is supported by readers like you! If you buy something through the links on our site, we may earn a small affiliate commission. Thank you! Learn more.
Product Information
Price:
$599.99
Manufacturer:
Cambridge Audio
Pros:

Great sound
AirPlay
Internet radio with custom presets
Built in handle

Cons:

Expensive
Slight hiss when not playing audio
No built-in battery for portability