We use affiliate links. If you buy something through the links on this page, we may earn a commission at no cost to you. Learn more.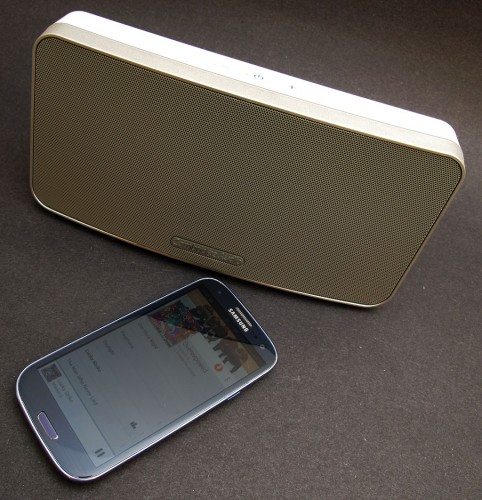 The latest Bluetooth speaker to show up on my doorstep is the Minx Go Bluetooth speaker from Cambridge Audio. I've been using it for a few days and so far it's been a winner in both sound and battery life. It's more expensive than some of the other speakers that I've looked at recently (see related reviews list at the bottom of the page), but this is one of those times where you get what you pay for. Let's take a closer look.
Note: Images can be clicked to view a larger size.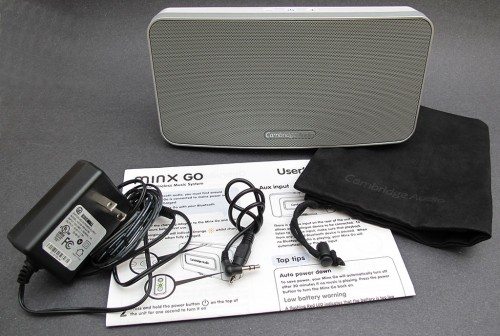 Package Contents
Minx Go Bluetooth speaker
AC adapter
3.5mm patch cable
Drawstring bag
User manual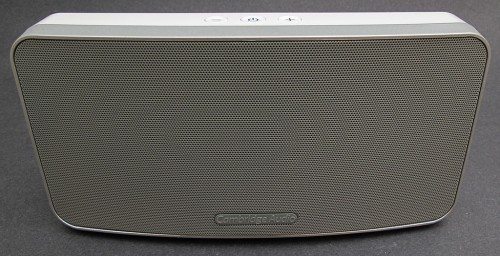 The Minx Go is available in either white or black gloss finishes. I was sent the white version which has a brushed metal grill on the front. The design is simple and classy. It will look just as nice on a shelf in a dorm room as it will on a table in a corporate office.
With a foot print of 9.3″ x 4.8″ x 2.4″, this speaker isn't as small as some of the other portables we've looked at, but I think the size is just right. It's large enough to produce good sound while still small enough to be easily transportable.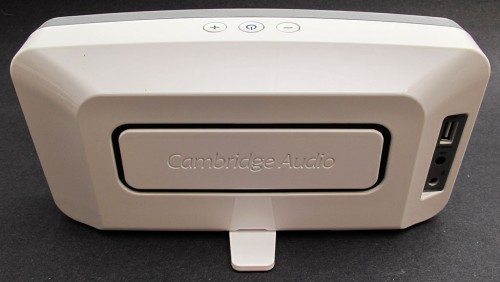 The back side of the Minx Go has a rear firing base radiator and a connection panel with an AC power port, 3.5mm Aux input and a 5V 500mA USB port that can be used to charge mobile devices.
When you're playing music with a heavy bass line, you can see the radiator in the back actually pulse and vibrate.

Controlling the Minx Go is very easy with the three buttons located on the top of the speaker. There are separate volume adjustment buttons marked with – and + and in the center is the power button which doubles as a Bluetooth pairing button. To turn on the speaker, you hold down the power button for a few seconds, after which a short tone sequence will play and the power button will light up in blue.
Pairing is about as easy is it gets. Double tapping the power button puts the speaker in pairing mode and no special access codes or number sequences are needed to connect to your mobile device or laptop. Just scan for the Minx Go speaker in the device's Bluetooth settings and connect. Done.
The Minx Go will remember the last 8 devices that were paired with it and will automatically re-pair with the nearest device when you turn it on.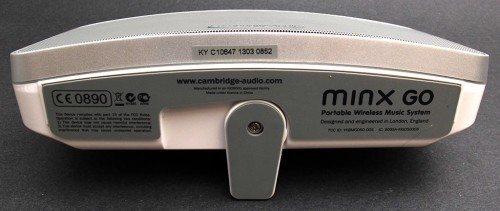 The bottom of the speaker has a swivel stand with a rubber pad to keep it upright and help prevent it from sliding around if you like your music with a heavy bass line.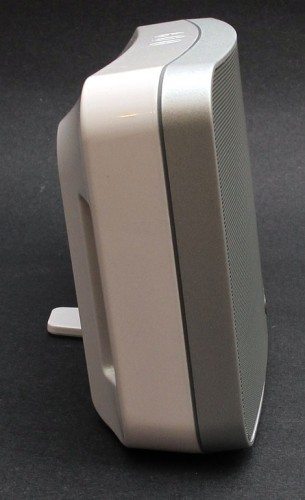 I've been extremely impressed by the sound quality of this speaker and the battery life which approaches the listed spec of 18hrs per charge. I didn't quite get that many hours of play back per charge, but it's been darned close. I think I might squeak a full 18hrs if I didn't crank up the volume so high. I like the fact that the speaker goes into standby mode when no music has been played and will turn off after 30 minutes of inactivity.
I tested the Minx Go with my MacBook Air, Samsung Galaxy S3 paired via Bluetooth and an iPod classic connected through the included 3.5mm patch cord. I played a variety of music from Jake Shimabukuro's amazing ukulele instrumentals to the smooth jazz piano tunes of Jamie Cullum, the hard driving beat of 70's rock bad Bad Company, new stuff from Imagine Dragons and I even threw in some Rihanna in there for good measure. I enjoyed listening to all types of music with this speaker. It shines just as bright with thumpy tunes as well as more tame music that features vocals over drums and the bass guitar. Music sounds full, rich and clear. Even at max volume, which is really loud, the Minx Go didn't distort my tunes. This speaker has no trouble filling even large rooms with full clear sound.
Ok that's the good news. But is there any bad news? I only noticed one issue and I'm pretty sure it has nothing to do with the speaker. When paired with my Macbook Air via Bluetooth and WiFi streaming tunes via a cloud service or through a USB drive connected to my Time Capsule WiFi router, playback would often stutter so much that it was unlistenable. Listening to the same sources through the MacBook Air's built in speakers had no such problems. And listening through the iPod connected via the 3.5mm patch cord or my SGS3 phone connected via Bluetooth was also issue free. Maybe someone can comment on this so we'll know if it's a common problem.
After days of use, I am confident in recommending the Cambridge Audio Minx Go Bluetooth speaker. It's well made, has crazy long battery life and above all else sounds absolutely great. It's earned a spot on my desk as my current favorite speaker.

Product Information
Price:
$149.00
Manufacturer:
Cambridge Audio
Pros:

Long battery life
Full rich sound, thumpy bass
Easy to use controls and pairing
Auto shutoff
USB device charging

Cons: