We use affiliate links. If you buy something through the links on this page, we may earn a commission at no cost to you. Learn more.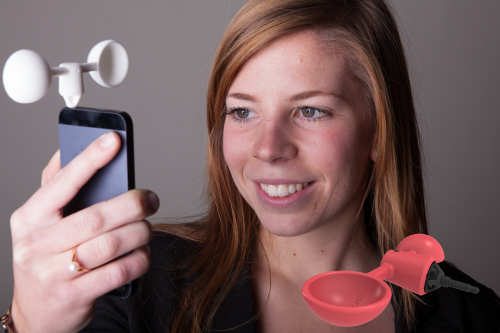 Just when you thought your smartphone could already do everything you could ever imagine, we find out it can do even more. The Vaavud Wind Meter is a precise wind speed measurement reading gadget for your iOS or Android device. The Vaavud is compatible with the iPhone 4, 4s, 5, iPad 2, 3 & 4 generation, mini, Samsung Galaxy S2, S3 and S4. It is made of rugged plastic, has no electronic parts, does not require a battery and plugs into the earphone jack. It's designed to rotate like a flat windmill. As it spins in the breeze, the magnetometer in your device detects the magnetic field created by the two small magnets that are embedded in the Vaavud's rotor. An app then converts the rotations of these magnets into wind speed using modified sound processing algorithms. If your eyes just glazed over, that's just geek speak meaning the Vaavud will tell you how fast the wind is blowing from 1-25 m/s. You can also view the speed in miles per hour, knots, Beaufort, etc and it even shows the wind direction as well.
Who needs a gadget like the Vaavud? Kite flyers, model plane and helicopter flyers, golfers, sailors, rock climbers, paragliders, weather geeks, people who wear a wig and don't want to go outside if it's too windy and more. The Vaavud Wind Meter is available now in either red or white and is priced at $45.