We use affiliate links. If you buy something through the links on this page, we may earn a commission at no cost to you. Learn more.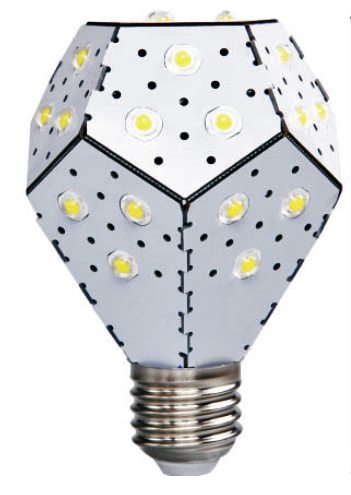 We just bought a condo, and we've been buying things we need to get it set up.  One of the things we purchased was a bunch of CFL bulbs for three floor lamps and a couple of new bathroom fixtures.  We paid $100 for those bulbs, but at least I know I'll be saving electricity and that the bulbs will have a longer life than incandescent bulbs.  My initial outlay would have been much higher if I could have purchased these NanoLeaf bulbs now, but my long-term savings promise to be much higher than I'll see with the CFLs.  These bulbs do away with the glass enclosure and the heat sink current LED bulbs use, because their design allows them to run cooler.  The glass and metal have been replaced with a folded up, printed circuit board that has high-quality LEDs arranged so they produce a lighting pattern more like an incandescent bulb than do current LED bulbs.
The designers say that the NanoLeaf may be the most energy-efficient bulb in the world.  A true 100W-equivalent NanoLeaf should be able to produce 30,000 hours of light for $50 in electricity.  It would take four CFLs and $100 of electricity  or 30 incandescent bulbs and $400 in electricity to produce 30,000 hours of light.   You may pre-order NanoLeaf bulbs now, with delivery expected in March 2014.  (Just a note: the NanoLeaf bulbs started out as NanoLight on Kickstarter.  It was fully funded in March 2013, but the bulbs still are available only on pre-order at the NanoLeaf website and on Amazon in the US.)  Prices range from $35 for a 75W-equivalent bulb to $100 for a 12W bulb that produces 1800+ lumens.