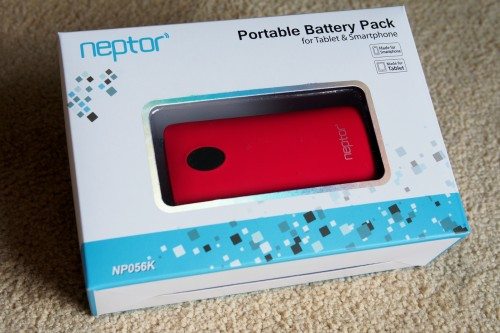 Several times over the last couple of years, I've been left high and dry because my smartphone battery was so drained I wanted to "save" it in case of an emergency. There were still calls/texts/photos/global positioning I needed to do, but with no convenient place to recharge my phone, I was out of luck. That perfect photo opportunity – lost. Lost in an unfamiliar location with no GPS. If I kept a small battery pack like the Neptor in my purse or pocket I wouldn't run into these dilemmas. The Eagle Tech Neptor Battery pack is so small, you can carry it with you everywhere and not worry about feeling helpless with a dead cell phone.
(Images can be clicked to view a larger size)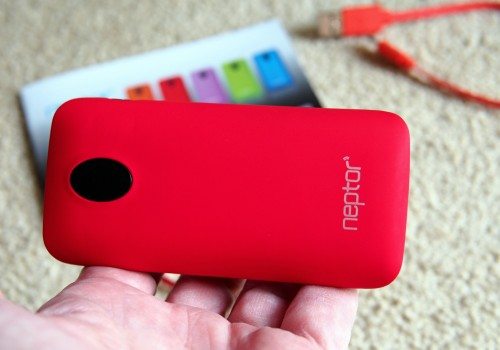 Until dedicated smartphone batteries increase in capacity and decrease in size, we'll be seeing more and more portable battery packs with increasing capacities.  The 5600mAh of the Neptor is quickly moving into the lower capacity range of currently available power banks.  The unit has some well thought out features, including the dual USB ports to charge both a smartphone and a tablet.  There's enough power to recharge a smartphone two or three times, but only about one full charge for most tablets.  For its size, approximately four inches long and two inches wide, it packs a lot of power and feels very solid.  Eagle Tech is an American company, but unfortunately the charger is made in China.
Specifications
Battery Type: Rechargeable lithium-polymer
Battery Capacity: 5600mAh
Dual USB 2.0 outputs : 1×2.1A , 1x 1.0A
Built-in LED flashlight
Charging Time: 5-7 hours
Input 5V, 1A
Dimensions: 3.97 x 1.93 x 0.98 inches
Weight: 5 ounces (141.8g)

The Neptor comes in five vibrant colors. I chose red so I could find it easily in my purse.  The battery itself is covered in a sleek velvety-smooth rubber housing.  I love the way it feels to the touch.
What's in the box
You'll find a matching color flat rubberized miniUSB charging cable, a matching wrist strap, and the user manual inside the box.  You won't find a selection of charging cables to match your smartphone.  It's a BYO-cable deal.  I noticed that the instructions don't explain how to charge the pack, though you don't have to be much of a detective to figure out you plug the USB end of the cable into any smartphone charger, laptop, or a desktop computer to charge it.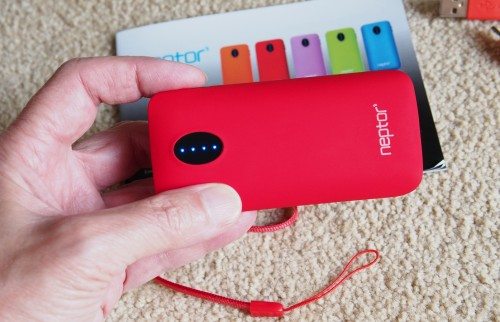 It took my Neptor power bank about five hours to reach a full charge with the provided USB cable plugged into my iPhone 5 wall charger.  When the pack is fully charged, all four blue battery indicator lights on the top front of the pack light up.  Each light represents a 25% charge.  If you get down to only one blinking light, you've run out of juice.  These lights are bright enough to see even in good light.  Because it's a lithium-polymer design, the battery will stay charged if left unused for a very long time.
Features
Compact design fits easily in your purse/pocket
Fairly high capacity 56oomAh provides 2-3 full charges to most smartphones
Supports quick charge (it can increase charging current for 2.1A-enabled devices)
Battery indicator at a glance
Bonus LED flashlight
High quality lithium-polymer battery can be recharged 500+ times
Comes in five colors
Dual USB ports for simultaneously charging two devices
Rubber outer casing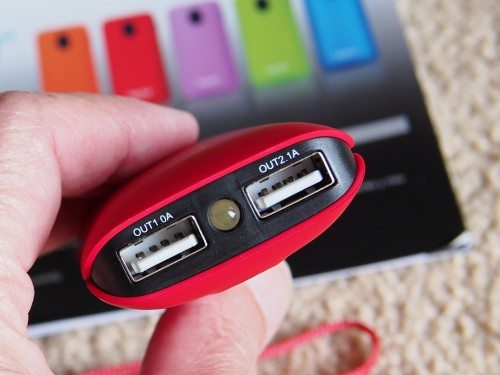 The dual charging ports are thankfully labeled so you know which device to put where.  While smartphones can charge on either the 1.0A or 2.1A port, tablets require the higher 2.1A port.  The ports are also labeled with "Out" so you know NOT to plug the included charging cable in through the out…door.  The labels are upside down when holding the unit with the battery indicator up, which is the top.  I couldn't help but feel the labels should have been printed the other way round.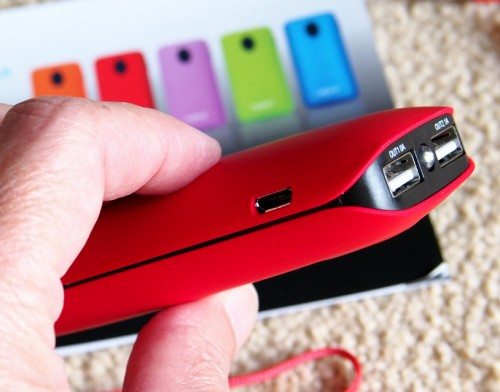 The miniUSB charging port is located on the left side of the battery pack, but it isn't labeled "in".  This is where you plug in the included charging cable to charge the actual battery pack.  I would just leave it plugged in to a smartphone USB adapter in the wall overnight to charge the necessary five or six hours.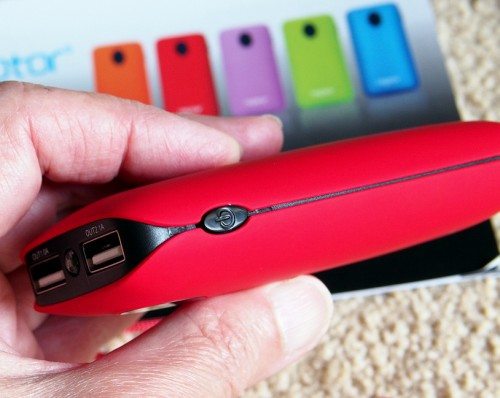 The right side of the battery is the power button.  Pressing the button once will turn the unit on and will light up the battery indicator lights.  Pressing it twice quickly will light up the built-in flashlight.  You can't actually see the port labels in the dark with the LED on.  That would have been nice.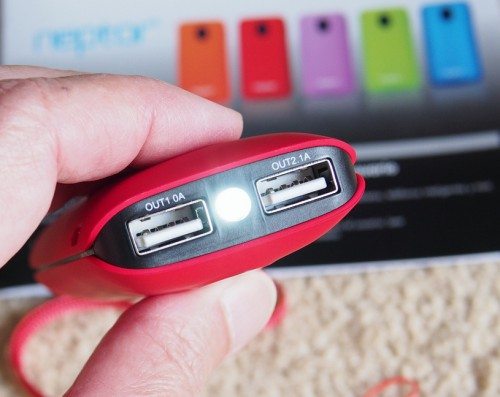 The LED "flashlight" on the front between the dual USB ports is not the brightest, but I could maneuver a dark room using only this light.  It does give only a dim narrow field of view.  If the power went off though, I would be glad to have it.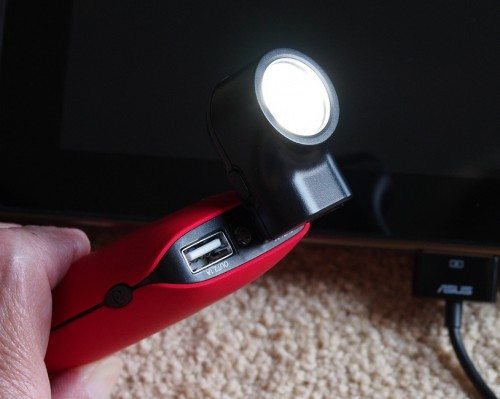 I still had my USB flashlight from the Braven 625s review handy and plugged it into the 1.0A USB port.  I flipped the switch to the on position, and it works.  It puts out a lot more light than the built-in LED.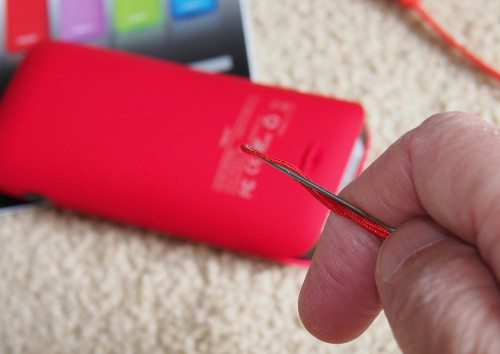 The lanyard through-hole built in to the back of the battery was much too small.  I had to use an undone paper clip to work the wrist strap a tiny bit into the hole.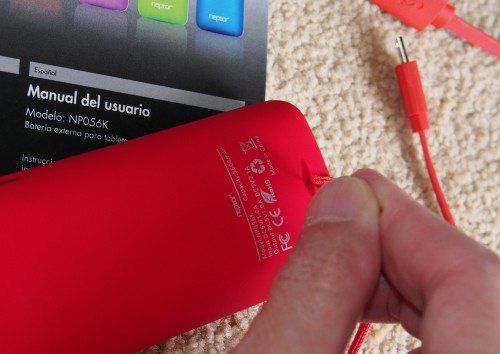 Then I had to use a needle to try to dig any part of the strap out the other side of the hole.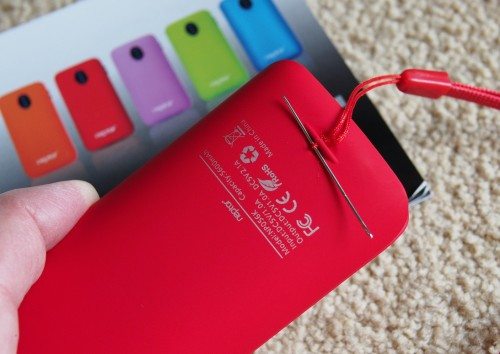 I finally got a little bit of strap through, then stuck the needle through the strap perpendicular to the hole, and pulled it through – 30 minutes later!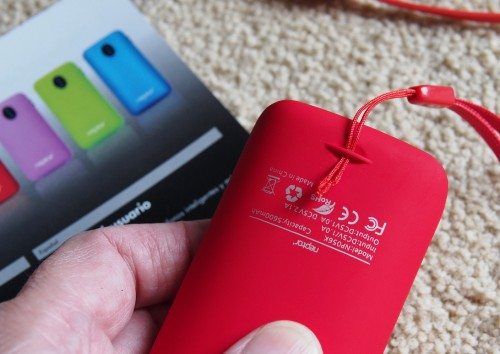 There was a  little damage to the strap, but I was just happy that I got it through.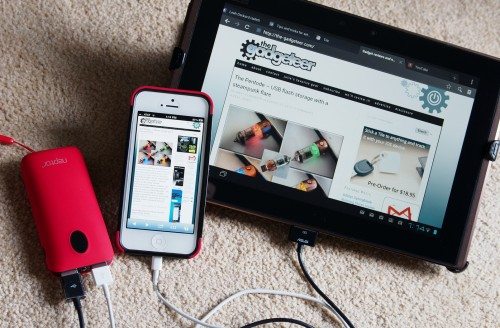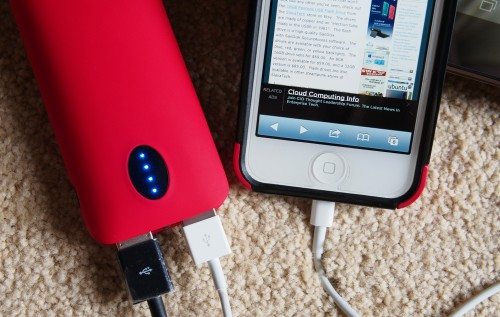 Finally, I was ready to begin charging.  The portable Neptor battery was fully charged after a little over five hours.  I used OEM charging cables supplied with my iPhone and my Asus TF101 Android tablet.  I wanted to test by charging both a smartphone and a tablet at the same time.
I plugged the tablet into the USB 2.1A port and the iPhone into the 1.0A.  Both devices had only a 50% charge left.  I walked away and came back after about twenty minutes to discover the Asus TF101 was still losing battery charge.  Apparently the TF101 requires 15V vs. the 5V supplied by the Neptor.  So no charging from the Neptor for this particular tablet.  I guess this is unique to Asus tablets, and you would not run into this with most tablets.  Check the specs on your particular tablet before purchase.  The iPhone was charged from 50% to 100% in about an hour.
Conclusion
Although there are larger-capacity power banks out there for a similar price right now, one of the Neptor's advantages is its very pocketable size.  I think it still can be a contender due to its portability.  Being able to get multiple recharges or to recharge two devices at the same time is impressive.  The LED flashlight would come in handy if you got caught in the dark.  I also really do love the feel of the Neptor's velvety smooth rubber casing too.  You just want to hold it.
There are some negatives though.  The lanyard needs to go back to the design table!  The through-hole is just too small, and it was frustratingly difficult to attach.  It would be nice if the he kit supplied adapters for current phones.  An auto shut-off feature so you don't have to remember to unplug your device after it's fully charged would be convenient.  The port labels appear upside down when you sit the power bank upright.  Pricewise, I think it's a little pricey, but not by much due to its small size and portability.
In the end, the device will work well for anyone wanting to charge their smartphone on the go.  Except for the lanyard, it's a very appealing gadget.
Some of our links in posts like this one are affiliate links, which means that we may receive a small commission on purchases at no cost to you.
Product Information
Price:
$49.99
Manufacturer:
Eagle Tech
Retailer:
Amazon, NewEgg, TigerDirect
Requirements:

Adapter cables for your devices

Pros:

Small size, pocketable for travel or anywhere
Dual USB ports
Multiple recharges on smartphones
Charges tablets and smartphones
LED flashlight
Velvety smooth rubber casing
Supports Quick Charge

Cons:

Poorly designed lanyard through-hole
No included adapters
Price