We use affiliate links. If you buy something through the links on this page, we may earn a commission at no cost to you. Learn more.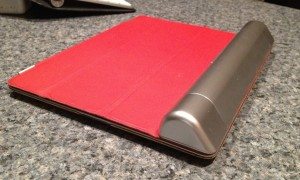 I have completely replaced a laptop in my life with my iPad. I discovered this about a year into having my first iPad, when I realized the only time I had moved my MacBook Pro from the desk was when I presented, using both it and my iPad at a few meetings. But, when I'm out for the day, I still want to carry along a few things: a charger and cable – just in case; a portable battery pack; a screen cleaning cloth; a portable speaker; and my Square dongle. So, I usually wind up taking a bag along, just as I did with my MacBook Pro, but it's just a much smaller bag. When I saw Dotan Saguy's Smart Cargo for iPad on Kickstarter (project ends 8/9/13), I knew I'd have to have one. When Julie asked us to review it, I knew I'd be able to give it a whirl the very day it arrived, which I did. I just checked the project page, and it's well over 400% funded. (Good on ya, Dotan!) I've spent some time using it and can echo what those early supporters felt – it looks great, and it does what it promises. We'll look closer below, and I'll share my thoughts as we take a deeper look.
Note: Click on any photo for a larger version.
The power of portable computing has risen exponentially in the past few years. From the launch of the first smartphones to the iPhone (and the redesign of Android phones to match), to tablet computers like the iPad that can actually get work done, businesses and individuals have a wealth of choices to pick from. With each choice, however, comes a second set of choices: what added cable, charger, or adapter am I going to carry along, and where am I going to store it? This is the reason laptop bags have tended to grow in size and weight over the years, even as laptop size has shrunk. When on the road, we think "I could use a VGA adapter" or "I need a hard drive for backing up files" or "there's room in this bag for my umbrella, just in case". When I stopped traveling with my MacBook Pro a few years ago, my daily carry bag weighed in at 25-30 pounds even when I wasn't going on a trip. I still find myself thinking I need to carry more than I do, even though I've got a fully charged iPhone and iPad when I leave home in the morning, so I grab a charger and cable, and a stand, and my Square dongle, and a battery pack… So when I viewed this Kickstarter campaign, it really struck a nerve. My svelt little tablet was no longer sleek and easy to carry, because I had my bag still. I was really happy to be chosen to review the Smart Cargo.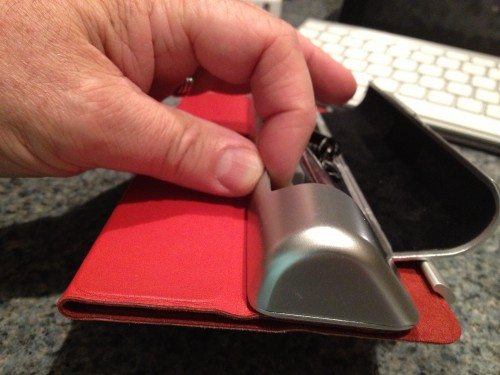 The Smart Cargo is a silver matte-finished tube with a footprint exactly equal to the first section of the Apple® Smart Cover® or Smart Case® (9.25″ x 1.5″). The cross-section is a flattened triangle which rises just under an inch from the base, and fits easily within the rolled up cover/case. There is a 7″ opening centered 1.25″ from each end that flaps open to reveal that the Smart Cargo is basically a nice, hollow tube. The interior is lined with a black flocked material that protects the contents and dampens noise, should things rattle about.
The base has a 3″ long polished steel plate attached, which allows it to cling firmly to the Smart Case/Cover's embedded magnets. The lid has a tongue over 1.5″ and almost .5″ deep. This keeps it firmly closed, no matter how the iPad is shaken. It's not going to fall off, and it's not going to flip open under normal use or occasional bumps and knocks. I never worried about anything inside the compartment during testing – it holds through all I want my iPad to go through.
So, the question many folks asked is: What will it hold? Turns out, a lot, but not all at the same time. I fit in earbuds and earpods with ease. My ArtCloth screen cleaner will fit if rolled, but it can't have anything else overlapping. I put together several test loads which worked well – check the pictures.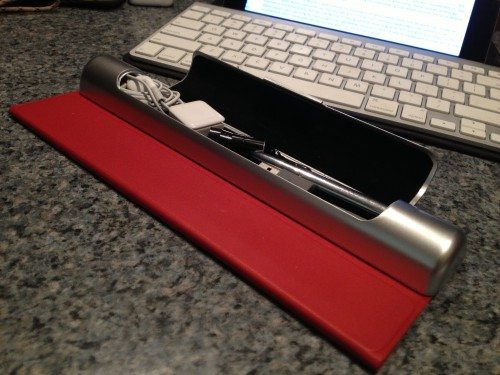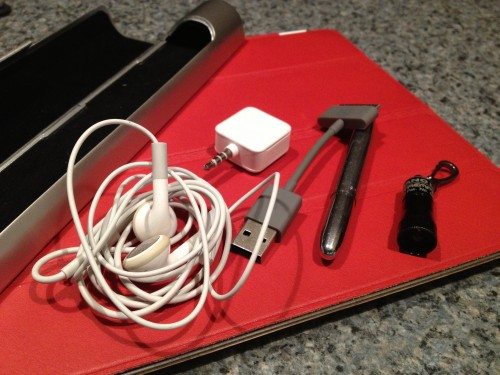 A more important question is this: What won't fit? Loads of things that you may find in your iPad bag can't be forced in at all or cannot be put in with the other items you want to carry. The iPad charger and VGA adapters for 30-pin or Lightning won't fit in any way. Apple's USB dock cable (30-pin or Lightning) can fit, but the cords are thick enough that unless you wrap and tie them tightly, they pop open the lid. My iPhone's Olloclip lens add-on doesn't fit. The TwelveSouth® Compass® stand fits (without its case), but almost fills the interior. I can fit in earbuds with it, if I pack them in just so. The Fisher® Space Pen® fits in with it without the earbuds pretty nicely.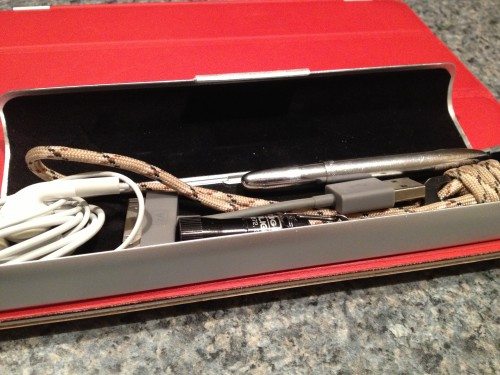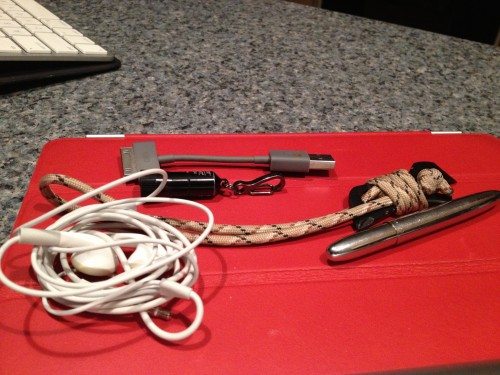 Bottom line, it's a great gadget for taking a few small items along into a coffee shop or meeting, but you'll probably have a larger bag back in your car, desk area, or bike pannier with all the other things that the Smart Cargo won't hold. I still give Dotan Saguy full props for the creative thought that went into the design, as well as the engineering to make a sturdy, well-proportioned carrier that so perfectly fits onto the ubiquitous Apple covers. Keeping it small enough to roll around with the folded cover (and thus preserving the "stay-attached" factor that makes it so valuable) meant some things were not going to fit. Perhaps he could have made it slightly taller, filling in more of the area to gain more interior space, but that still wouldn't have made room for some items. It's not his fault that Apple's charger, VGA connectors, etc. won't fit into the small triangle made by their cases.
I give it a solid four stars: creatively designed, well made, and does what it says, without trying to change the basic design or ergonomics that the designer stated he wanted to meet.
Product Information
Price:
$30
Manufacturer:
Dotan Saguy
Requirements:

Full sized iPad 2, New, or iPad with Retina
Smart Case or Smart Cover
Stuff to carry

Pros:

Fits standard cover perfectly
Looks like original Apple design
Holds things securely
Adds grip/handle to iPad

Cons:

Small size means not much fits
Too small for charger or VGA adapter