We use affiliate links. If you buy something through the links on this page, we may earn a commission at no cost to you. Learn more.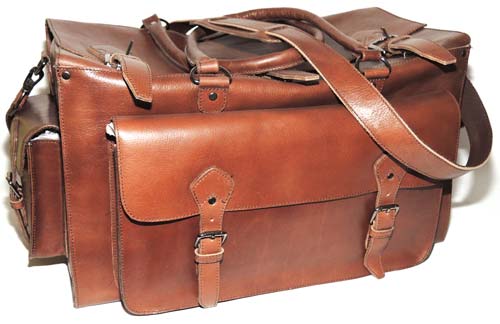 During my tenure here at The Gadgeteer, I have had the good fortune to review many high-quality bags and accessories from around the world, many of them leather and handmade by artisans from Italy to Argentina. I have taken a critical look at so many bags, I like to think of myself as a connoisseur of sorts. I really do not mind joining my wife, sister, or various gal-pals when they go shopping for high-end bags. Most of the time I find mass produced, trendy-bling bags, while very expensive, not nearly as nice or well made as a Colonel Littleton or Saddleback Leather Company equivalent. That said, when Julie offered up several LederMann leather bags, I was interested since I had never heard of their company or seen any of their products.  Curiosity got the better of me and I volunteered to review their Extra Large Bridle Leather Travel Bag.
I have to admit, that when I first viewed the LederMann website and saw pictures of their products, the main thought that came to my mind was "Saddleback wannabes". Where Elizabeth and Smythe have not reviewed any Saddleback products before, their reviews of the LederMann briefcase and LederMann Camera Bag, respectively, focused on the bags themselves. I will not only be discussing/reviewing the LederMann Extra Large Bridle Leather Travel Bag, but comparing its craftsmanship, finish, and details to other bags and manufacturers in the same upper-end price category.
I completely agree with Elizabeth's statement regarding the (comparably poor) quality of the leather:
At first, I didn't really think that it was leather, as advertised – full grain bridle, buffalo skin leather, with thickness of leather used: 6oz – 7oz (2.6mm thickness). There is no distinct leather smell that I'm used to with my other bags.  There also is no leather feel, but a more plastic, waxy surface.  The outside of the bag is quite smooth, but not pliable.
Compared to the leather Saddleback or Colonel Littleton uses in their bags, the Ledermann "thick full grain bridle" leather is second rate at best. The only thing positive I can say about it is that it is thick and (appears to be) tough. Other than that it feels cheap with poor finish to it.
Materials: 
Leather: Thick Full Grain Bridle Leather
Leather thickness: 6 – 7 oz (2.4 mm – 2.6 mm)
Hardware: Heavy-duty Black Gun Metal
Thread: Heavy-duty Nylon Thread
Lining: Polyester
Stout rivets at all stress points
Bottom studs for extra protection
Design & Features:
Measurement: 21″W x 12″H x 10″D Inch – Wide opening for ease packing/unpack
Security Straps/Closure – 3 security leather straps with heavy-duty press-locks
Handle: Leather handle made of leather construction that creates a smooth and comfortable experience
Shoulder Strap & shoulder pad: Adjustable and removable leather shoulder strap from 44″ – 55″ inch length. 1.5″ inch wide leather shoulder strap with a leather shoulder pad for extra comfort
Front pocket: 17″W x 9″H x 2″D Inch – with 2 security leather straps with buckle closure
Back pocket: 1 large zipped back pocket
Outer Side Pocket: Covered pocket each a side with buckle closure
Inner pockets: 2 open pockets for cards, tickets, bill, notes and etc. 1 rear zipper pocket
Key strap: 1 leather key strap/ key chain attached from the inner of the bag
Inner: 2 adjustable and removable nylon strap for secure packing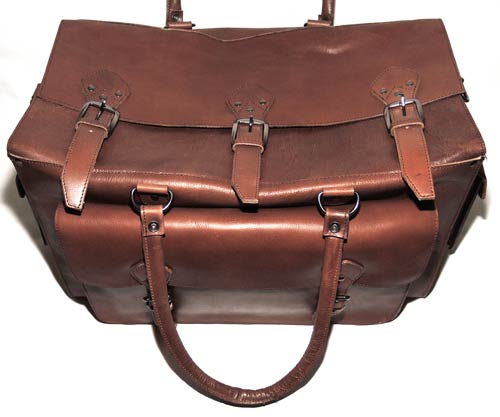 The Extra Large Bridle Leather Travel Bag is very large, bulky, and heavy. It measures 21″W x 12″H x 10″D and weighs a whopping 10+ lbs empty. But I guess that should be expected considering the "Extra Large" in its name.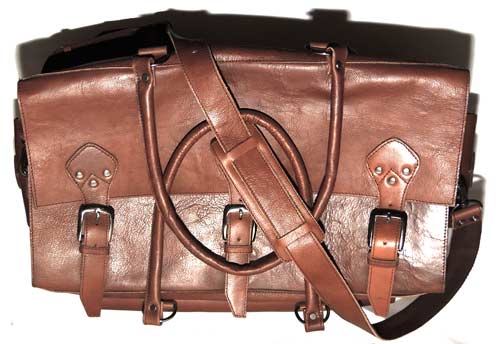 Never miss one of our posts again. Sent MON, WED, and FRI with the latest gadget reviews and news!
The travel bag is held closed by three adjustable straps with quick disconnects for easy access to the interior of the luggage.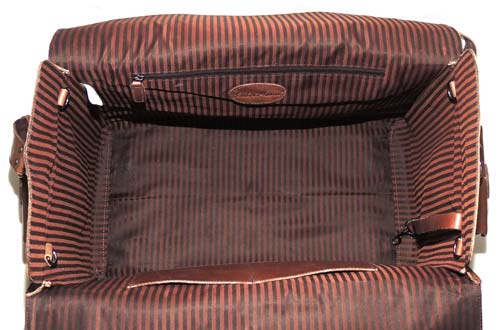 Being so large, the Bridle Leather Travel Bag definitely enables you to carry a great deal of items within. It can easily hold a week's worth of clothes and running gear. But the real issue is the total weight of the bag when full. With all of my travel stuff, the bag weighs in at a hefty 40+ lbs. Without wheels, this is definitely a burden to lug around.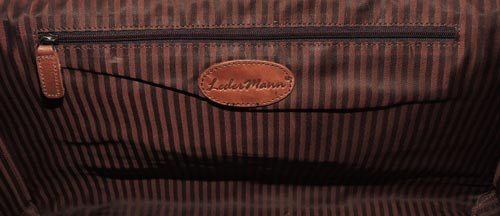 The interior lining is a nicely done pinstriped polyester that's decently stitched and finished. There are two open pockets for cards, tickets, bill, notes, etc., and a single zippered pocket on the rear interior of the bag.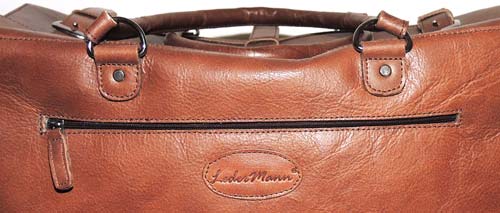 The back of the bag also has a zippered pocket for storage of thinner, less bulky items without needing to open the bag itself.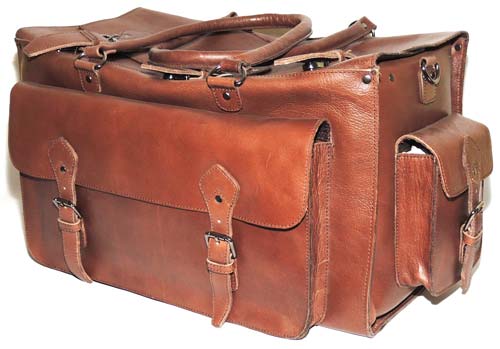 The front pocket measures 17″W x 9″H x 2″D and is held closed with two leather straps. Each side has an outer side pocket with a flap and buckle closure as well.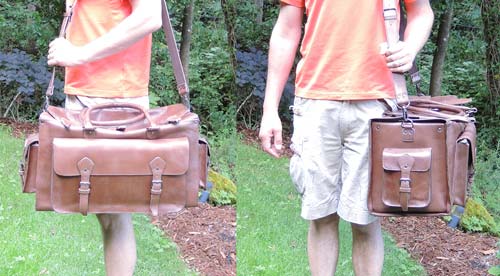 The removable leather shoulder strap is adjustable from 44″ to 55″ inch in length. The shoulder strap is 1.5″ inches wide and has a leather shoulder pad for  comfort.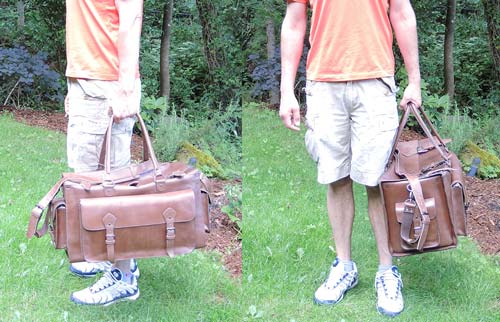 The bag's handle is comfortable enough, but overall, the loaded bag is heavier than many people would like to carry for any length of time.

All the points of stress are not only stitched but reinforced with metal rivets. This picture not only illustrates the mediocre leather, but as you can see, the lack of detail in the (less than straight) stitching. This level of "just ok at best" quality and workmanship is throughout the bag.
Bottomline:
The LederMann Extra Large Bridle Leather Travel Bag is a big, roomy piece of luggage. But to be blunt, its leather quality and craftsmanship are lackluster. Add in its bulky form factor and significant weight when full, and I would not recommend this bag. While its heavy-duty black gunmetal hardware is nice, much of the stitching is not straight, and at $630 I expect higher quality, more akin to the Saddleback Waterbag. At just 10-20% more, the Saddleback Waterbag is a much better bag and has more bang for the buck on all fronts. The Gadgeteer Kid is into the phrase "meh" recently, and that is what comes to my mind when I think about this bag. I definitely would not look twice at it when out and about.
Product Information
Price:
$639
Manufacturer:
LederMann
Pros:

- Thick leather
- Nice hardware
- Large capacity
- Good number of pockets

Cons:

- Heavy
- Mediocre leather quality and finish work
- Bulky form factor
- Expensive/over priced for the quality of workmanship