We use affiliate links. If you buy something through the links on this page, we may earn a commission at no cost to you. Learn more.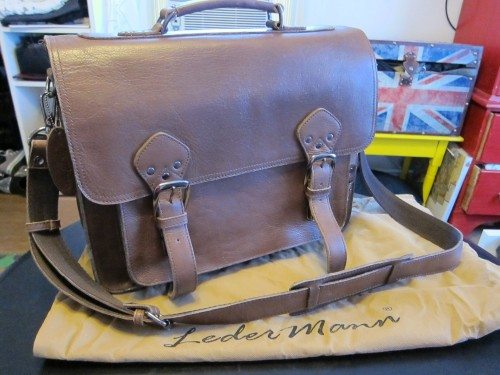 Being a techie junky, I'm always on the lookout for a good satchel or briefcase-type bag to carry all of my gear.  I'm a computer technician, so something sturdy and roomy with lots of pockets is something I always need for work. I was given the chance to review the Bridle Leather Briefcase from LederMann recently, so I jumped at the chance. Does it meet my expectation for a nice quality satchel to carry my laptop and other trinkets in?  Let's take a look! 
Note: Images can be clicked to view a larger size.
When I first opened the box, I removed the large briefcase from the dust bag that it comes in.  Measurements of the bag are 16″W x 12″H x 6″D.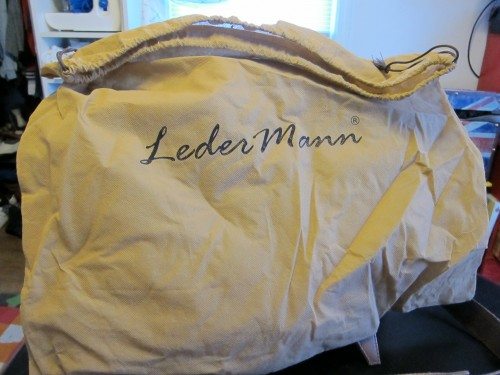 At first, I didn't really think that it was leather, as advertised – full grain bridle, buffalo skin leather, with thickness of leather used: 6oz – 7oz (2.6mm thickness). There is no distinct leather smell that I'm used to with my other bags.  There also is no leather feel, but a more plastic, waxy surface.  The outside of the bag is quite smooth, but not pliable.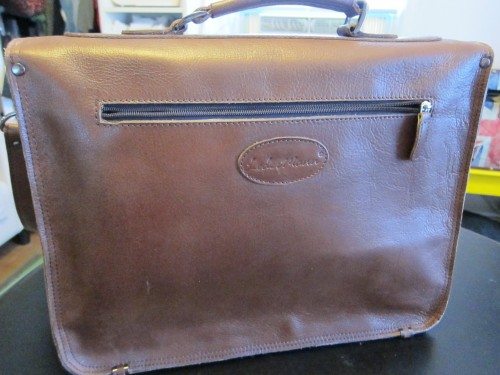 I do like the details of the bag.  The hardware fittings are black gun metal.  The stitching around the bag is heavy-duty nylon thread.  The inside of the bag is a striped polyester pattern, which I think is quite handsome.
Never miss one of our posts again. Sent MON, WED, and FRI with the latest gadget reviews and news!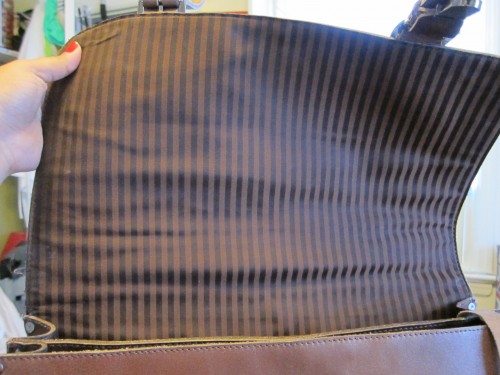 Gunmetal rivets.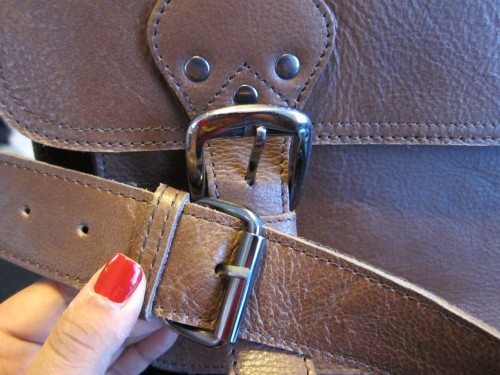 Buckles and strap hardware feel sturdy and heavy.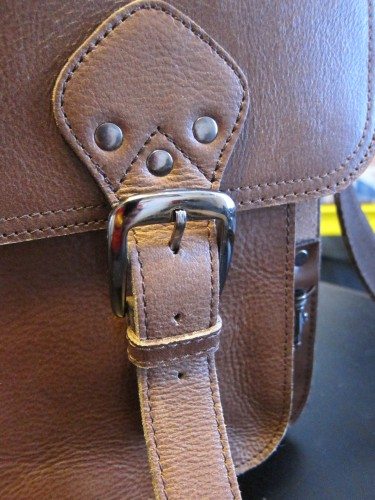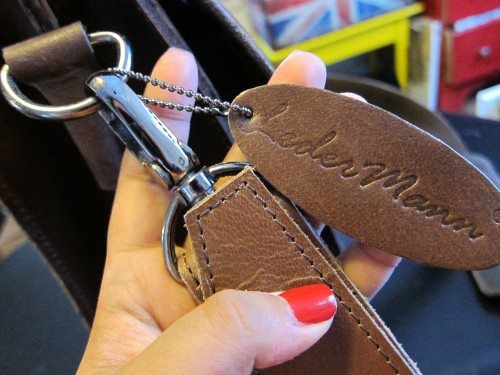 Super sturdy, thick handle.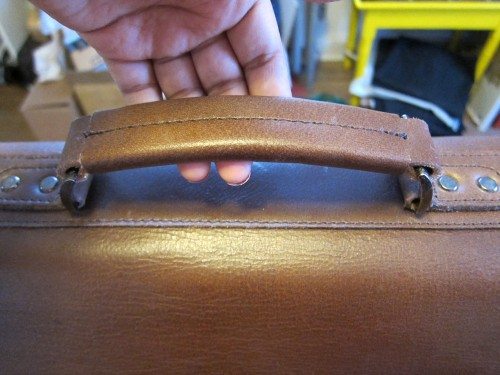 I noticed that the inside part of the strap is suede, which rested well against my shoulder. There are plenty of pockets, as well as a key strap that is attached to the inside of the bag.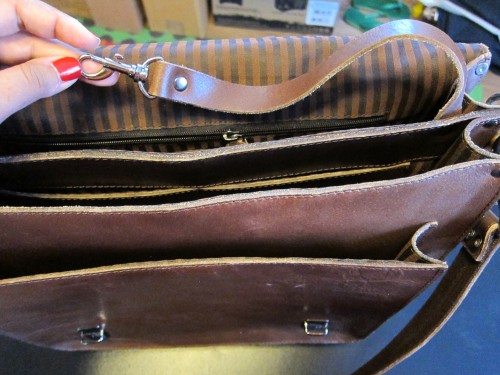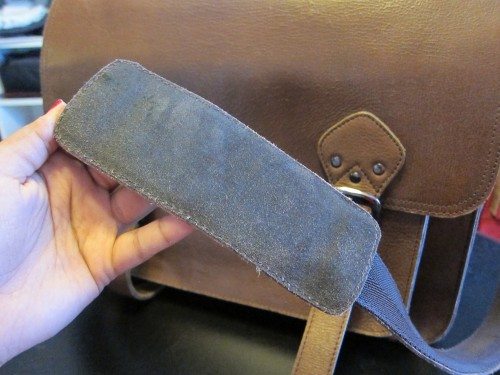 The inside had tons of room for a 15″ laptop, iPad, and any other electronics and paperwork you might carry around everyday.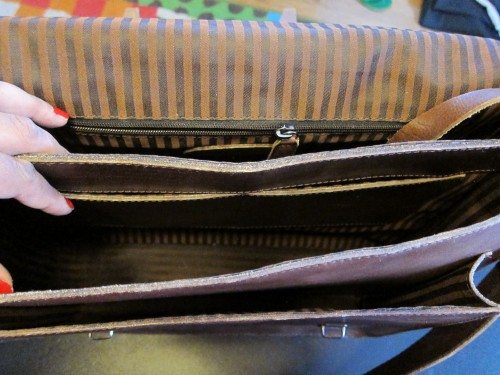 When I lifted the bag I noticed how heavy it was!  I tried it on and realized how low it sat on my body.  I'm 5'4″, and the adjustment on the strap was at the shortest hole, and it was still not at a comfortable level for me to carry it.  This seems that the bag was meant for someone at least 5'8″ or taller.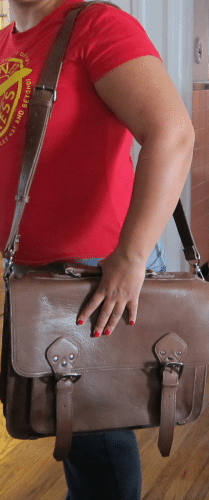 The shape of the bag is very sturdy, and the size of the bag is quite big. I was able to fit my Lenovo Thinkpad T400 with extended battery, along with all of my extra gear such as portable hard drive, wallet, CDs, and random smaller items.  After packing my work-day's gear, the bag became extremely heavy.  It was so heavy that I didn't enjoy walking from my car to the office!  It's not practical for everyday use with all of my usual gadgets.  I normally carry a leather messenger bag with the exact same contents and don't feel as much strain. Overall, my impression of this bag isn't the best, simply because I'm not convinced it's actually leather, although it's advertised as such and has a "genuine leather" tag stitched inside.  It's extremely heavy, which is a bit of a downer and just doesn't have the leather smell, feel, or pliability of other sturdy leather bags I've owned.  Their website does advertise that it's full grain bridle leather, made from buffalo skin.  Perhaps I'm just not used a bag made of this material.  The bag also was very good in the recent rain and bad weather we've had in New York.
The LederMann Bridle Leather Briefcase retails on their website for $369.00 USD.  They have free shipping to the United States, United Kingdom, Canada, Australia, Germany, Malaysia, Singapore, Spain, New Zealand, Poland, Taiwan and many other countries.
Product Information
Price:
$369.00
Manufacturer:
LederMann
Pros:

Very roomy
Sturdy build
Resistant to water
Stitched well

Cons:

Very heavy
Waxy feel
Not pliable
Expensive