The Gadgeteer is supported by readers like you! If you buy something through links on our site, we may earn an affiliate commission at no cost to you. Thank you! Learn more.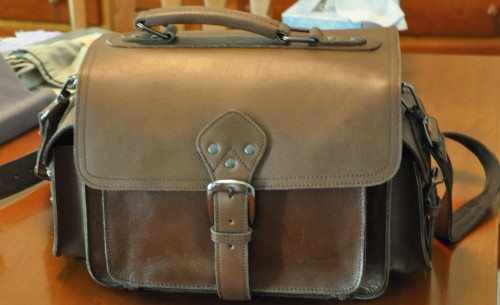 Ah, leather! One of the oldest and most durable materials humans have found to use, yet it still causes us to react warmly when we feel the texture or smell the scent. Whether it reminds us of new school shoes as a kid or that folio we were given at graduation, we all have a special reaction to it. So when Julie asked the team about reviewing some of a collection of bags from LederMann, a new vendor, they didn't stay available for long. I was sent a traditionally-shaped Bridle Leather Camera Bag. Let's dig deeper, shall we?Photos can be clicked for a larger version.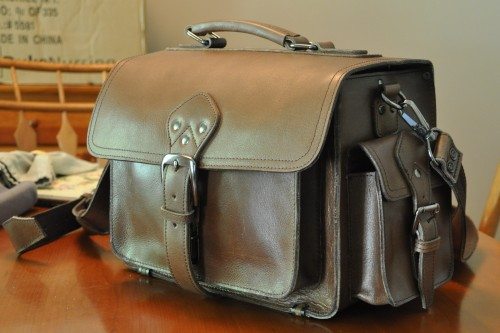 The bag is made from a very soft, richly finished brown leather, which quickly developed a nice patina. It's a very simple bag, with a 12″ x 9″ x 7″ single compartment, a 5″ x 7″ x 1.5″ pocket on each end, and a 10″ x 6″ x 1.5″ compartment on the front under the main flap.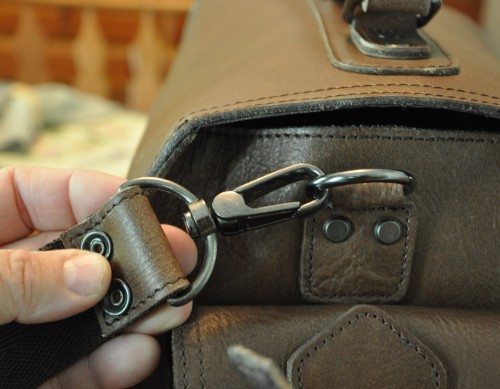 On the back where the bag rests against your body when slung, there is an exterior zipped pocket, as well as an interior zipper pocket that shares the same fabric wall. On top of the flap, there is a grab handle, and over each side pocket is a D-ring where the included leather shoulder strap clips in.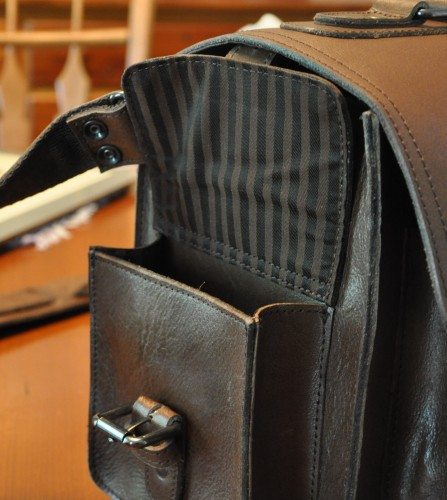 Every interior surface is lined with a fabric that is double-stitched along each edge. Along the bottom, there is an extra piece of the same leather as the rest of the bag stitched on, and secured with four brass feet on each corner. The joints at each corner of the opening into the main compartment are reinforced with brass rivets.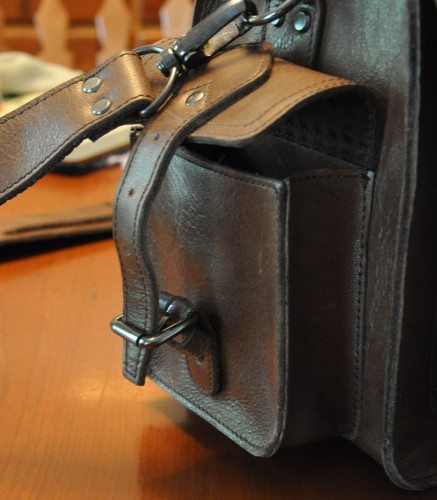 During testing, hardly a day went by when someone didn't comment on how nice the bag looked. Friends would feel the leather and "ooooo" and "ahhh" like game show contestants. I still enjoy the feel of the bag and the nice look, but there are some drawbacks, and they're enough to make me not keep this bag as my daily driver. It holds a huge amount of stuff, and if you're one who keeps things in bags and Grid-it-type holders, you'll be able to cleanly access things. If you're a camera user, you'll want to invest in one of those foam inserts for your gear.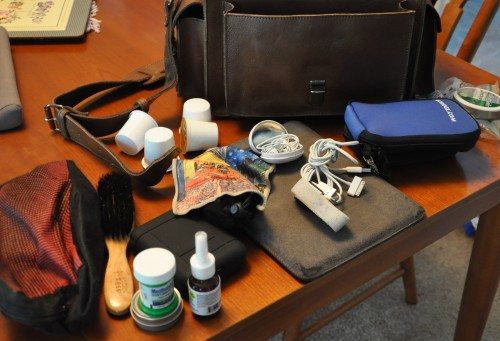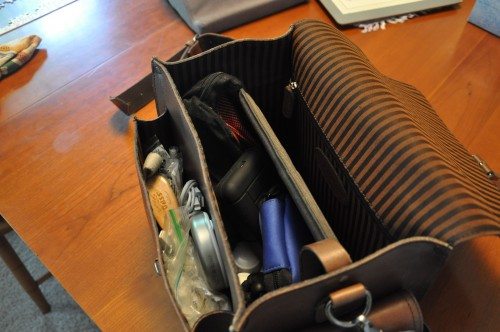 First, the pockets. The one large pocket is nice, and it holds a huge amount, but I'd like to use the side pockets for smaller or less-used items. They are a good size, and I did put a spare phone charger in one, but then the buckle would almost not re-buckle at the same top hole, and it took several minutes of wrangling to get the pocket open in the first place. It's not a "quick access" pocket if it's more difficult to access than the main pocket. The other pocket (besides the side covered pockets and the main compartment) is a pocket across the front, under the top flap. This open area is great for stowing things that you don't want to filter to the bottom of the bag, but by not being closed, I found that many times, smaller items (a USB stick, lip balm, etc.) would fall out of it if the bag was shifted to either side. Again, not good for storage. I never found a use for the two zipper pockets, but their position back-to-back would make them only good for very flat items: airline or rail tickets, camera filters, passport or paper money when going through security, etc.
The other real issue I had with the bag has to do with the finishing. The lining comes up to the very edge and is double-stitched, but it is trimmed off even with the leather. This means that, over time, the edge of the fabric starts to ravel out. I don't mind the rough edge of the leather, but I think folding the fabric back under to present a folded edge, rather than a raw edge would have increased the long-term survival of the lining, as well as the overall looks.
The last item that I was disappointed with was the clip on the end of the leather key strap. It's a typical thumb-operated gate clip, but the spring and action was so bad that I could not get it to open reliably. I attached a small carabiner and made do, but that's not good for one's overall impression of a bag.
All in all, this is a well-made, beautiful bag. The leather quality and stitching are first rate. But the design and pocket issues are enough to prevent me from really wanting to use it regularly.
Product Information
Price:
$300
Manufacturer:
LederMann Leather
Retailer:
LederMann Leather
Requirements:
Pros:

Full Grain leather
Tight sewing and rivets on stress points
Good size and layout for pockets

Cons:

Some hardware is not up to snuff
Side pockets are really difficult to access
Edges of lining are merely cut off flush with leather, not tucked under before stitching