We use affiliate links. If you buy something through the links on this page, we may earn a commission at no cost to you. Learn more.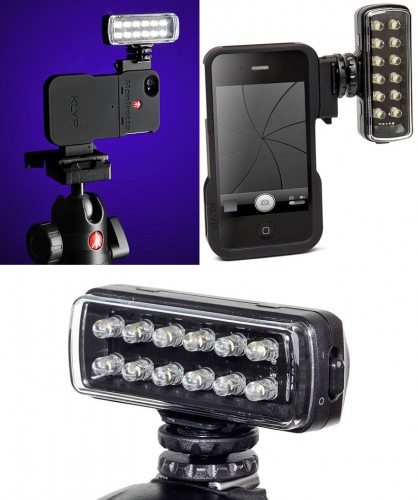 The iPhone has a decent camera, but the built-in flash isn't always up to the job.  ThinkGeek has a setup for your iPhone 4/4S with a powerful LED light to brighten up your photos.  The Manfrotto ML120 LED panel has 12 LEDs that are more capable of spreading a little light on your subject (color temperature 5600K, which is a daylight simulation).  The ML120 panel uses a AAA battery, so it won't be a drain on your iPhone's battery.  Of course you can't attach this light directly to your phone, so you'll need the Manfrotto KLYP case, too.  (Unfortunately, this KLYP case is for iPhone 4/4S only.)  The case is made of rigid polycarbonate, and it has a tripod mount and attachment point for the light panel.  The tripod mount uses the typical 1/4″ threading, so you can use it with any tripod or camera mount.  Because this is a light panel and not a standard flash, you can also use it as a light for making FaceTime calls or even videos.
ThinkGeek has the Manfrotto ML120 Hotshoe LED Panel + KLYP Case For iPhone for $69.99.