We use affiliate links. If you buy something through the links on this page, we may earn a commission at no cost to you. Learn more.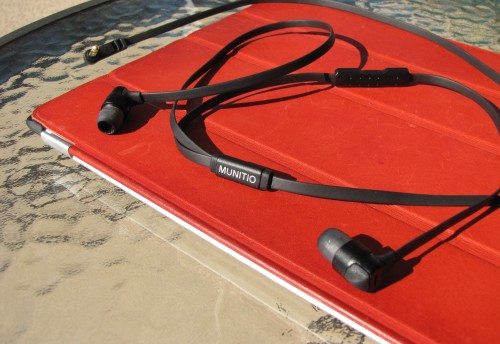 The market is flooded with all sorts of quality, mid-range priced earphones. It seems that every brand has its gimmick, including the company that sent me their latest headphone to review. Munitio may be better known for their 9mm shell casing and bass-boosted earphones, but the SV Mobile Performance Earphones have a more traditional look, with great sound and nice features.

Click any image for an enlarged view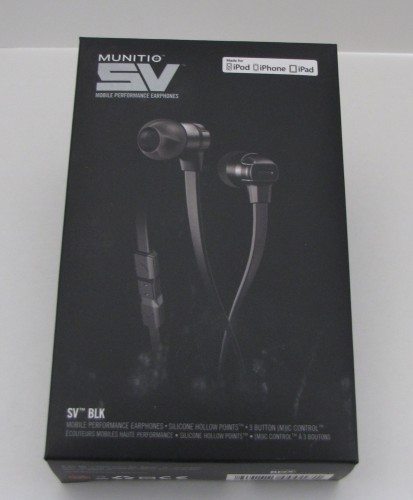 Now, don't get me wrong, I have no issue with bass-boosted headphones in general, but in my opinion not all music benefits from such enhancement. I think the folks at Munitio realize this fact and brought out the SV line of earphones. If you have never heard of Munitio or any of their other offerings (NINES and Billets), it's because they are relative newcomers to the earphone game, being founded in 2009.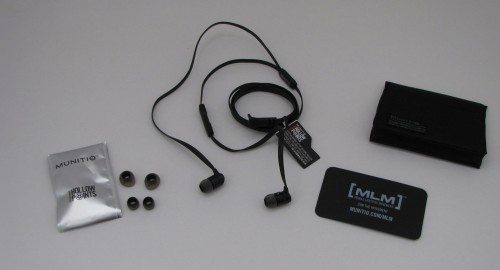 The SV earphones come simply packaged with the following:
Carrying case
3 sets of silicone Hollow Points (the earphone tips in 3 sizes)
Instruction booklet
The earphones are packed in dense foam rubber to protect them.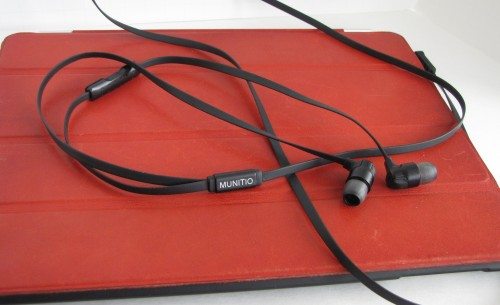 The SV earphones I am reviewing are the black model, but they come in two other colors (bronze and silver). The earphones have a nice weight and a solid feel to them. The specifications on these earphones from their website are as follows:
9mm speaker drivers with rare earth neodymium magnets for superior dynamic range and quick recovery; 20Hz-20kHz, sensitivity: 1m W98 dB SPL @ 1 kHZ, impedance:
Reinforced ABS and machined aluminum anodized housing for durability and sound purity
Silicone Hollow Points™ with patent-pending noise-isolating technology designed for secure comfortable fit, resulting in lower volume levels and better sounding music
Microphone with 3-button Mic Control™ for crystal clear voice and hands free operation. Compatible with iPod®, iPhone®, iPad® (volume control not compatible with Android devices)
Right-angle 24K gold-plated 3.5mm stereo plug providing exceptional audio signal transfer. Music compatible with leading smartphones, MP3 players, tablets, and laptops
Having owned and tried several brands of earphones over the years, my mainstays are a set of Sony MDR-A35 headphones (these are my workout headphones, low-fidelity but they take a beating) and a mid-range set of Klipsch earphones (my main earphones for all my "i" devices), so those will be my base references.
After the unboxing and taking a few pictures, I was ready to take the SVs for a spin. The instruction booklet suggest that you should try out the different size Hollow Points earphone tips to find the best fit for your ear size. I found the smalls to fit me best. I plugged the earphones into my iPad and started playing through my music list to test the earphones sound. My initial thought was these things are nice and clear. Using my other earphones at higher volume levels, they start to become muddy sounding, but the SVs stayed clear at all volume levels. I will note that I ran with "no EQ" setting for my initial testing. For later testing, I tried a variety of EQ settings based on the musical selection, but I found the "no EQ" setting best overall. Munitio also says that as the earphone break-in, they will develop a warmer sound.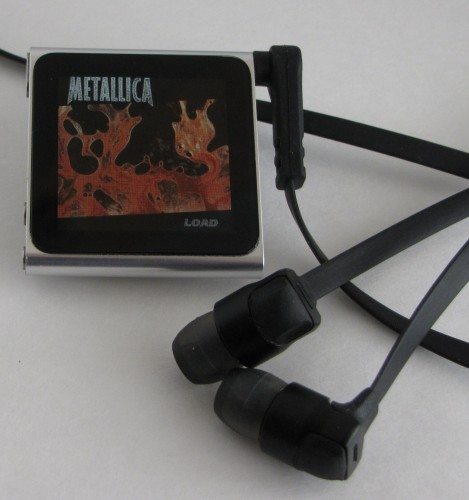 I play the majority of my music through my iPod nano, so I figured I would do most of my testing using the nano. The SVs come with a three-button mic control (designed for the iPhone, iPad, and iPod) and has the following functionality with the nano: play, pause, next song, previous song, volume up, and volume down.
All of these functions work well on my iPod, iPad, and iPhone. The controls are high on the left side earphone cable where you can not easily see them, but the controls are designed to allow you easily to use the buttons by touch. These earphones are specifically designed to be used with iOS devices, but they will work as earphones with other music players. The integrated controls may not.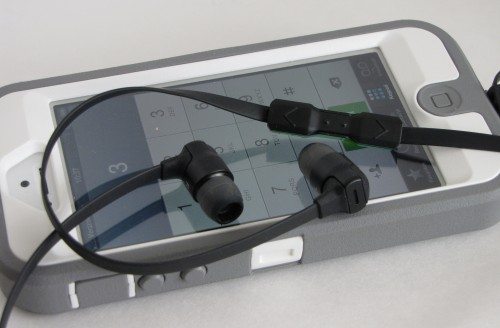 Having recently acquired an iPhone 5, I was eager to see how the earphones worked for calls. The incoming voice was clear, and according to my friends with whom I spoke via the earphone mic, they could hear me well. The ability to answer the call by using the controls on the earphones is a handy feature.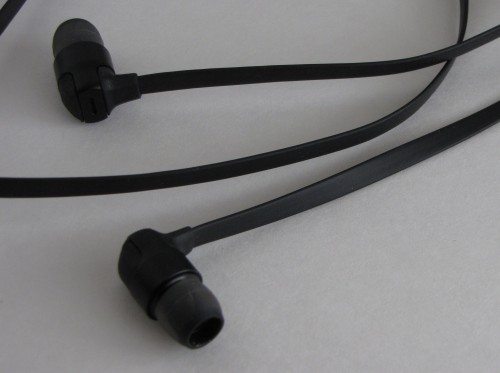 The one unusual thing about the earphones is the flat cable. Before actually seeing and feeling the cord, I was concerned about the durability and flexibility of it. After using the earphones, I have to say I like the cord better than normal ones. The cord has a rubberized outer covering that makes it flexible, and it does not easily tangle in my pocket.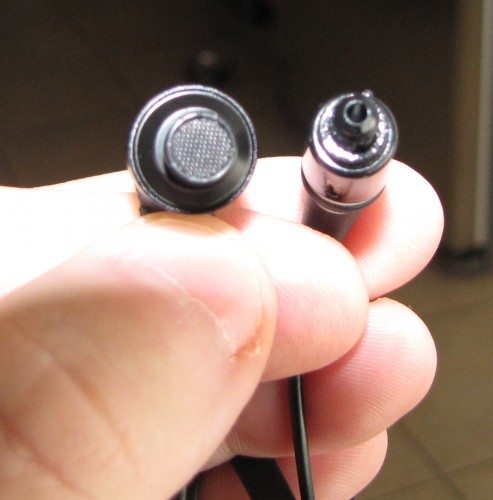 As you can, see the speakers for the earphones are on par with other high-end earphone manufacturers. The rubber earphone tips are open as wide as the earphone, so the sound is not impeded in any way.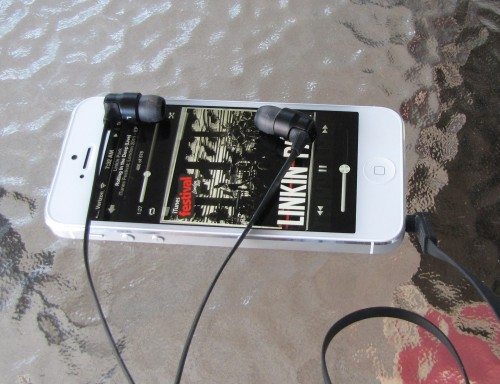 As I stated above, the SV earphones sounded great in all aspects of music play. The highs were clear and crisp, the mids were warm, and the bass was not over powering. Just as important, the earphones fit well and were comfortable during long periods of use.
So what's my bottom line on the Munitio SV earphones? I like them a lot. The solid design and tangle-free cord are major pluses in my book. They sound great, and the built-in iOS device functionality give them a leg up on some competitors. I did encounter one issue: the Hollow Points eartips are hard to change.   While trying to change the Hollow Points, I tore one of the mediums. I went to the Muntito website to check on replacement cost for the Hollow Points, but no information was available at the time of this writing.
At $129.99, the Munito SV earphones are a great deal for the sound and functionality they deliver.

Product Information
Price:
$129.99
Manufacturer:
Munitio
Pros:

Inline mic
Flat cable
Great sound

Cons:

No replacement ear tips available