We use affiliate links. If you buy something through the links on this page, we may earn a commission at no cost to you. Learn more.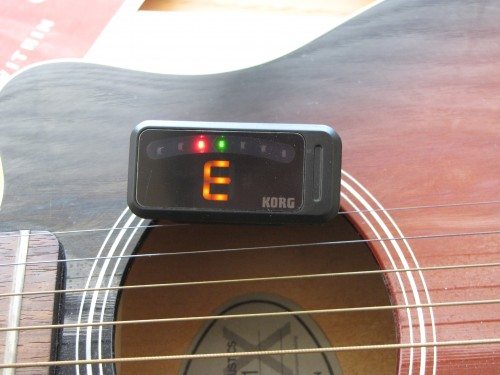 Guitar tuners, what can I say about them? They come in various shapes and sizes. They are digital and analogue. They have inline and audio versions. But what I can say about me and guitar tuners is, I can never find one when I need one. The Pitchclip from Korg helps solve that issue.
Korg has been in the music game for around 50 years now and has offered an array of musical accessories, everything from tuners to musical effects systems. I am proud to say that I still own an original Korg Pandora's Box which still works great. When Korg offered to let us try their Pitchclip tuner, I was excited to give it a try.

Note: Images can be clicked to view a larger size.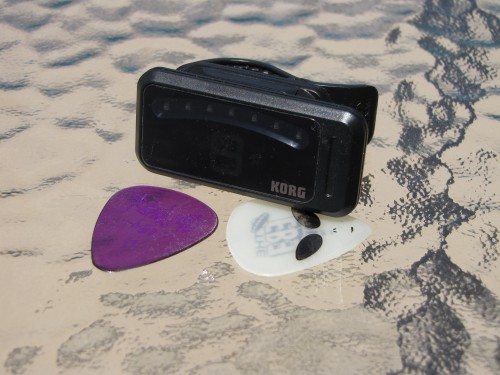 As I stated in the opening, I can never seem to find a guitar tuner when I need one. When I do find a tuner, it is never an easy job setting it up and tuning my guitar. You either have to plug the tuner into your guitar jack with a cable or find a table to set the tuner on, which is not always convenient. The Pitchclip solves both issues by having a tuner that clips to your guitar's headstock, so it is always easy to find and ready to use.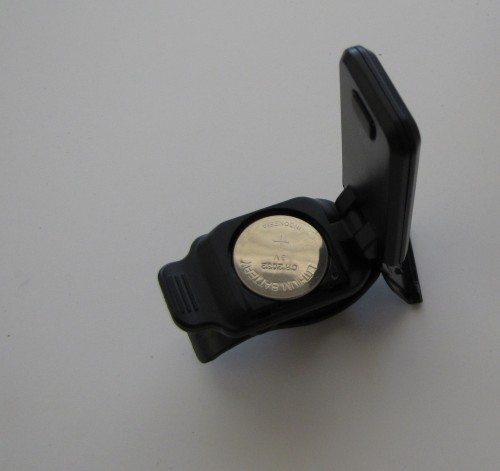 The Pitchclip is 2.05 x 0.94 x 1.34 inches and weighs 0.63 ounces with the battery installed. The tuner is powered by a CR2032 (3V) lithium battery rated to last for 17 hours. It has a high-contrast LED display. The tuner is a chromatic tuner with a tuning range of A0 – C8. The Pitchclip that was sent to me is a basic black model, but they do have limited-edition colors available. These colors are: red, orange, yellow, green, blue, indigo, violet, and pink.
Installing the battery is relatively simple; you swing the main body of the Pitchclip up from the base, remove the battery cover and insert or replace your battery. Although you probably wont be changing batteries often, making it easy to do so is a nice touch.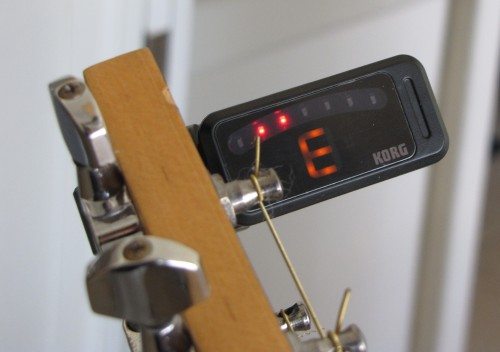 So basically there are two ways to use this tuner while it is clipped to your guitar. The first way is to clip it to the front of your headstock and lift the screen so you can read the display when you turn on the tuner. To turn the tuner on and off you press the button on the rear of the screen. The tuner is adjustable to 120 degrees to make viewing it on your headstock easier.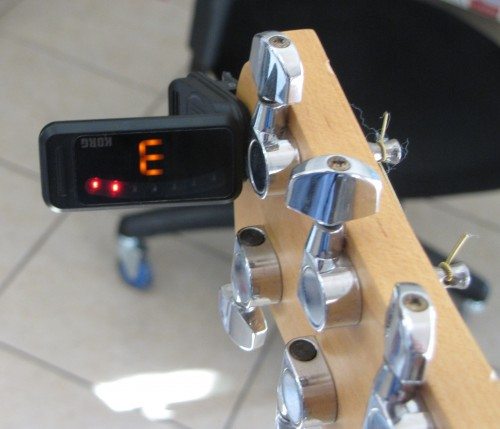 The other way to use the tuner is to clip it so the display is on the back of your headstock. When you use this method the tuner readout would normally be upside down, but fortunately Korg has thought of this and has given the Pitchclip the ability to flip the readout upside down. To do this you simply hold the power button for longer than a second when turning the device on. A note here: the Pitchclip will not remember the setting, so you have to do the power-button step each time when using this configuration.
Here's what I like about the Pitchclip: everything. The design is well thought out. The display is large and easy to read. It is convenient and easy to use. The Pitchclip has an automatic shut off feature that will conserve your battery. It works with electric and acoustic guitars, and it even works with bass guitars and ukuleles. It does exactly what it is designed to do and does it well. If I could add one design feature to the Pitchclip, it would be the ability to swivel the tuner on the base to make reading it a little easier.
Product Information
Price:
$19.99
Manufacturer:
Korg
Retailer:
Various Music Retailers
Pros:

Easy to Use
Handy
Easy to Read Display

Cons: