We use affiliate links. If you buy something through the links on this page, we may earn a commission at no cost to you. Learn more.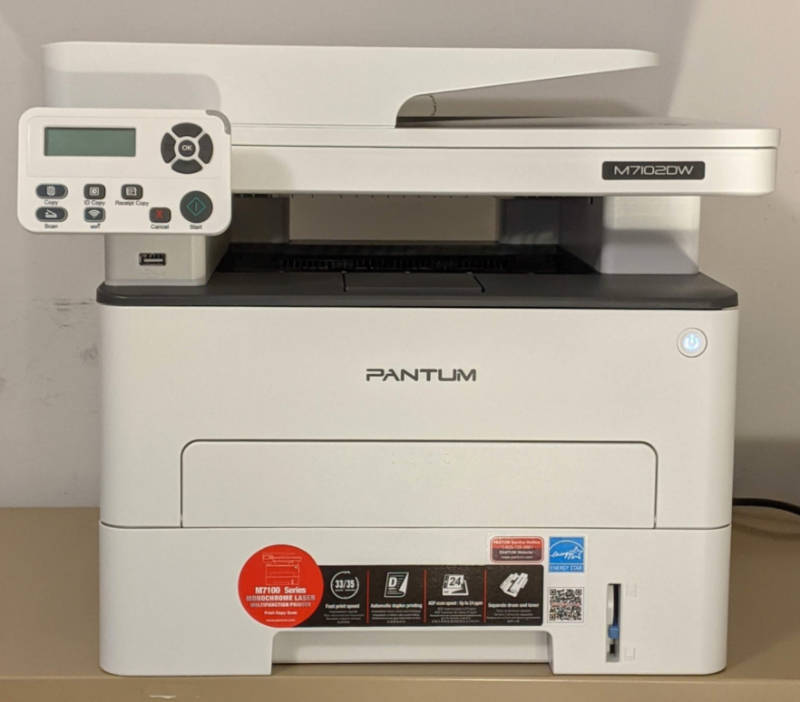 REVIEW: What would it take for a non name-brand printer to catch your attention? This one is in the price range of some of the big names so let's see how it performed, how well it is built and if it's worth your dollar.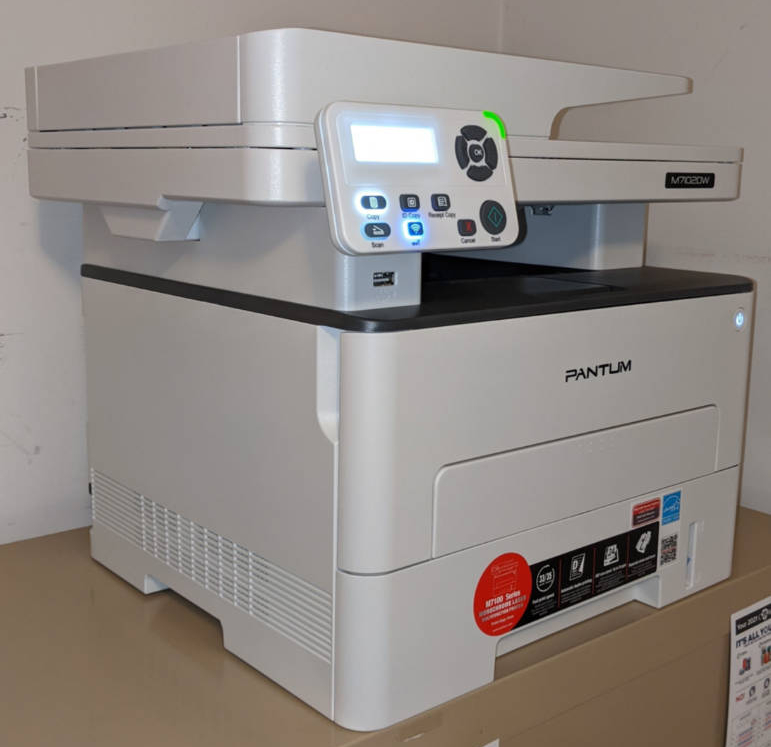 What is it
The Pantum M7102DW is a multi-function laser printer, copier and scanner.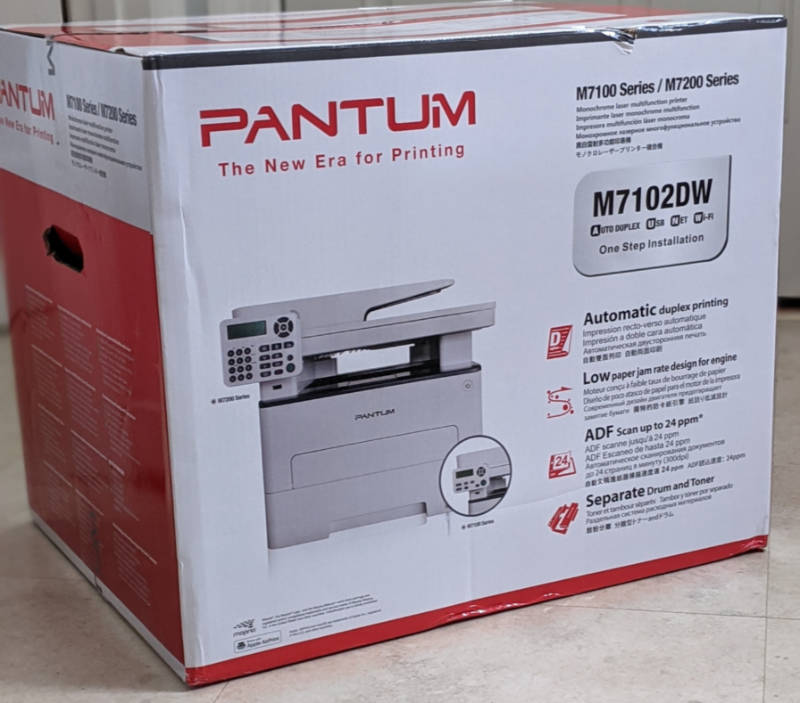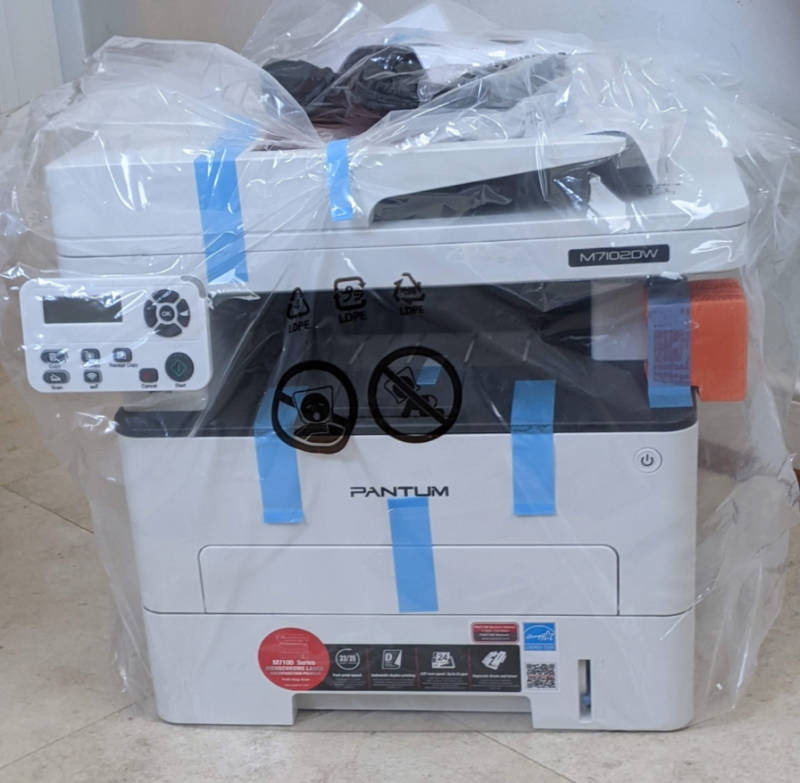 What's in the box
The laser printer, toner cartridge, manual and instruction sheets.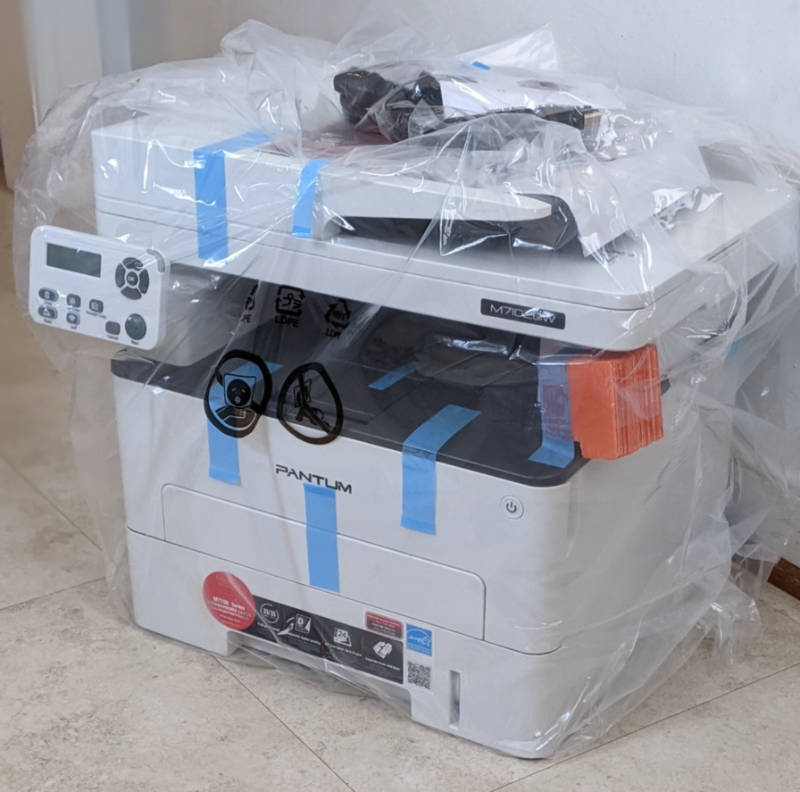 Hardware specs
These are the specs shown at the Amazon description. 
Multi-function 3-in-1 with ADF (printing, copying, scanning) laser printer. Fast and high definition printing up to 33ppm(A4) / 35ppm(Letter) in black and white. Support multiple media sizes, and media weight up to 200g/㎡

ADF scan with max. scan size 216 x 356mm, scan to E-mail, PC, FTP, USB drive. High ADF scanning speed up to 24ppm(A4) / 25ppm(Letter). Easy copy with ID copy, N-up copy functions [A

Easy one-step wireless installation. Connect with High-Speed USB 2.0, network, and WIFI. Mobile device printing with IOS and Android system, Pantum APP available. Not compatible with Chrome system

Separate drum and toner. Starter cartridge capacity 1500 pages. Drum unit lifetime 12000 pages (at 5% coverage based on ISO 19752 standard)

1-year standard warranty from the date of purchase. Pantum online customer service available. 
I'll add the measurements:
Front width: 14"

Sides: 13″
Height: 13.75″


Design and features
The M7102DW seems compact at 14 W x 13 D x 13.75 H.  I'm used to inkjet printers 25% larger, so the Pantum was a footprint relief.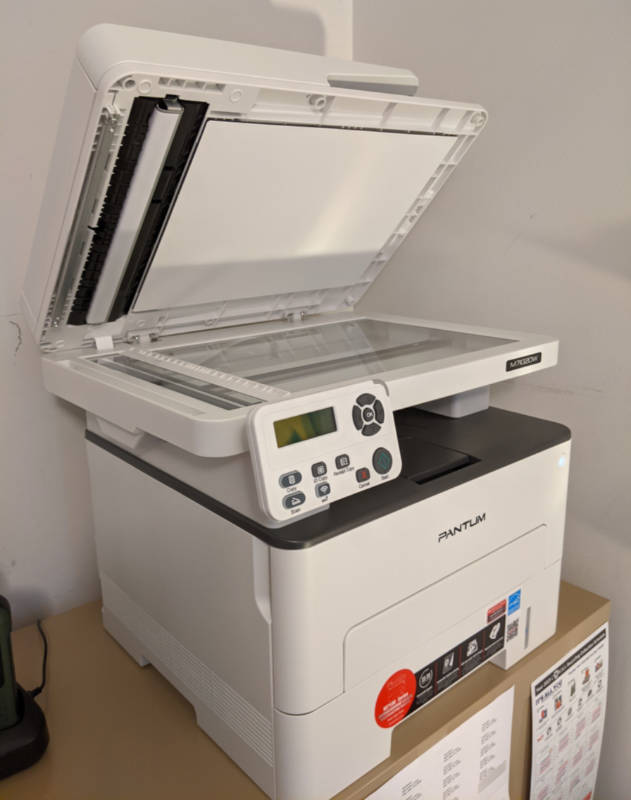 Installation and Setup
The printed graphical Quick Start setup instructions were pretty complete. While I haven't set up a printer in a few years, I just built an Ikea bed with drawers for a friend who moved. I guess I'm OK with graphical directions when I have to use them.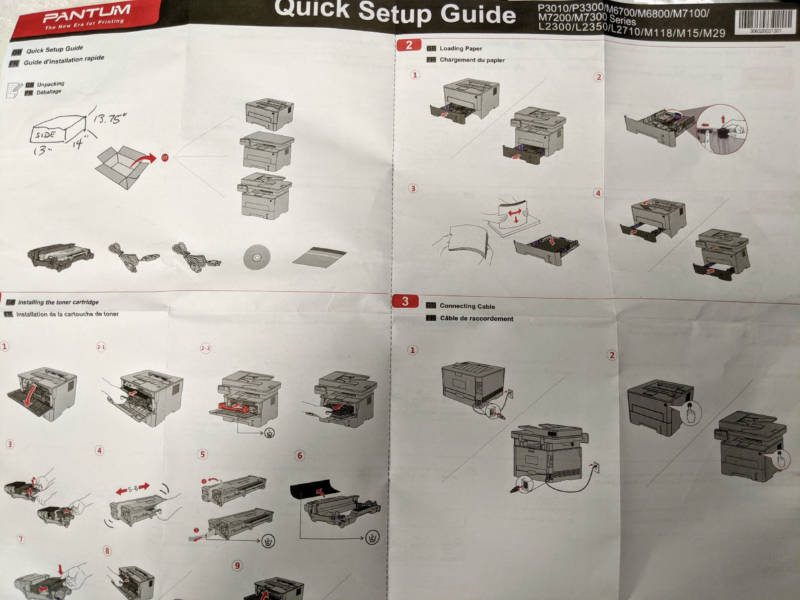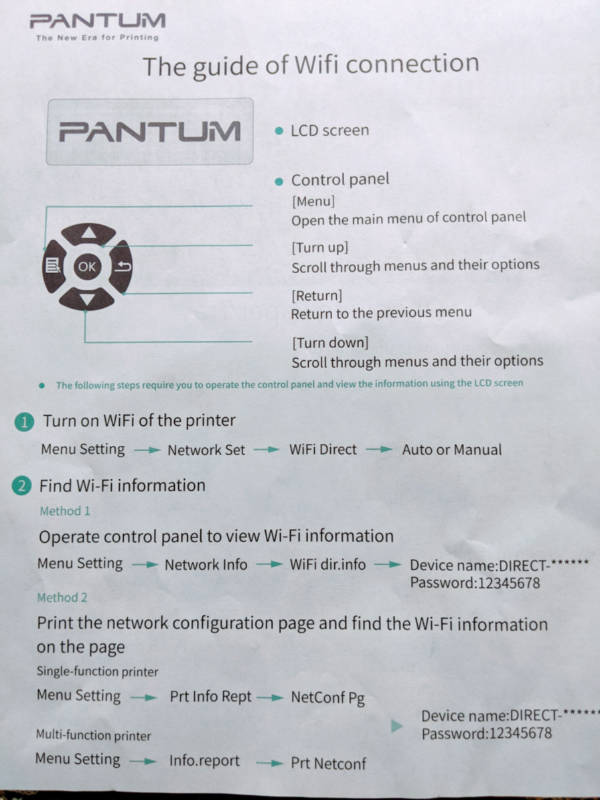 I favor the style of the instructions on "The guide of Wifi connection" sheet.
The printer comes set to hold size A5 paper. When pressed, a small blue button at the back of the paper tray allows the tray to lengthen to hold the U.S. standard 'Letter' size, 8.5" x 11" paper.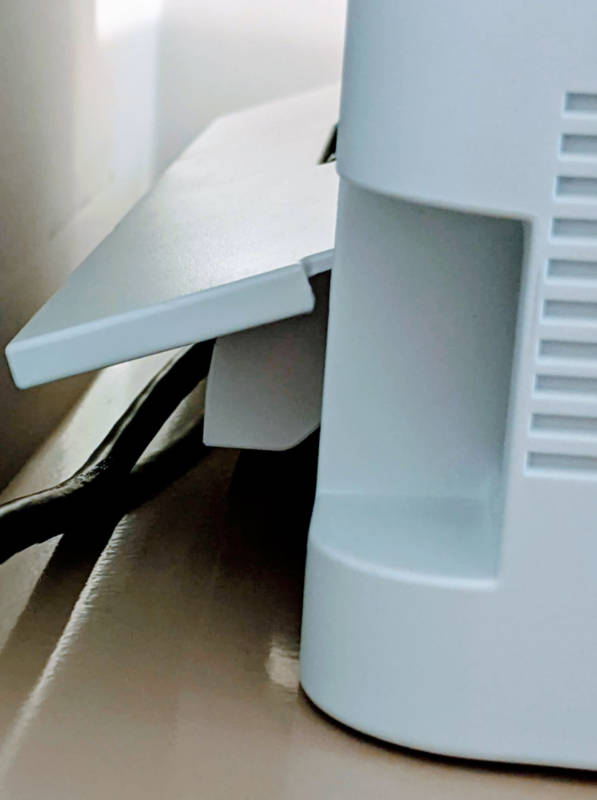 With the paper tray extended to hold letter size paper, a door comes open on the back of the printer when the tray is inserted in the printer to allow the end of the lengthened tray to hang out the back.
I was surprised to have to connect my wife's 2020 model laptop by wire (supplied) to the printer to set up wireless printing for that laptop.  Again, I had to wire the laptop to the printer to set up wireless printing for that laptop. There is no provision for alphanumeric entry on the keypad for an SSID password so I guess that's the reason for requiring an initial wired connection.
My Chromebook saw the M7102DW on our wifi network so no wired hook-up was necessary in that case. I'm not sure what the product description caveat about 'Not compatible with Chrome system' means.  Chromebook seems to work fine with the M7102DW.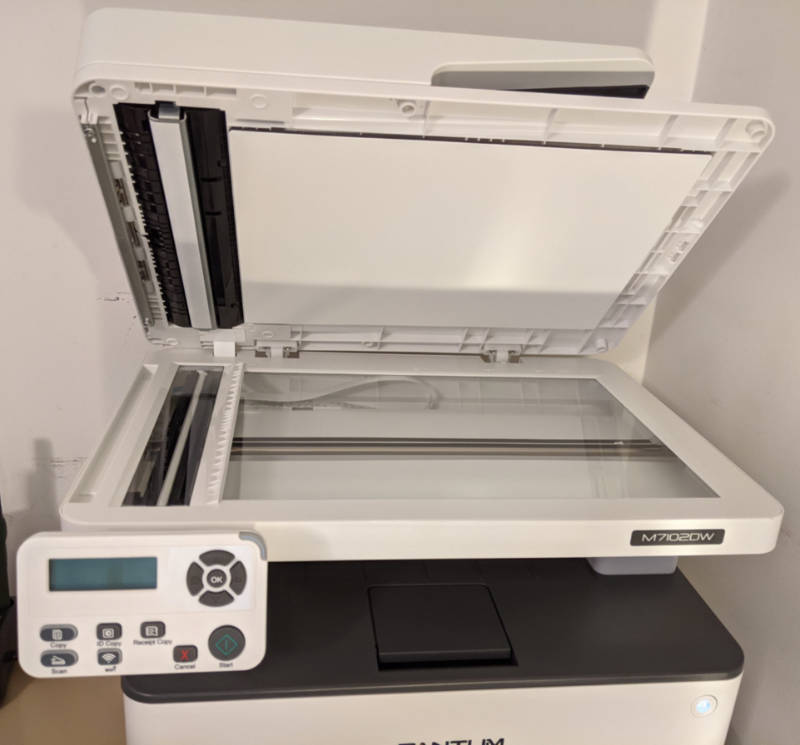 Testing and observations
Color laser printing exists but is commonly called 'business color'. You probably wouldn't like the quality of photos printed with most consumer grade color laser printers. And they're more expensive. Black toner laser printers are handy for quick, economical, black and white printing, copying and scanning.   
If one gets the number of pages claimed by Pantum and my inkjet printer cartridge manufacturer, the Pantum would be a penny per page cheaper than my inkjet printer. The math shows 3 cents per page for the M7102DW, 4 cents per page for my inkjet (black ink).
For me the beauty of laser printing vs. inkjet is, there are no print heads to clog if you're an infrequent printer. And the M7102DW standard toner capacity is 1500 pages. The print drum is stated to be good for 12,000 pages.  
With the printer in its standby mode it printed a one page, full page letter in 22 seconds. I timed from pressing the computer screen print button, to when the printed page fully exited the printer. With the printer not in standby mode it took 15 seconds to produce the same letter. Those times are fine for my needs. My inkjets are a bit faster whether or not on standby but we're talking only seconds of difference. 
It turns out the Pantum toner is water resistant. I once had a brand name laser printer that would print documents that would smudge immediately from a small drop of water or damp fingertips. 
I put a tablespoon of water on a M7102DW printed document and let it sit overnight. The water had little to no effect on the printed toner as it did not run, fade or feather. And I'm only using cheap multi-purpose inkjet paper.
The Pantum scanned flawlessly and quickly from my Chromebook via my wifi connection with the printer. It is also scanned then saved to a USB flash drive plugged into the USB port on the front of the printer.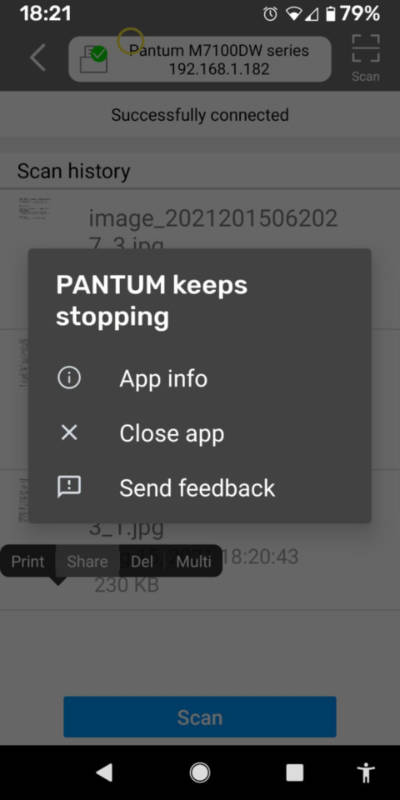 But the Pantum phone app was buggy and needs work.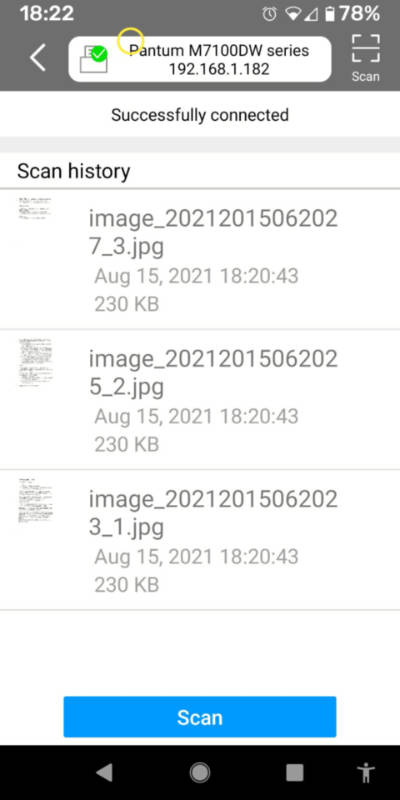 I had difficulty getting the Pantum to scan using the Pantum phone app. The phone app seemed to be at fault.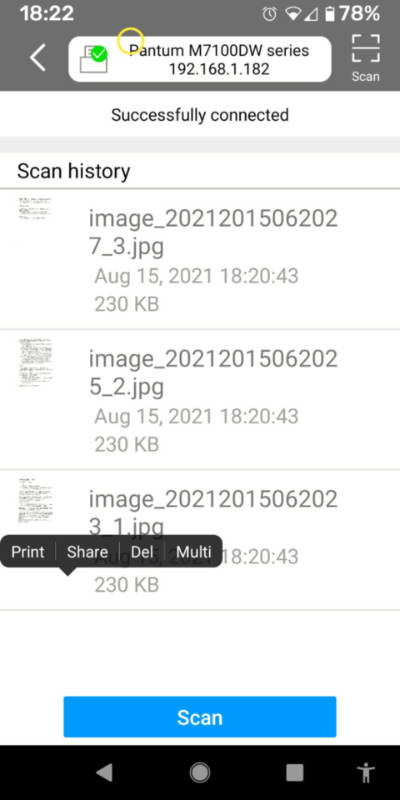 Try as I might and with multiple tries using the phone app, the scanner wasn't staying attached to the app, or the phone app would crash, etc. After 5-8 minutes when I finally got a 3 page document to scan, the result would not share to email or any other app. I switched to my regular inkjet printer/scanner and using that brand's phone app the scan was complete and emailed within about 3 minutes.
When printing or scanning from my Chromebook I've had no problems connecting wirelessly to the M7102DW. My wife's iPad prints to it with no problem.  
Amazon lists the Pantum TL410 standard toner cartridge for $49.99.
Build quality, fit and finish of the M7102DW seems similar to my other printers, present and previous.
Support, not?
The Pantum website claims support is accessible over a range of times stated in UTC (Coordinated Universal Time). You'll have to do the conversion. I contacted support via email with a question. Over 3 weeks I never got a reply. 
I also tried their online support chat during hours they claimed to be accessible. After waiting 5 minutes or so, the chat window indicated chat was unavailable and to leave a message. This happened on two different days.
There seems to be no live product support for Pantum printers.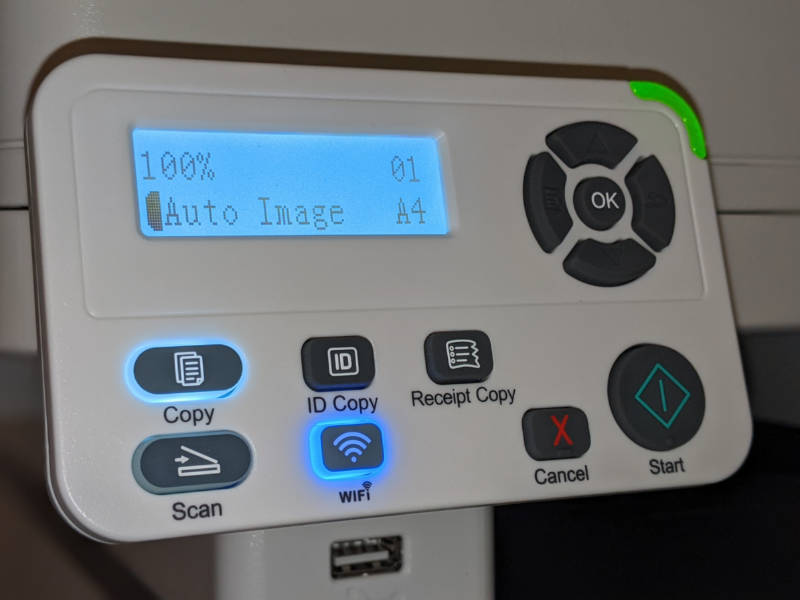 There are embossed symbols on the four buttons surrounding the 'OK' button.  I need a flashlight to see them.
What I like
The toner seems to be water resistant.

The M7102DW prints and copies at good speeds.

The device size seems compact-ish, but I'm used to big printers.

Prints and copies are sharp and black.

The M7102DW scans in color.

The one page 'Instruction Manual' and flip-side 'The Guide of Wifi connection' are clear, legible instructions. The main 'Quick Setup Guide' manual should mirror this level of clarity.
What I'd change
Either have accessible, responsive

product support, or don't claim there is support. 

Create clearer setup instructions.

Create a fully functional phone app that properly operates the scanner and printer.

Button functions on the printer control panel are hard to decipher as the embossed symbols on them are difficult to see in low light.

Some English language content on the website needs to be corrected.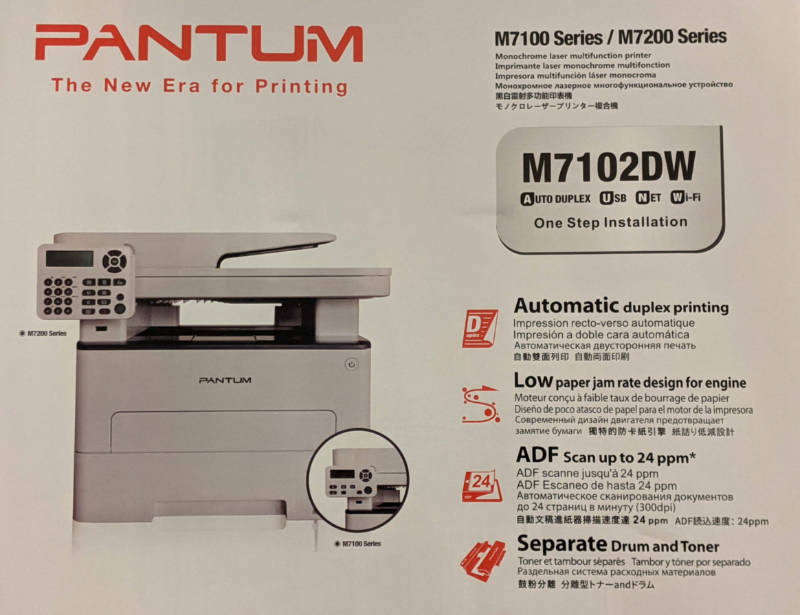 Final thoughts
The Pantum M7102DW I tested did well as a printer and copier, and scanned nicely, except via the phone app. The lack of live email and chat support is a concern. One should weigh all these factors vs. price, against the name brands and their phone apps and support.
Update 6/14/22
The Pantum M7102DW laser printer has continued to function very well. Support did not answer an initial concern during my review but I have had no need to contact support since then. The printer will occasionally need a power-off, power-on to be recognized again on my wifi network so that all devices can print with it, but this occurs no more than once every 4-8 weeks.
Price: $179.99
Where to buy: Amazon
Source: The sample for this review was provided by Pantum.