We use affiliate links. If you buy something through the links on this page, we may earn a commission at no cost to you. Learn more.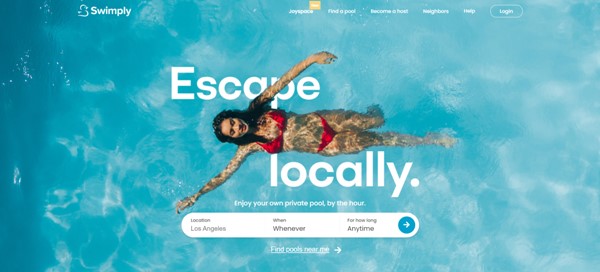 NEWS – Gosh, it's hot in Texas during the summer. The best thing to do in this hot weather is go swimming. But what if you don't have a pool, a community pool, or even a public pool nearby? Why not rent your neighbors' pool using Swimply? Swimply is an online service that allows people who have a private pool to rent it out to others; or for those that don't have a pool, to rent someone else's.
If you're looking for a pool to rent, you just enter your location, date, and duration then search to see if there are any of your neighbors' pools near you. The default page shows some who rent their pools out for about $30-45 per hour.
I first read about this on CNET. According to the article, Swimply was co-founded by Asher Weinberger, 35, and Bunim Laskin, 24, and "…is in all 50 US states, Canada and Australia, hosting half a million users and about 13,000 pools". It has apparently grown and turned a profit over the last couple of years.
Hmm, I'm not so sure I'd be comfortable with driving up to a total stranger's house to use their swimming pool, but I guess it's a thing now. Curious? Check it out by visiting the Swimply website.
Have you tried it out? What do you think?