We use affiliate links. If you buy something through the links on this page, we may earn a commission at no cost to you. Learn more.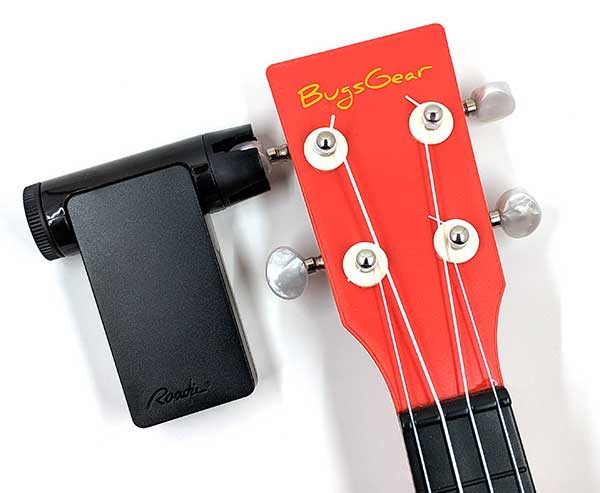 If you play a stringed instrument, there's one thing that you always do before you play a song. You make sure the strings are in tune. If you aren't blessed with perfect pitch, you own a tuner. Tuners come in a variety of shapes and sizes, but most of the ones you see today, clip to the instrument's headstock and use a microphone or vibrations to help you tune each string.
As you pluck each string, the display will tell you if you're higher or lower than the desired note. You then tighten or loosen the string, pluck it again, check the tuner's display, and repeat until each string is in tune. Today I'm going to show you a tuner that you just put on the instrument's tuning peg, pluck the string and it does ALL the rest of the work. Let's take a look at the Roadie 2 guitar tuner.
What is it?
The Roadie 2 guitar tuner is a handheld stringed instrument tuner that has a built-in motor and peg head winder.
What's in the box?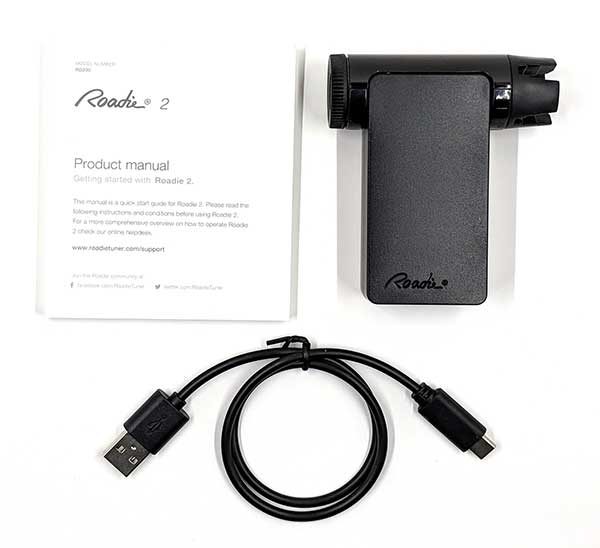 Roadie 2 tuner
USB Type-C cable
Product manual
Design and features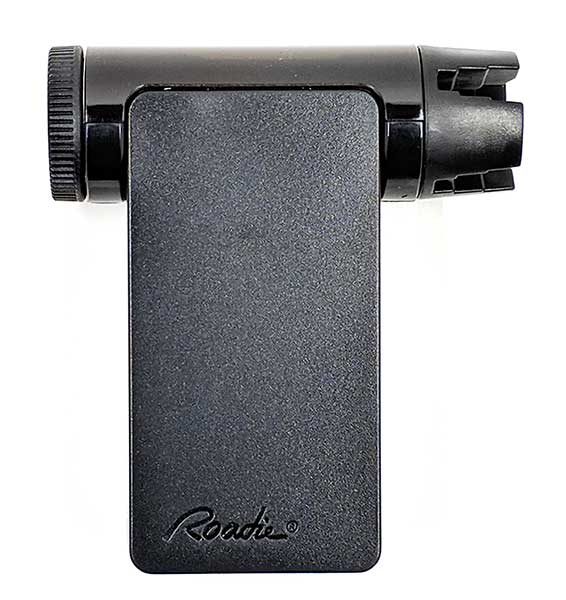 The Roadie 2 is made of plastic, with a square grip in the center, a power button and selection wheel on the left, a display in on top, and a peg connector on the right.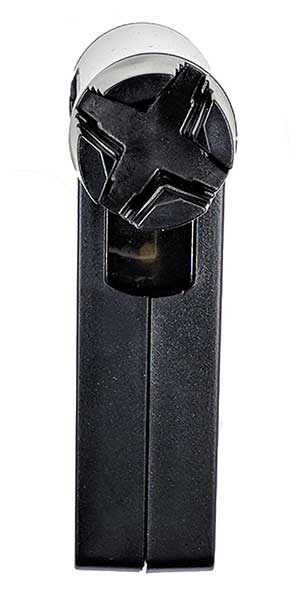 The peg connector has an open cross cavity that is designed to let it fit over most instrument tuning pegs. But more about that later.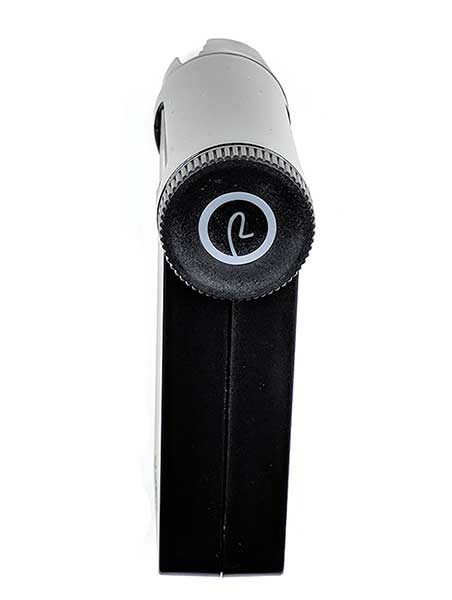 The power button on the opposite side has an LED that lights up in blue when you press it to turn on the tuner and it lights up in green or red to let you know if the string is tuned or if you're trying to tune the wrong string.
Around the button is a selection wheel that is used to navigate the Roadie's built-in menus.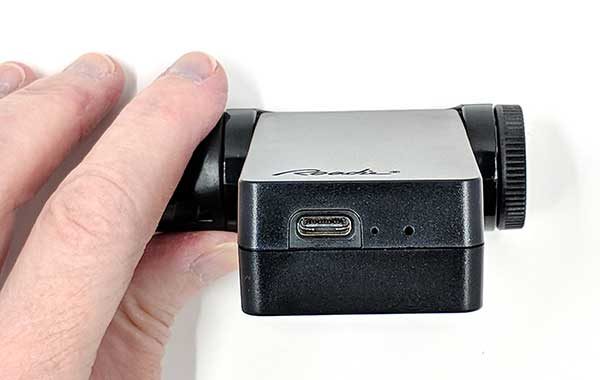 On the bottom of the tuner is a USB Type-C port which is used to recharge the tuner's batteries. One charge should last about a month depending on how often you tune your instruments.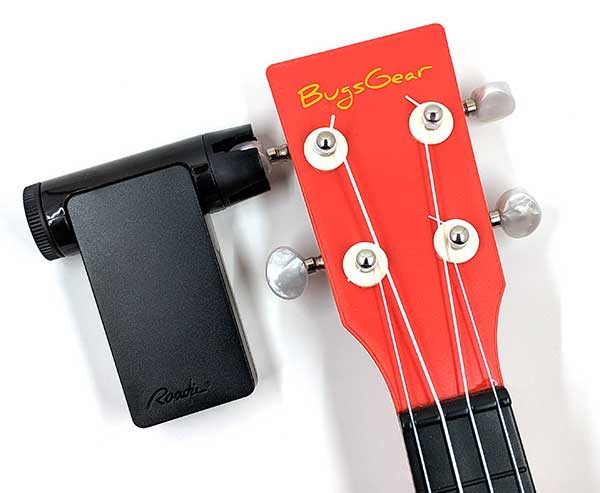 As mentioned above, the Roadie has been designed to fit over a string's tuning peg like you see here. I tested the Roadie with 5 of my ukulele's. The tuner's peg connector fit fine on all but one of my instruments.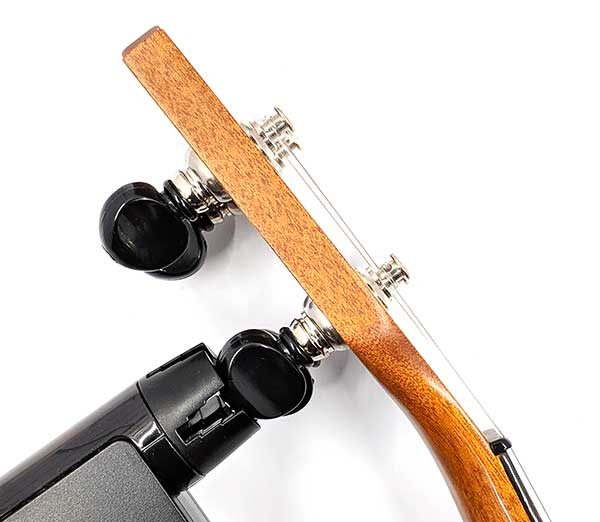 One of my ukes has thicker tuning pegs and the Roadie's peg connector was too small fit over the end so the tuner did not work at all for that instrument. This is an important fact to keep in mind if you plan to buy this tuner as the peg connector might be too small or too large for some tuning pegs. Roadie does offer an adapter to make the peg connector smaller for mandolin sized tuners but I can't find any info on how to use it with larger tuning pegs.
Let's tune something!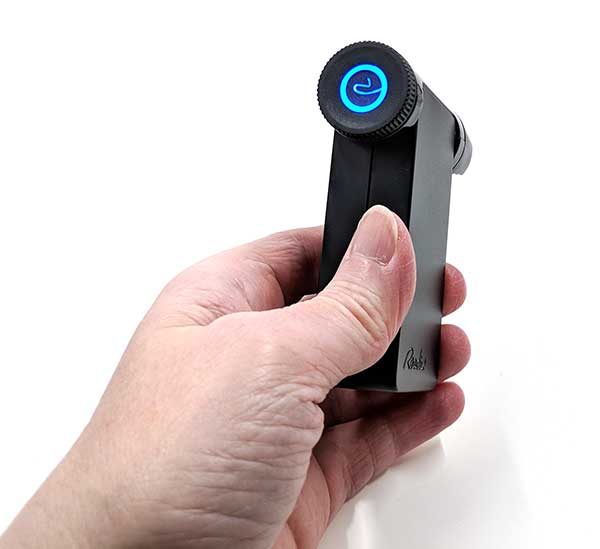 To start using the Roadie 2 tuner, you first must charge it. Then all you have to do is press the button on the side to turn it on.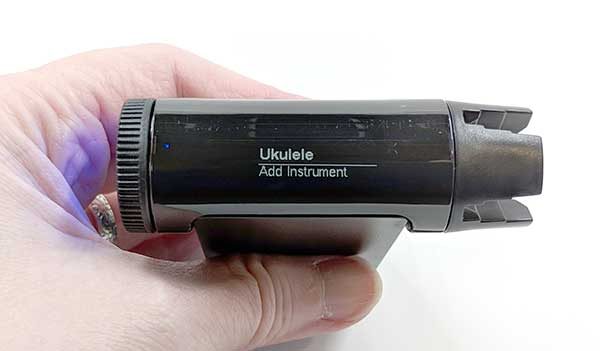 A white on black display on the top edge of the tuner turns on and you can use the wheel on the left to select an instrument. The tuner has guitar, ukulele, mandolin, and banjo instruments already loaded. If you want to load other instruments, you have to use the Roadie iOS or Android app and sync them to the tuner.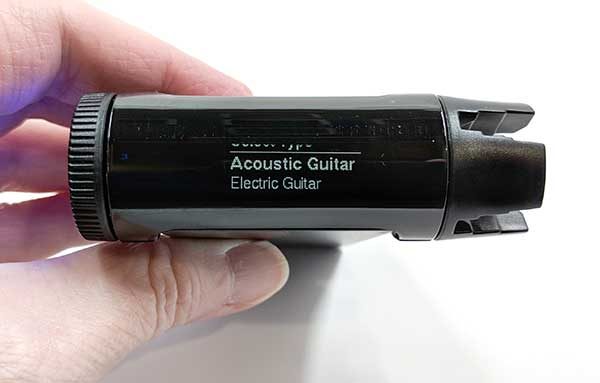 If you choose guitar, you can choose between Acoustic, Electric, and Classical which is weird because all of those guitars use the same standard tuning. You can also customize the number of strings that your instrument has depending on the instrument you choose.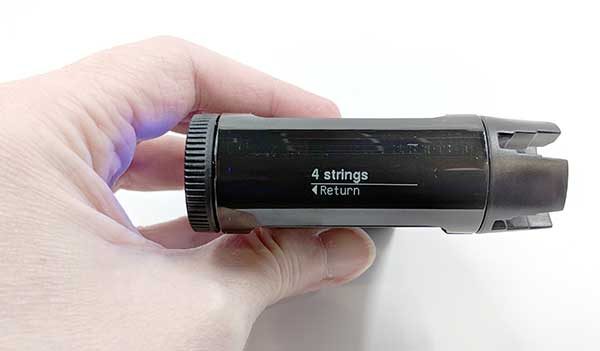 Since I have ukuleles, that's what I picked and was only given the choice of 4 strings, which is fine because that's all they have.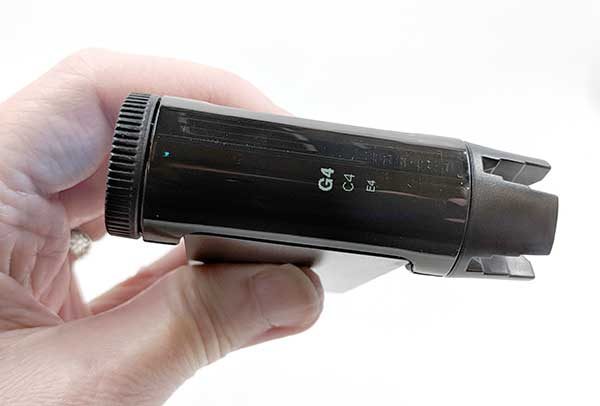 Once selected, you will see the lowest string highlighted on the display. At this point, you put the Roadie's peg connector over that string's peg on your instrument and pluck that string. The Roadie 2 will use a sensor to detect the instrument's vibrations to determine if the string needs to be tightened or loosened to put it in tune. The peg will turn a little bit and you will then need to pluck the string again and again until the tuner beeps and the button on the side glows green to tell you that the string is in tune.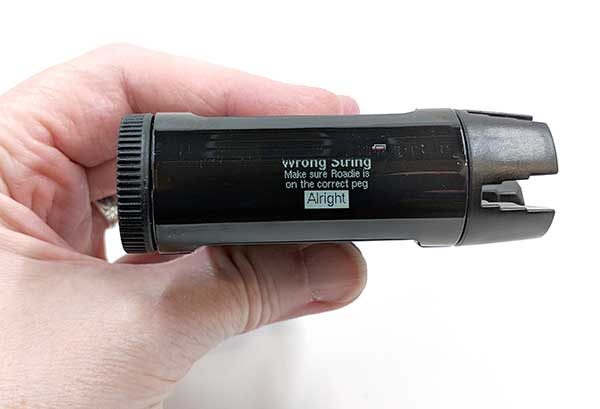 You're then prompted to put the peg connector on the next string. If you try to fool the tuner and put it on the wrong string, it will let you know by showing a warning on the display.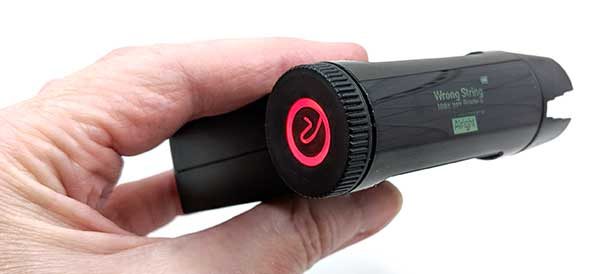 And the button on the end will turn red to let you know that you've been very bad.
Tuning proceeds with each string until you're done. You don't even need to be able to see the tuner's screen, the color of the power button, or hear the beep to know that the string is in tune which is great if you're in a noisy environment because the Roadie 2 will also vibrate to let you know.
If you're wondering how accurate the Roadie can tune your instrument, their website says that detection accuracy: is less than +1 cent, tuning accuracy is up to +2 cents. All I know is that when it's all said and done that my ukes sounded in tune.
See it in action
I ran into one other issue using this tuner that is worth noting. When I tried to tune one of my favorite ukes, it unwound each string instead of tuning it. I couldn't figure out why it wouldn't work and checked to make sure that the strings were installed correctly, which they were. It finally occurred to me that the tuners on that uke were friction tuners which doing use gears and are very touchy. I guess the Roadie just can't handle that type of tuner.
Roadie app
The Roadie 2 can be used as is or you can install the Roadie app on your mobile device to add other instruments and alternate tunings. One thing I did run into was that I could not use the Roadie with my Pixel 2 XL. The app would not connect to the tuner. However, I tried it with a Samsung Galaxy Tab S3 and it worked fine.
I only use standard tuning with my ukes and guitars so I didn't really find the app all that useful to me.
More than a tuner
You can also use the Roadie and a string winder and unwinder when you replace your strings. It makes quick work of that task and is much easier than using your fingers or one of those cheap plastic peg winder gadgets.
What I like
It does the tuning and all I have to do is pluck the string
Rechargeable battery
Can setup alternate tunings if that's your thing
Can be used to rapidly wind or unwind when replacing strings
What needs to be improved
Peg connector may be too small or too large for some instrument tuning pegs
Expensive
Final thoughts
I'm lazy, so I like it when gadgets can do most or all of the work for me. The Roadie 2 is such a gadget. As long as it can fit on your instrument's tuning pegs and you don't have friction tuners, it works great. The Roadie 2 guitar tuner is a fast, easy, and fun way to keep your favorite stringed instruments in tune.
Price: $129.00
Where to buy: Amazon
Source: The sample for this review was provided by Roadie.