We use affiliate links. If you buy something through the links on this page, we may earn a commission at no cost to you. Learn more.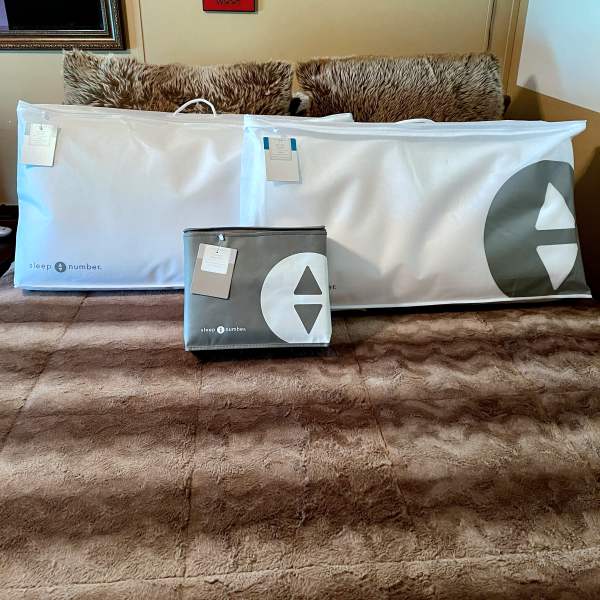 REVIEW – Did you know we spend about one-third of our life either sleeping or attempting to do so? Obviously, good sleep is important, so I recently traded in my boring old mattress for one of those fancy memory foam mattresses. The sleep experience has been night and day different. But, my sheets and pillows still left a lot to be desired. So when I was asked to test premium sheets and pillows from Sleep Number, let's just say I did not want to sleep on the opportunity.   
What is it?
The Sleep Number True Temp™ sheet set and pillows use 37.5® temperature balancing technology that continuously adapts to help keep your bed climate just right for sleeping.
What's in the box?
1-True Temp™ sheet set

1-True Temp™ Classic pillow

1-True Temp™ Ultimate pillow
Specs
Sheet set:
Material: 76% cotton, 22% 37.5® polyester, and 2% spandex

300-thread-count sateen weave
Pillows:
Cover: 46% polyethylene, 31% 37.5 polyester, 23% polyester, filled with 80% polyester, 20% 37.5 polyester.

Fill: 100% foam

King size Classic: 20″W x 36″D 

King size Ultimate: 16″W x 32″D x 5′ – 6″H
Design and features
What is 37.5® temperature balancing technology, and how does it work? 37.5® technology is made from volcanic sand particles that are activated by infrared light given off by your body when you sleep. They work to move heat and moisture away when you are hot. When you are cool, they hold their energy to help warm you.
Sheet set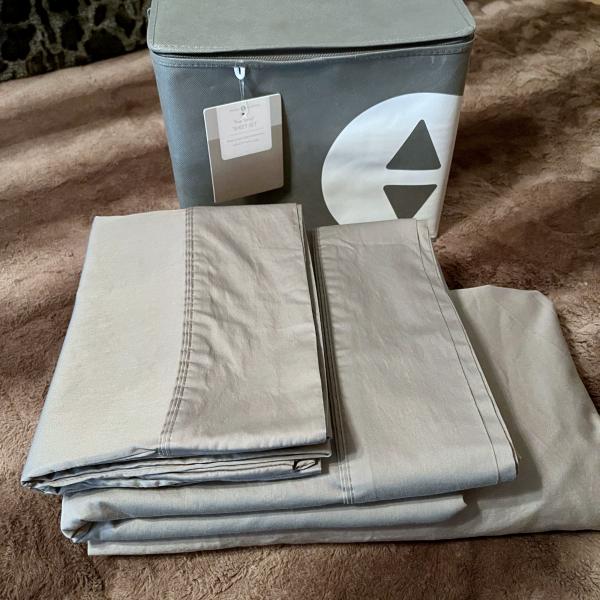 The Sleep Number True Temp™ sheet set comes with one fitted sheet, one oversized flat sheet, and two pillowcases. I choose the queen size set in Slate. Other sizes available are King, Split King, Flex Top King, California King, Split California King, and Flex Top California King. Other colors include Pacific Blue, Dune, Aqua, White, and Espresso. 
Right out of the box, you can tell this sheet set is premium. The Sateen weave has a soft, silky feel and a smooth, satiny finish. The material is also heavier than the polyester sheets I am used to using. 
Never miss one of our posts again. Sent MON, WED, and FRI with the latest gadget reviews and news!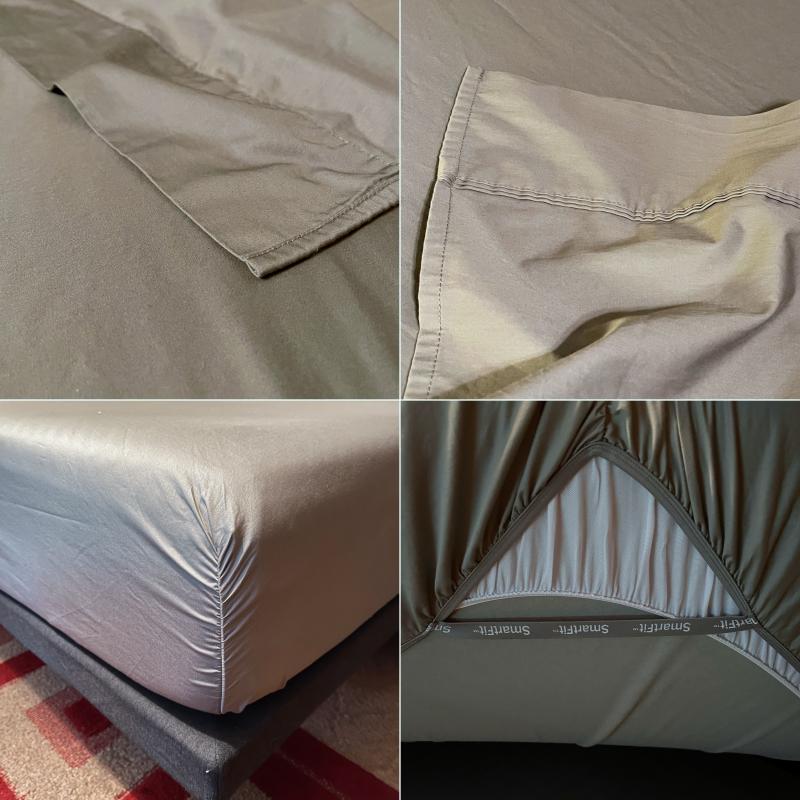 The fitted sheet uses what Sleep Number calls Smartfit™ design. It has a fully elasticized edge, elastic corner seams, and anchor bands to keep it in place. The design of the sheet made putting it on my mattress a breeze. I especially like the elastic anchor bands. My bed has an adjustable base, and the bands do a great job of keeping the corners in place when adjusting the bed. As far as fit goes, the sheet fits my mattress like a glove. 
The flat sheet is oversized, which is never a bad thing. With Sleep Numbers ExactFit™ technology, the sheets move and stretch with you and also retain their shape. 
Performance
I have used the sheets for over 2 weeks now, and I love them. They are very comfortable, and the True Temp technology does a great job of regulating the beds' climate. I no longer wake up sweating or kicking the covers off. And if I am cold getting into bed, it is not long before the sheets reach a comfortable temperature. 
The sheets wash up nicely, without any pilling or loose threads. My one small complaint is that they do get quite wrinkled. But this may have more to do with my old dryer than the material itself. Note: Make sure to pay attention to the washing instructions for best results. 
True Temp pillows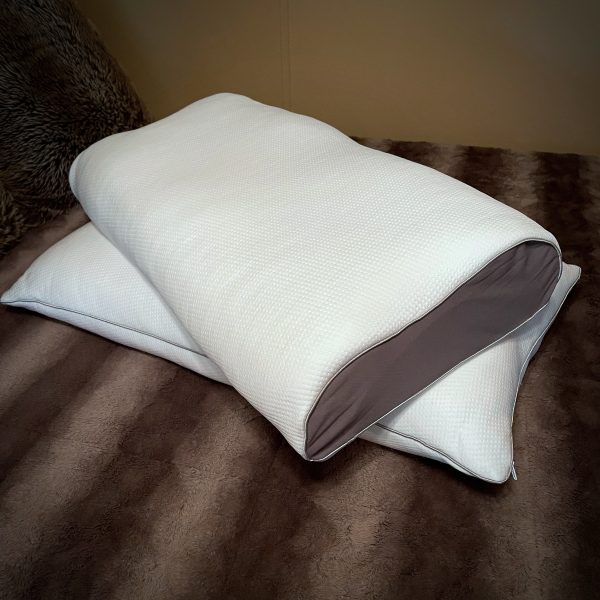 Along with the sheet set, Sleep Number sent me not one but two pillows to try out. The pillows, Classic and Ultimate, use the same 37.5® technology as the sheet set. They both have a cool-to-the-touch softcover and use polyfill and foam for support. The difference between the two is their designs and how they incorporate the foam support.
The pillows come nicely packaged in a zippered storage case with a rope carry handle.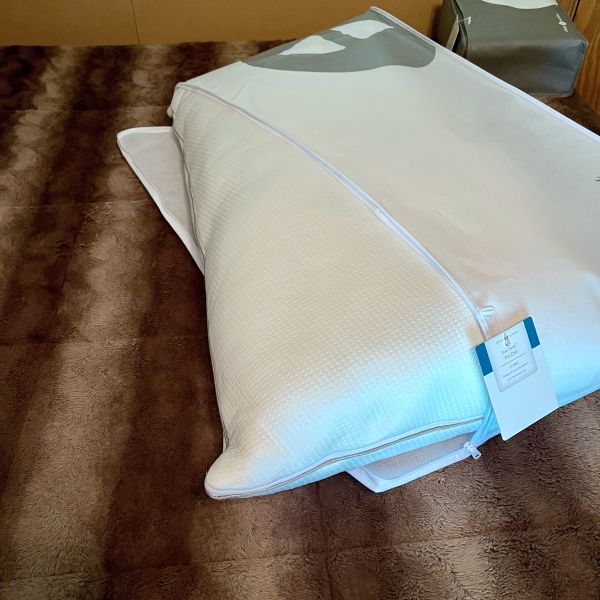 The Classic pillow, as its name suggests, has a classic rectangle pillow shape. It has a zipper that goes halfway around the poly-filled cover. The zipper placement makes it easy to access the foam core and remove it when the cover needs washing. Most of the pillow's support comes from polyfill, as the foam insert is only about 2-inches at its widest point. This pillow is best for stomach and back sleepers.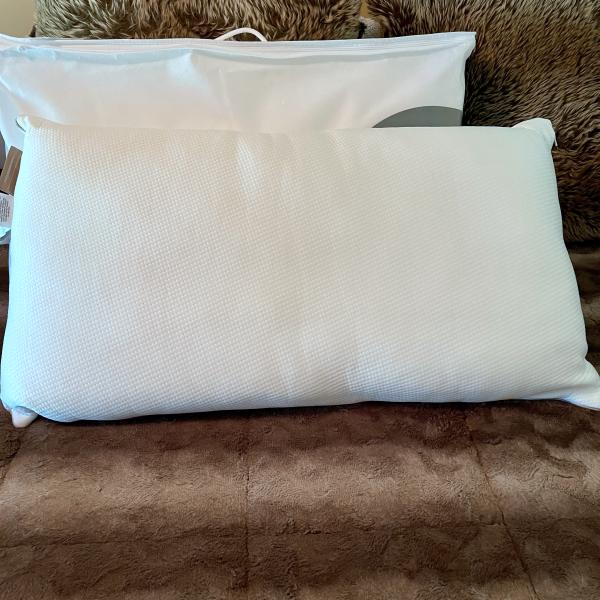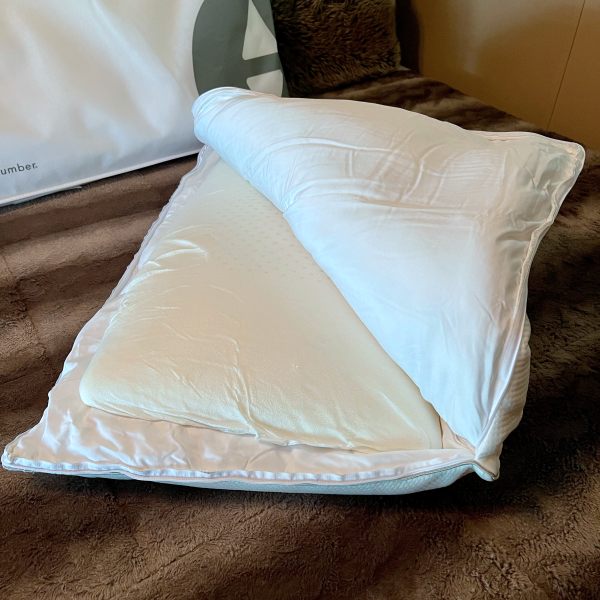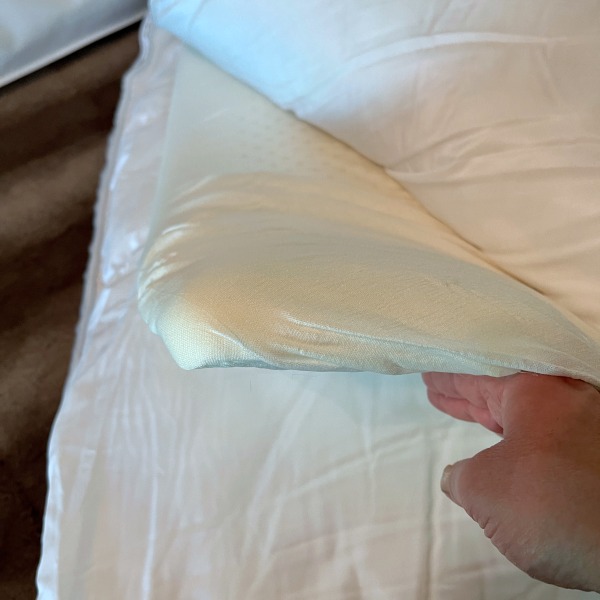 The Ultimate pillow has a contoured design. The zipper, in this case, goes 3/4 of the way around the poly-filled cover. But inside, there are three separate foam inserts. The top insert is contoured, while the other two are flat. The three removable foam inserts let you individualize your support and height (from a 4″, 5″, or 6″ contour). The Ultimate pillow is great for all sleep positions.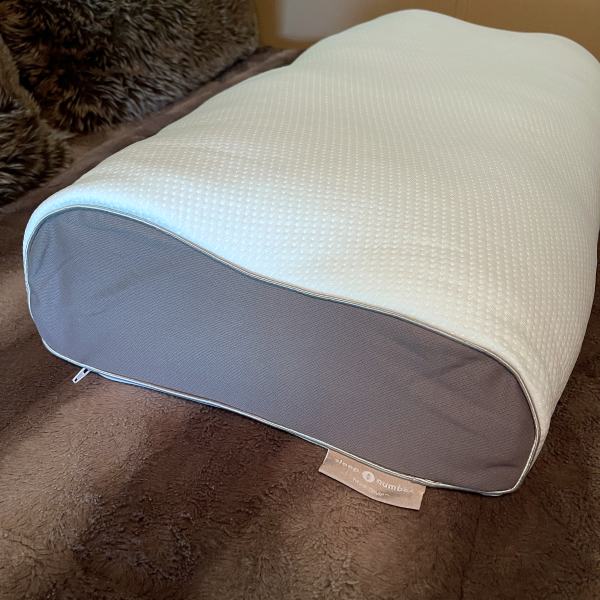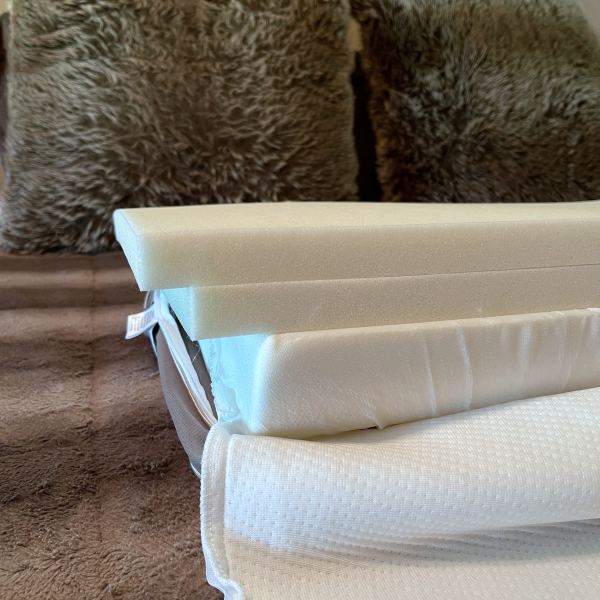 Nighty night
Knowing it takes me some time to adjust to a new pillow, I slept with each pillow for a week. Just for reference, I am a back and side sleeper. I have to fall asleep on my back but usually end up on my side. And my current pillow is a memory foam pillow, which I like but is not perfect. 
I requested King size pillow because I like the extra real estate. Of course, I did not take into consideration that the queen pillowcases would not fit the pillow. Oops!
I found that I actually like both pillows, but for totally different reasons. The Classic is great for falling asleep on my back. The pillow height is lower, and the polyfill gently cradles my head while giving it support from the foam insert. But when moving to my side, although still comfy, it does not offer a ton of support. 
The Ultimate pillow is also comfortable, but the contour design hits me in the wrong spot while lying on my back. I tried removing one of the foam inserts, but that just made it worse. But when moving to my side, the height and contour design of the pillow is far more comfortable and supportive than the Classic. 
As far as the 37.5® technology cool-to-the-touch cover on both pillows is excellent. The cover is nice and soft and, like the sheets, does a great job of adjusting to my body heat. I never wake up with a sweaty neck or head, and I don't toss and turn, searching for a cool spot on the pillow. 
So you may be asking which one did he choose? It was a tough choice but, I chose to go with the Classic. Falling asleep fast and comfortably on my back is most important to me. And the Classic provides a better back sleeping experience. Both pillows are great, and it is just a matter of deciding which sleeping experience is best for you. To help with that, Sleep Number does offer a 30 night trial period so you can test the pillows just like I did. 
The roundup 
Overall, both the True Temp sheets and pillows are fantastic. In the two-plus weeks that I have been using them, my sleep has never been better. Gone are the nights waking up because I am too hot or too cold and waking up in the morning with a neck ache. It is hard to explain the experience of the 37.5® technology other than to say it just flat out works.  
What I like
Sheet set:
Comfortable

Well made

37.5® True Temp Technology

SmartFit design and anchor straps 
Pillows:
Comfortable

Well made 

Cool-to-the-touch cover

Foam inserts are easy to remove and replace

37.5® True Temp Technology
What I'd change
Sheets wrinkle when washed

A little pricey
Final thoughts
If you are looking to upgrade your sleep experience, Sleep Number's True Temp sheets and pillows are a perfect choice. They both offer premium comfort and use the latest technology to give you the best night's sleep possible. Sure they are a little pricey, but in this case, you get what you pay for.
Price: True Temp sheets set: $199.99-$319.99 Pillows: Classic: $99.99-$129.99
Where to buy: Sheet set, Pillows
Source: The samples for this review were provided by Sleep Number.