We use affiliate links. If you buy something through the links on this page, we may earn a commission at no cost to you. Learn more.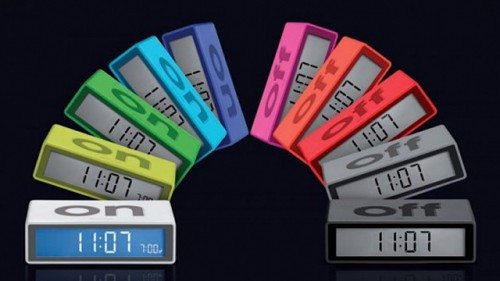 Chances are you have more alarm clocks than uses for them.  They're on just about every mobile electronic device you own on top of what's currently sitting at your bedside.  If you're the type of person who doesn't want to navigate a bunch of menus or slide the correct buttons just to wake up at a specified hour, the Lexon Flip alarm clock might be just the thing for you. Want to set your alarm?  Flip the clock over to "On".  Want to turn it off for the weekend?  Flip the clock to "Off".  Life doesn't get simpler than that.
The "On" side features a touch-sensitive snooze button on top, as well as an indication on the lower right of the display of your alarm time.  Both sides have the same electroluminous display with accelerometer so the time is always in the correct orientation regardless of alarm side.
Flip is available in nine different colors through Lexon for about $50.