We use affiliate links. If you buy something through the links on this page, we may earn a commission at no cost to you. Learn more.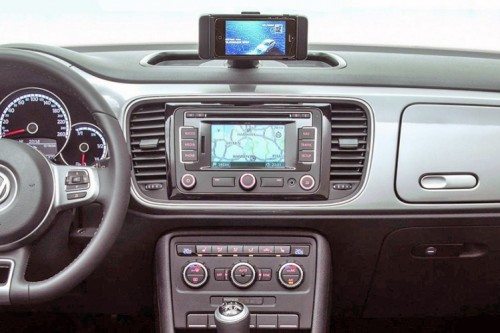 Volkswagen recently introduced the iBeetle at the 2013 Shanghai Auto Show.  The new models of the Beetle and Beetle Cabriolet will be the first "of the Volkswagen Group in which the iPhone will become an integrative component."  The car's dock holds the iPhone 5 as seen in the image, and you can access all your normal iPhone functions while it's in this stand – listen to music or make phone calls via Bluetooth, navigate, etc.  When you add the Beetle app, you can elect to connect to the car's data network, which will add several additional functions.  You can connect to Spotify and stream their music to the car's sound system; you can listen to iPhone messages or Facebook postings read aloud to you by the app; or you can send photos to social networks or Postcards directly to your friends using images taken by the iPhone's camera.  Another app function turn the phone into an auxiliary instrument panel that shows oil and coolant temperatures or a G-Meter display (for measuring transverse acceleration).  There's also a Trainer mode "used to compare driving times, distances and fuel economy values for different routes between any two destinations."
Read the full press release to learn much more about the new iBeetle functions while you wait for the new models to be available in Autumn 2013.