We use affiliate links. If you buy something through the links on this page, we may earn a commission at no cost to you. Learn more.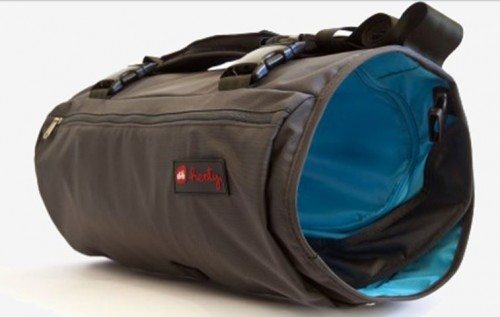 When you need to travel with a clean shirt or suit – whether it be by bike, walking or airplane – the big problem is keeping your clothes neat and pressed.  Whether I've folded them into a carry bag or put them into a traditional suit bag, my first job when I get to my destination is to see exactly how neat my shirts are and whether I need to re-iron them. (And ironing's not  my favourite job when I'm at home, let alone I'm away on a holiday or business trip and have just got into a hotel.)  Additionally in an effort to get a bit healthier, I've been riding my bicycle to work recently. It's not a long ride, but the last thing I want to do is end up at work and have to go and see a client with sweat stains (either current or old) on my shirt or grease stains on my trousers. I've found a clothes-carrying solution, called the Wingman, which was designed right here in my home town of Hobart, Tasmania, by the Henty company.  How well does it work?  Read on.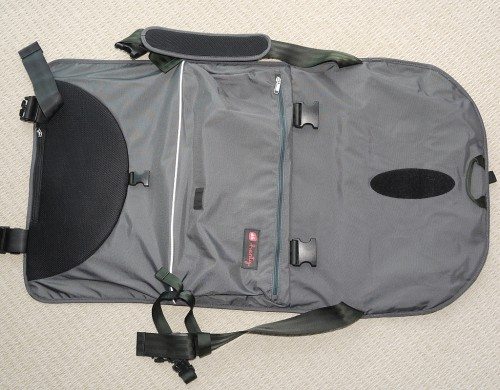 Unrolled, the Henty Wingman looks just like your traditional bi-fold suit bag. . Unfolded the bag measures in at  56 x 101cm (22 x 39.8 inches). Note the reflective stripe for better visibility at night.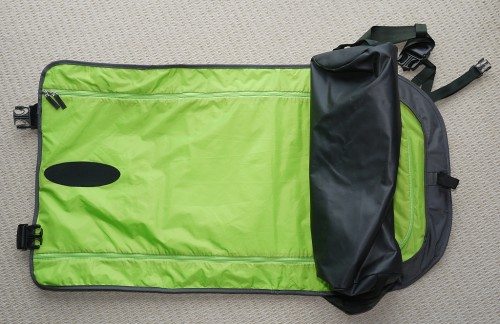 Inside the suit bag is a utility/gym bag is made of tarpaulin material and held in via two clip connectors; the bag can easily be removed. At 50 x 19cm with a volume of around 12 litres, you can easily fit in a pair of shoes, a toiletry bag, and some clean underwear for that overnight trip or maybe longer.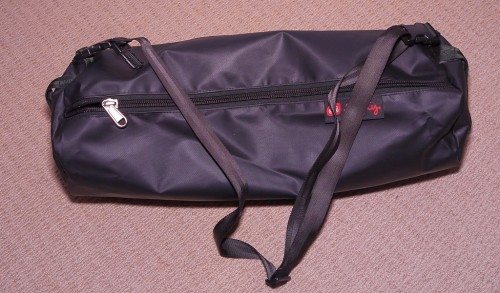 With the supplied strap, the utility bag can be used by itself to give you a heavy-duty waterproof bag. Handy if you're going to the gym or pool.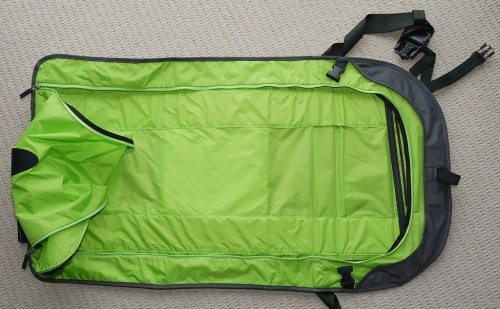 Inside is pretty much just like a normal suit bag, except for the two semi-rigid ribs that you can see running down the length of the Wingman.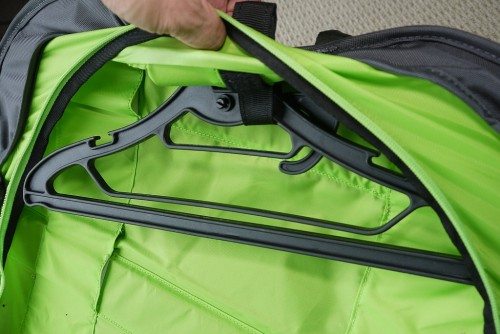 The Wingman comes with one fold up hanger, and the strap on the top of the bag works as a hanging point. So far, it looks just like a normal suit bag doesn't it? The idea here however is that you don't fold the bag, which folds and creases your clothes.  You roll the bag.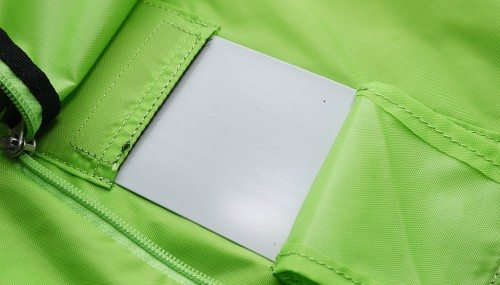 The plastic ribs indicated above allow the Wingman to hold its shape even if you don't use the internal utility bag, so this minimizes the folding and creasing of your clothes.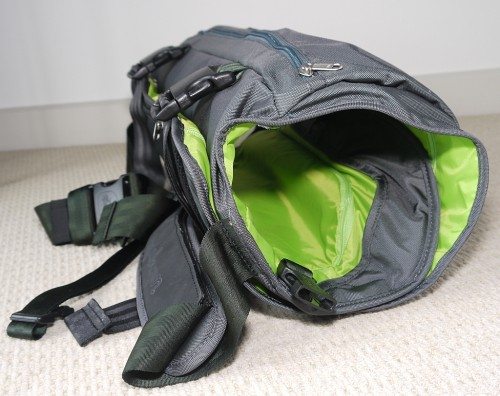 Here it is rolled up without the utility bag.  Useful if all you want to do is just get that suit or shirt from one place to another.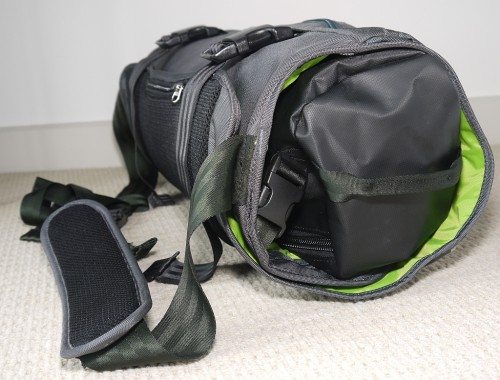 Add the utility bag, and you're fully loaded for that multi-day stay.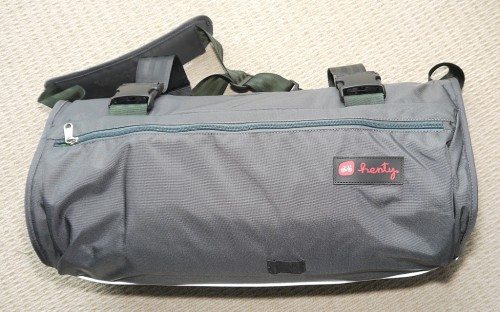 Here's the front of the bag. Note the large zipper pocket at the front.  Also note the loop on the bottom where you can attach a blinky light for safety if you're riding a bike (or even just walking).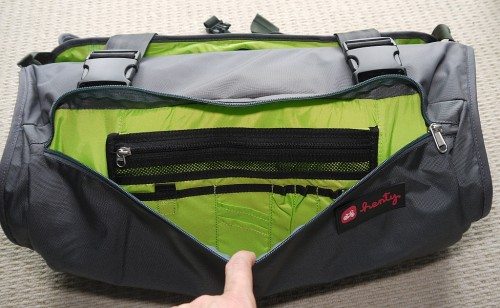 The front zipper pouch has a number of handy pockets for pen and notebooks and a secured internal pouch.  Behind the zippered pouch is another pocket that's padded and is a good fit for up to about a 10″ tablet.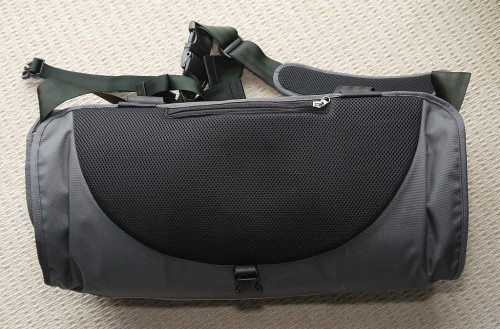 The back has mesh on it to allow for some airflow when worn.  You'll also see an additional zippered pocket.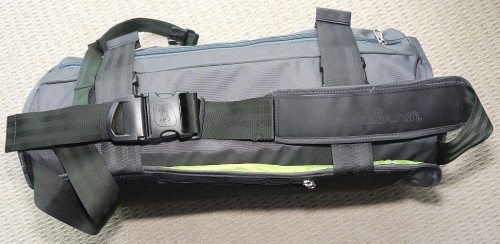 A cushioned shoulder pad is built into the strap, and a quick-release clip is provided so that you can easily remove the bag without having to lift it over your head when the bag's loaded up. There's a stabiliser strap to stop the bag from moving around under load when cycling or walking.
Rolled, the bag measures 56 x 22 x 25cm (22 x 8.7 x 9.8 inches) and weighs 1.8kgs (3.9lbs). One issue I did find was that the stabiliser strap secures behind your back, and it's a bit of a contortion to clip and unclip it. Most of my other bags that have stabilising straps connect onto the front of the strap, which means the closure is out in front of you and easier to fasten.
Additionally it would be really nice if there was a carry handle on the top of the bag so that you can carry it like a duffel bag. You can shorten the shoulder strap, but then when you want to shoulder it again, you have to lengthen it.  There are carry handles on both ends of the utility bag, but this means you're carrying the bag vertically.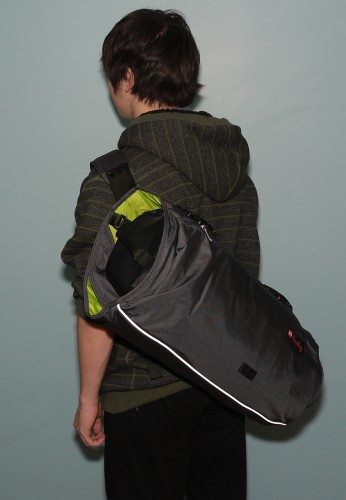 Here it is on my son, who's about 5″ 7′. It's quite long, but then again it does have to be so that you can easily fit a shirt or suit jacket in here without having to fold it too much.
Conclusion
As mentioned in the body of the review, I've been using the Wingman for quite a while now.  It's been used to travel via car on holiday, and while walking and cycling. However I've used it, it certainly does mean that your clothing arrives much less creased and crumpled than if you'd folded it or rolled it into standard carry bag or used a conventional suit bag.  Hokay, a nice crisp shirt is still going to have some wrinkles in it, but I've pretty much found my shirts wearable without having to iron them (hey they wrinkle when you wear them :p ).   The utility bag means I can seperate out my shoes and toiletries from my shirts. And while it's not the most fashionable, the utility bag can also be used as a day trip or around-town bag as well.  The use of the struts instead of a solid cylinder to hold its shape means that the unit stays light and compact.
If you've got an active lifestyle but still need to dress a little bit more formally, the Wingman is definitely worth a look.
Product Information
Price:
$179.95AU (approx $184US)
Manufacturer:
Henty
Pros:

Minimises creasing of your clothes
Utility/Gym bag is handy to pack other items for multi-day trips
Utility/Gym bag can be used standalone
Lot's of pockets for other items on the Wingman itself

Cons:

Rear placement of stabiliser strap connector
No duffle bag-style handle