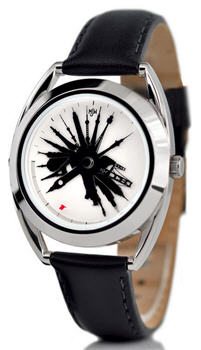 If you travel often or deal with people in all corners of the world, knowing the local time can be a challenge… unless you have a Time Traveler watch from Watchismo. The watch uses 16 landmark buildings to mark the time in different countries. Big Ben for London, Eiffel Tower for Paris, Statue of Liberty for New York City. The unique 24 hour mechanism features an hour hand that makes only one rotation every 24 hours. The upper half of the watch face marks the hours from 6am to 6pm and the lower half 6pm to 6am. When the hour hand is pointing horizontal left (9 o'clock on a regular watch) this corresponds to 6am. 12 noon is center top and horizontal right is 6pm (3 o'clock on a regular watch). The watch face looks really buzy and crowded, but this watch sure would make a good conversation starter. If you want one, you better hurry as there are only 100 available. Price is $209.99.
Support The Gadgeteer
:
We may earn a small affiliate commission from purchases made from buying through links on our site. As an Amazon Associate I earn from qualifying purchases. Learn more.