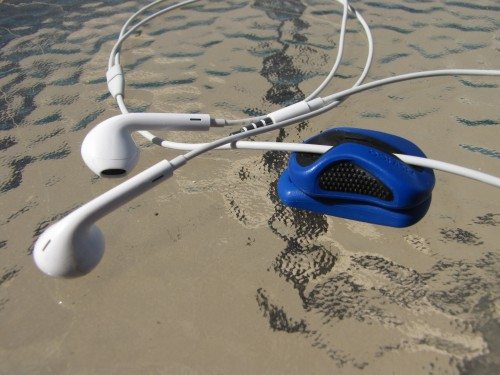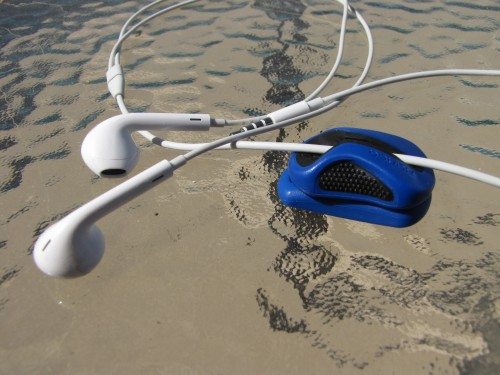 I guess, like a lot of folks now days, I am trying to maintain a regular fitness routine. And like a lot of folks, I like to listen to music during my workouts. A recurring issue I often have while working out is hitting my earphone cord and pulling the earphones out of my ears. The Klingg offers a unique and unobtrusive solution to this problem.
Note: Images can be clicked to view a larger size.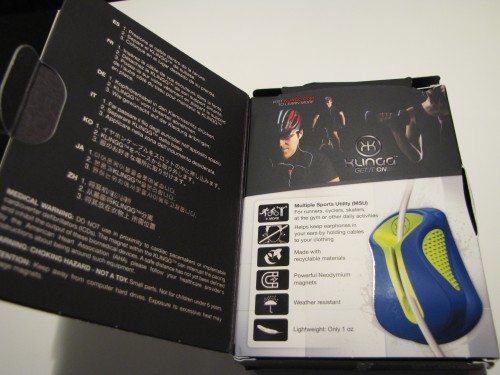 Klingg is a small earphone cord holder that separates into two pieces to attach to your clothing and keep your cord out of the way. The package the Klingg comes in also doubles as the instructions for use.
The Klingg appears to be mainly made of a plastic material with rubberized grip points and cord holder. It also contains Neodymium magnets that hold both pieces together. The Klingg webpage states that it is made with recyclable materials.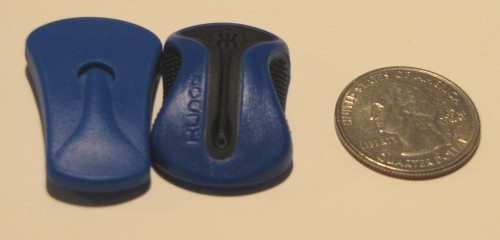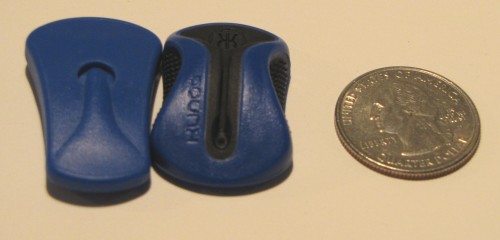 The Klingg is 1.34 inches by 0.87 inches and weighs 1 once. It is currently available in eight color combinations. I received the rather tame blue and black model.
To use the Klingg, you separate the two halves, place the cord of your headphones into the receiving slot on the front portion, place the backside of the device inside your shirt and then place the front piece over the back piece on the outside of your shirt. Just a note here, given the small size of the opening for the cord to slide into on the Klingg, it may not accommodate all cord sizes.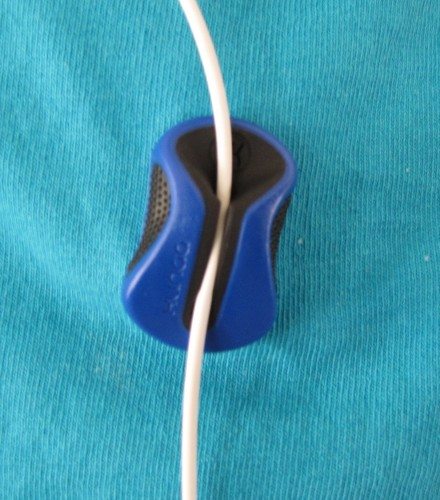 As you can see from the picture, the Klingg is securely attached to my shirt and holding my earphone cord. I was pleasantly surprised during my workouts that the Klingg did not bounce around a lot, even when I was wearing loose fitting shirts. The Klingg stayed in place and kept my earphone cord in place.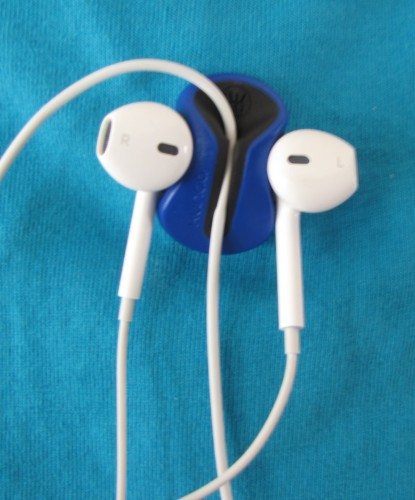 A nice feature, or side product of using magnets to hold the Klingg together, is that the magnets are powerful enough to hold a lot of different types of earphones to the Klingg when they aren't in your ears.
So, why don't I love this product? Basically for me it is a convenience factor – having to attach then remove the Klingg for each workout. My workouts only last an average of one hour, and maybe I'm being a little lazy, but I just don't want the hassle.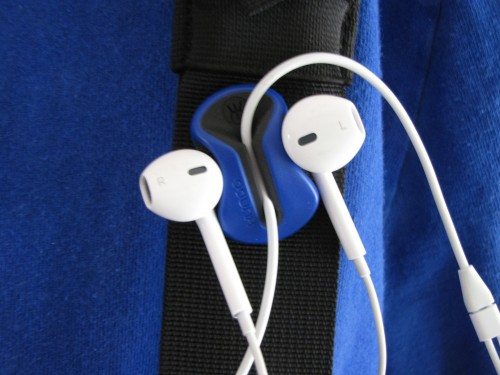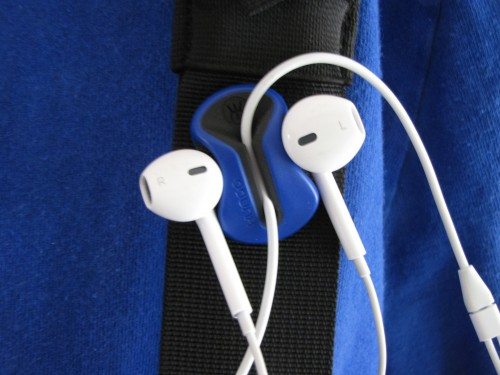 All of that being said, I did find a way to use the Klingg in my everyday life. I found that it is great to put onto the strap of my everyday carry bag to keep my earphones and the cord in place.
Whats my bottom line then? The Klingg is a high-quality product that does exactly what it is advertised to do. The weight and size are great and was unintrusive during my workouts. If you need something to keep your earphone cord in check, the Klingg does it well. The price may be a bit of a turn off, but as you can see, the Klingg does offer some flexibility in how you can use it.
Some of our links in posts like this one are affiliate links, which means that we may receive a small commission on purchases at no cost to you.
Product Information
Price:
$19.95
Manufacturer:
Klingg
Pros:

Easy to Use
Size and Weight
Does what it is advertised to do

Cons: