We use affiliate links. If you buy something through the links on this page, we may earn a commission at no cost to you. Learn more.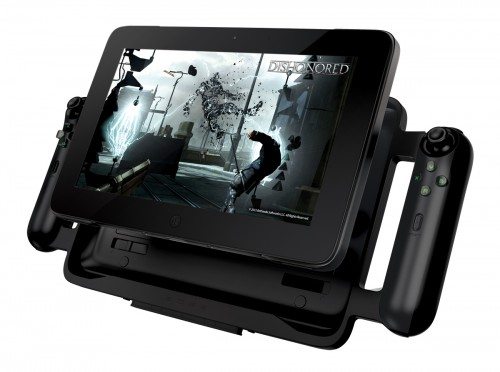 Razer has been known for years for their gaming peripherals. However, at CES 2013, Razer debuted something completely different: the Razer Edge gaming system. Designed specifically for PC gamers, the Razer Edge is a tablet that is capable of playing the latest PC games. It runs Windows 8, which means you get a fully-functioning 10-inch tablet which boasts specs greater than any other tablet on the market to date. But it doesn't stop there, as Razer has come out with accessories for the Edge that truly make it unique, notably, the Gamepad Controller. This is what caught my eye, as it really turns the system into more than a tablet. Playing one of my PC shooter games on the Edge would be near impossible without this controller!
The Razer Edge is set to ship in March with several versions available.  The 64GB Razer Edge will retail for $999, while the Razer Edge Pro starts at $1,299 for the 128GB version and $1,449 for the 256GB version. The Gamepad Controller is sold separately for $249. Razer has several other accessories to add to the experience as well, which means you may spend over $2000 for a truly portable PC gaming system. To some though, the portability may very well justify the price.