We use affiliate links. If you buy something through the links on this page, we may earn a commission at no cost to you. Learn more.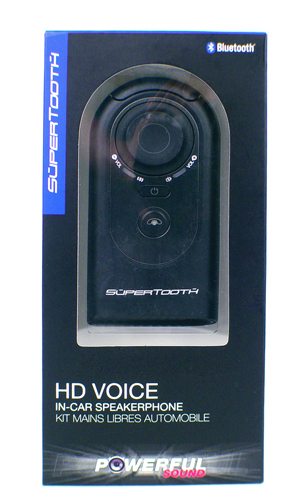 Not too long ago I had a few Bluetooth earpieces that I mainly used  while driving. I had a few Motorola ones like the H700, plus I have still been using the Plantronics Voyager that I reviewed some time ago that I really enjoy. However, my problem was often that I didn't have the earpiece on when I received a call when I was driving.  would have to fumble to find it in my car, maybe turn it on, fold it open, and then place it in my ear – all the while was I was trying to keep my eyes on the road. More often than not, I would miss the call and have to redial the number.
Then came along Bluetooth speakerphones like the HD Voice In-Car Speakerphone from SuperTooth. What a convenience to have a Bluetooth speakerphone in your car without the hassle of wearing an earpiece – and feeling awkward when wearing the earpiece and not being on a call. At least with the HD Voice, it just sits on you car's visor out of the way and ready to be used.

The HD Voice comes with a USB-to-microUSB cable, a USB car charger, a manual, and Quick Startup Guide.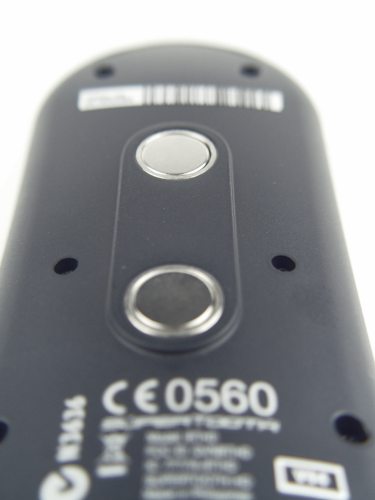 The HD Voice has two small powerful magnets on the bottom of the device which attaches to a decent sized hefty metal clip making removing and attaching the device simple and portable.  You just slide the clip onto the visor, then you can easily remove the Voice to store it when you park the car.
Pairing with the HD Voice was really simple.  Everything paired rather smoothly without any problems.
The HD Voice uses a Lithium-Ion battery which has excellent battery life.  To conserve the battery, it puts itself in standby after 5 minutes of not detecting your phone and will power back up when it later detects a paired phone.  Their website states that you can expect 20 hours of talk time and 1000 hours of stand-by time. It's been going on three weeks since I first fully charged it, and it prompts me that it is still on Medium when I check the battery level. Obviously, if you find yourself talking a lot with it, then you will use up more battery power faster. I have used it moderately, so the charge is still pretty good. I'm sure in another day or so the battery will be exhausted and need to be recharged, but for now I've noticed it has a long battery life.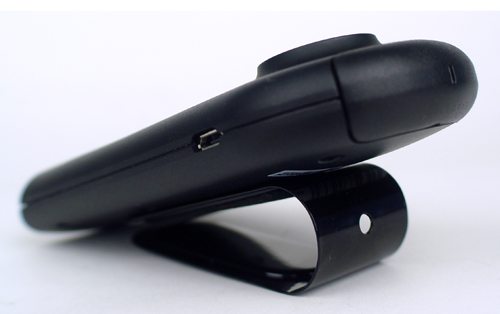 Seeing how good the battery life is, I just always leave it powered on, but remember the HD Voice auto automatically re-connects to your phone. And it announces it, too.
The first few times I heard the announcement, it startled me pretty good, since I keep the volume turned up loud.  When you open the door to your car and a loud voice tells you "connected to phone" then "two phones connected", it will wake you up in he morning. Some might find it kind of cool when you open the door while you are in a parking lot and your car makes the announcement. Makes you feel special. 🙂  And you'll always know right away if the HD Voice is on as you get into the car.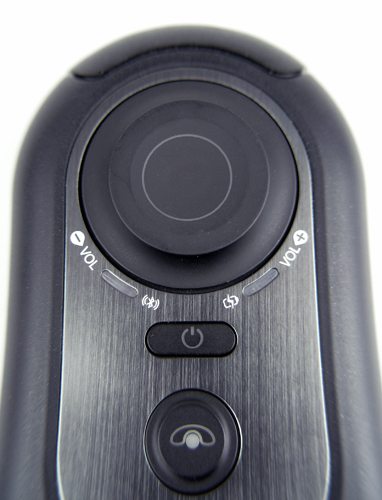 The HD Voice has a very simple setup with its buttons. There is a huge volume knob at the top, a Power button, and an Answer/End Call button. I am concerned with the Power button and the Answer being so close to one another. A couple of times I accidentally  hit the Power button instead of the Answer button. Generally, I can feel where buttons are on my phone and can press the right buttons without looking, but I have to be careful with the HD Voice since the buttons are so close together, at least until I become more familiar with the layout of the buttons.
There are numerous features that the HD Voice offers that  I really enjoyed, such as the ability to be paired to 2 different phones. The manual says that it can pair up to 8 phones. This is good for me since I have a Samsung Galaxy S2 and Galaxy S3 that I carry with me all the time, and I can use the HD Voice for both my phones without having to turn one phone off and pair again and then vice versa. The HD Voice can import your contacts from your cell's phonebook, so it will announce the name of the person calling you if they are in the contacts. I thought that was a pretty handy feature.
Since the HD Voice is A2DP, it can stream music and announce turn by turn directions from your cell phone's navigation app.
It may not provide huge stereo music sound like some cars with built-in Bluetooth in their stereo head unit,  but if you want to stream podcasts from your phone, then this is perfect.   I tried it with music and the sound was decent, but not enough for a house party, though.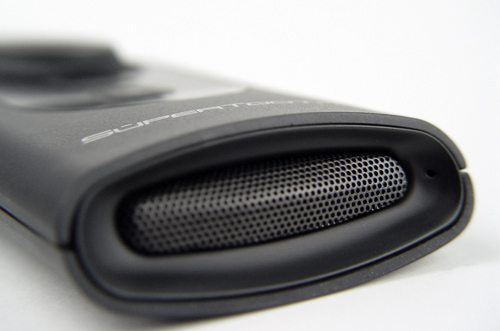 The HD Voice doesn't send the sound through your car's speakers.  It has two 5 watt speakers that produce quite a bit of volume. As loud as it is, there is still the unmistakable hollow sound that is coming from a small device like this.  The device also has two microphones for better call quality.
I was on a call with my wife on the HD Voice and asked her how it sounded on her end. She said the call was clear, but she could tell that I was on some kind of  hands-free speakerphone. That's to be expected. However, on my end, the sound was kind of flat and monotone. I was expecting a crisper sound, especially with two speakers.
On SuperTooth's website, they offer a free 6 month trial of their HandsFree Assistant. It is a service through Dial2Do, which kind of reminds me of Apple's Siri or Samsung's S-Voice. I have the Galaxy S3 and have never really used the S-Voice. I found it easier for me to dial a number or compose a text or email by myself. It might be useful for some but I haven't made that leap yet. The HandsFree Assistant through Dial2Do offers things like composing and sending emails and texts, writing Facebook and Twitter posts, all with your voice. It can also read your emails and texts.
I signed up and subscribed to the 6 month free trial; however, when I tried the service, I didn't get any response from the system. I tried the troubleshooting steps from the manual, but it's still not working.  I may have to contact their customer service to try and troubleshoot this problem.
Along with the HandsFree Assiatant, the HD Voice has Voice Commands that you can use to check the battery status, to make, answer, reject, hangup, redial a call, and more. This is done by pressing the large volume button on the front of the HD Voice. Unfortunately, I tried using this feature, but all I got was the message "Not supported by phone."
Editor's Note: There are two version's of this product. The HD and the HD Voice. The HD Voice does not support voice commands or the Dial2Do feature. The difference between the HD-VOICE ($89, features ability to announcing things in 12 languages) and the HD ($129, features Dial2Do service allowing users to send messages via voice).
I won't give bad marks for this product just yet. It could be a setting on my phone or something not connected or calibrated that may be the cause of it not working. But I won't know that until I contact SuperTooth on this issue. But in retrospect, I really don't see myself using these functions at all, since it is quicker for me to just press the power button if I want to hear the  battery status or pull over and write a text or email from my phone.
But for what I really use it for, a speakerphone, it is, hands-down, a great addition to my phone while driving. And the fact that I can remove it from the visor clip with ease and take it anywhere with me makes it even better.  With all its bells and whistles, sometimes the simplest feature is the best feature.
Finally, the HD Voice has the ability to upgrade the firmware though the USB port located on the side by connecting  it to a computer or laptop.

Product Information
Price:
$89.00
Manufacturer:
SuperTooth
Retailer:
SuperTooth Store online store (US only)
Pros:

Auto connect
Loud speaker volume
Two 5.4 watt speakers
Dual microphones
HandsFree Assistant
Voice command
Long battery life
Additional features through Dial2Do.com
Magnetic attachment to metal clip
Compact and portable

Cons:

Speaker sound is flat and monotone
Power button and answer/end-call buttons too close together