We use affiliate links. If you buy something through the links on this page, we may earn a commission at no cost to you. Learn more.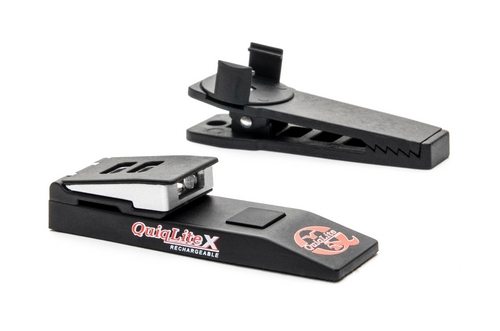 There are a boatload of flashlights on the market these days, so to get my attention, a flashlight needs to be a little different, a little unique, and a lot cool. The QuiqLiteX from Quiqlite has piqued my curiosity in all three of those categories. The QuiqliteX is a USB rechargeable, dual-LED, hands-free light source designed to be clipped to a shirt pocket or anywhere else that you would need it. Although marketed mainly towards law enforcement, first responders and emergency aid workers, the QuiqLiteX would be a great addition to anyone's gear bag. The QuiqLiteX comes in 3 models: dual white LEDs, red/white LEDs, or a blue/white LEDs. QuiqLiteX has output ranges from 20 all the way up to 150 lumens, depending on the model. Not only does the QuiqLiteX have 2 light output levels, but it also has an emergency strobe feature that will flash for up to 5 hours on a charge.
The QuiqLiteX comes with a clip and a micro USB charging cable.  It's $36.95 at the QuiqLite website.