We use affiliate links. If you buy something through the links on this page, we may earn a commission at no cost to you. Learn more.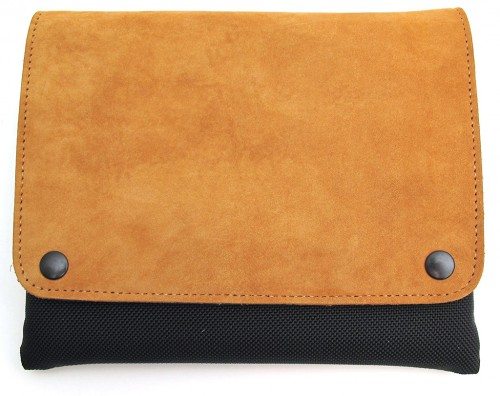 It's no secret that I am a big fan of San Francisco based WaterField Designs bags and accessories. I've been carrying one of their zippered wallets for over 7 years and have yet to find another one that I like better. That's why I was more than happy to accept their offer to review their new CitySlicker iPad mini sized case. Let's see if this case lives up to the quality I've come to respect from WaterField.
Note: Images can be clicked to view a larger size.
The CitySlicker is available for the full sized iPad, Macbook Air, Macbook Pro and now the iPad mini, which I'll be reviewing here.
The snap leather flap comes in your choice of several styles including distressed, naturally-tanned Black, Chocolate, Grizzly, Nubock, or Peruvian leather. I was sent the Nubock version which has a luxurious soft suede-like feel, that causes me to caress it every time I pick it up.

The flap is two sided, with Black leather underneath. Two metal snaps hold the cover closed.
The case itself is constructed of Black Ballistic nylon with stretchy knit pockets for storage.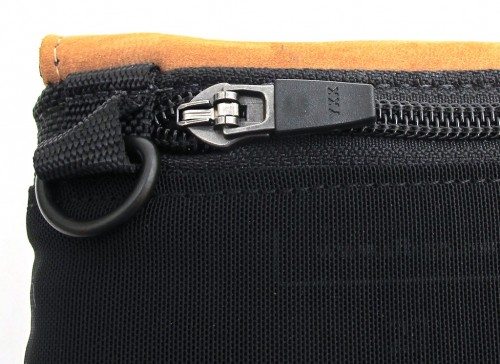 You have an option of adding a handle and/or D-rings for a shoulder strap. I went with just the D-rings. The rings are nice and small, so they don't get in the way if you only want to attach a shoulder strap every now and then.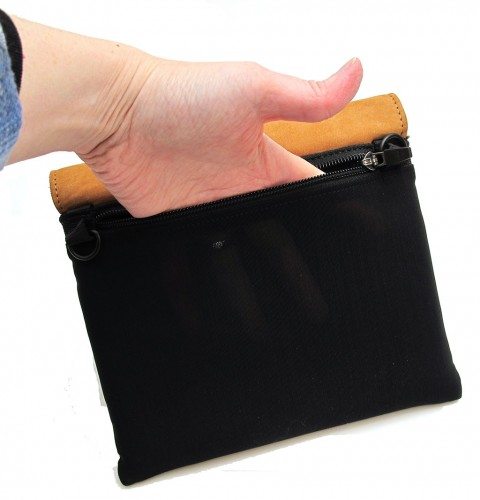 Other than the inside compartment for the iPad mini, the next largest sized storage area is the zippered knit pocket on the back side of the case. You can't really see it in the image above, but the pocket is semi see through. The pocket is about 6.5 wide x 5 inches tall. The YKK zipper used to secure the contents of the pocket opens and closes smoothly and easy to use.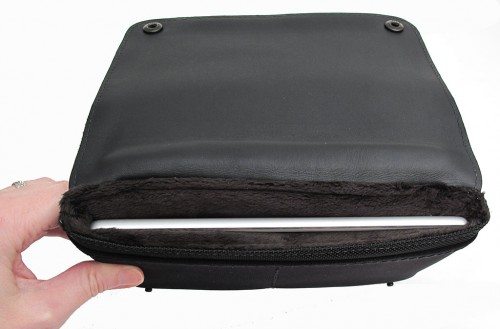 When you lift the leather flap, you'll see the main compartment that has been designed to protect your iPad mini. It offers three layers of protection—impact-resistant plastic + high grade neoprene + padded liner.
This case cradles the mini in a padded fur lined pocket which will protect it from every day travel abuse. Although I don't want to try it myself, I bet I could drop my mini (while in this case) from shoulder height and it would not sustain any damage.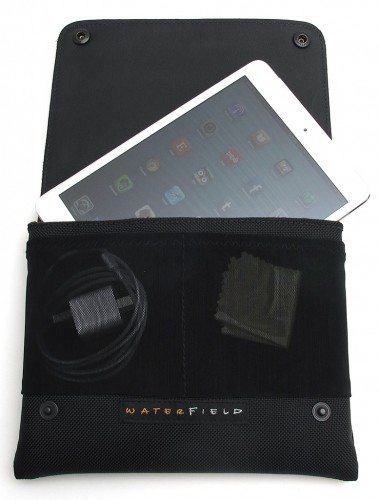 My iPad mini fits very snuggly in this case. So snuggly, that if you use a play through case with your device, you'll have troubles getting it to fit into the CitySlicker. I tried it with the KHOMO Super Slim Smart Cover which Janet and I reviewed a few days ago. That's the thinest full case I have and it added too much bulk to allow the mini to fit into the CitySlicker pocket. However I did find that Apple's Smart Cover is acceptable – barely. It is a tight fit though.
As you can see in the image above, there are 2 more storage pockets under the leather flap. These are open topped pockets and are made of the same semi see through stretchy knit material as the zippered pocket on the back of the case. The two pockets are about 4 inches wide by 3.5 inches tall. If I had my way, I'd remove the stitches down the center and make it just one large pocket. I think it would be more useful as one pocket instead of two. As is, they can't hold much because they aren't tall enough to accomodate a full sized pen, a Field Note or Cahier notebook, iPhone or wallet.
Other than my complaint about the two pockets under the flap, the CitySlicker is a very well made case that will protect your iPad mini from whatever rough treatment you can dish out. It's also an eye catcher and will have people asking you where you got it.
WaterField Designs continues to impress me with their products and I have no problems recommending the CitySlicker.
Product Information
Price:
$89 ($99 for iPad version)
Manufacturer:
WaterField Designs
Pros:

Padded and protective
Offers 3 additional storage pockets
Available with handle and/or shoulder strap attachements

Cons:

Pockets under flap are almost too small to be useful