We use affiliate links. If you buy something through the links on this page, we may earn a commission at no cost to you. Learn more.
 2012 became a year for celebrity-endorsed headphones and based on what ON-EARZ is releasing, 2013 will continue that trend. ON-EARZ is a European company known for its trendy design and marketing of headphones and other accessories. They have used the 2013 Consumer Electronics Show to announce their entry into the US market with the "Listen with the Legends" series headphones inspired by three icons of cool: James Dean, Elvis Presley and AC/DC. While the specs of the headphones are identical, the materials used are specific to each headphone design.
The James Dean model is wrapped in denim with a red jacket fabric that mimics the 1955 "Rebel Without a Cause" actor's style. The Elvis model gets a classic, retro brown material look and feel. One wonders why they didn't go with the white, Vegas look, instead. Finally, there is AC/DC's metal heaven headphone with its black on black leather-look topped with chrome studs embedded into the headband.
David Peroo, Product Development Manager of ON.EARZ states that they are excited about this bold entry into the US market. "We're [ON.EARZ] thrilled to showcase our 'Listen with the Legends' line this year. We've worked hard to develop a product that precisely embodies these generational icons; their personality, flare, and style.  These headphones offer the user the best of the past and present: the latest in technology wrapped in a vintage design."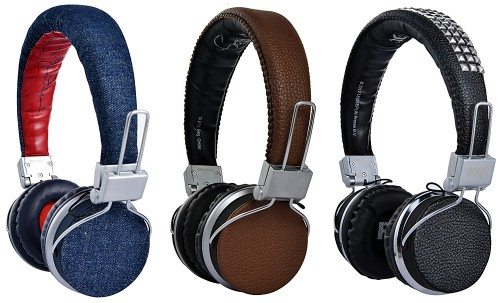 Each headphone is foldable and has some impressive specs for the price:
Driver: 40mm
Impedance: 32 Ohm
 Sensitivity: 108 dB +/- 3dB
Frequency Response: 20 Hz – 20 KHz
Maximum Input Power: 50 mW
They are priced at $99.99 US and will be available soon.