We use affiliate links. If you buy something through the links on this page, we may earn a commission at no cost to you. Learn more.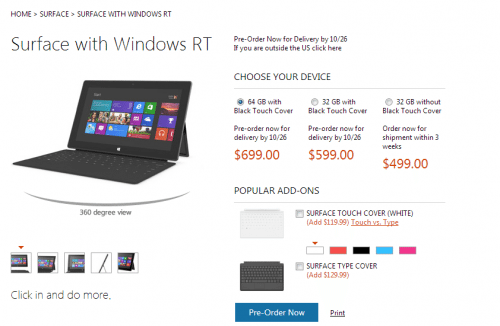 Microsoft has its Surface Tablet with Windows RT available for pre-order on their store. In the US, pricing starts at $499 for the 32GB model without a cover going up to $699 for the 64GB model with included Black Touch Cover.  Purchased separately the  Touch Cover in white is $119.99 and the Black Type Cover is $$129.99, so it looks like you save $20 if you purchase the Tablet/Touch cover combo.  Prices include free shipping.
Australian prices are (as usual) not quite as good with the 32GB at $559 inc gst and the 64GB with cover at $789 inc GST and orders arriving by the 6th of November.
US delivery for the combos is expected to be by 26 October with the 32GB tablet alone within 3 weeks.
Who's going to pre-order one? Check the latest video ad after the jump. 
Microsoft has a released a pretty natty advertisement. Ok, it's no Gangnam Style 🙂 , but it's got a little bit of everything and shows that Microsoft isn't just aiming this at the corporate market.