We use affiliate links. If you buy something through the links on this page, we may earn a commission at no cost to you. Learn more.

We've all heard of HD televisions and HD cameras, but what about an HD flashlight? My curiosity was aroused when I saw the Bushnell HD flashlight mentioned on a website. The writer talked about a square light beam and I just had to try one for myself to see if a flashlight could really earn the overused title of HD (Hi-Def).
Note: Click the images in this review to see a larger view.
Flashlight Specs
Output: 165 lumens
Runtime: 90 minutes
Bulb: Luxeon Rebel
Bulb life span: 50,000 hours
Flashing outputs: Strobe
Waterproof: Yes
Construction material: Aircraft-grade aluminum
Finish: Hard-anodized
Special Features: Find-Me feature and battery-life indicator
Batteries: Two 3-volt CR-123A Lithium (included)
Dimensions: 9.2-inches long; 1.5-inch bell diameter; 1.25-inch diameter shaft
Weight: 9.8 ounces without batteries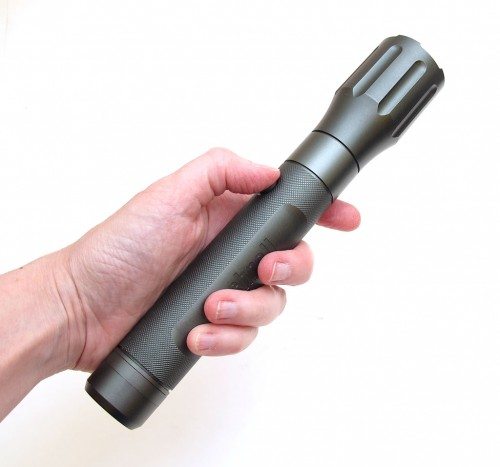 This flashlight has an aircraft-grade aluminum housing with a gunmetal colored hard-anodized finish. As you can see, this isn't exactly a compact torch. At a little over 9 inches long, it's not going to fit in your pocket.
In hand it has a nice heft and good balance. A large knurled handle provides a secure grip on the light.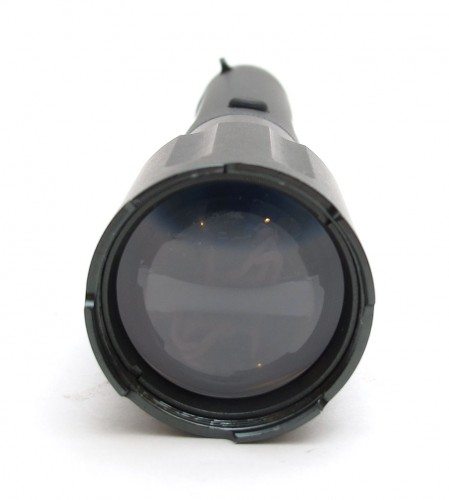 The light end has a domed glass lens.
There are two controls on this flashlight. A main end cap power button and a secondary switch on the handle.
While the opposite end has the Find-Me glowing "B" / clicky power button on the tail cap.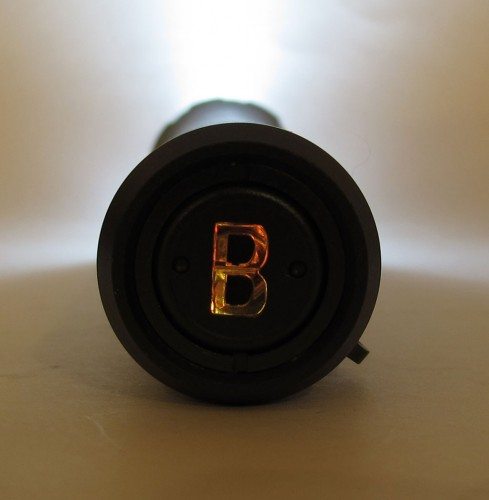 "B" stands for Bushnell of course. The B shaped LED lights up to indicate the battery level as well as providing a way to find the flashlight in the dark. In the image above, you can see that the B is Red. When battery life is good, the LED is Green. If it's Red like you see above, that is supposed to mean that you only have 10 full minutes of light left.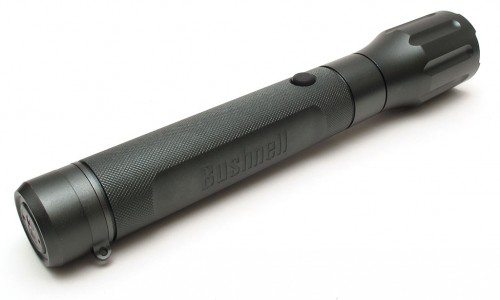 The other switch is located on the handle. It is a mode selector switch. When the light is powered on (by pressing the tail cap button), the secondary button can be pressed to toggle the light on, strobe and off. When the light is off, but the power button is on, the light isn't really off… Read that carefully… If the B is glowing, but the light isn't shining, it's not really turned off. You have to use the tail button to turn it completely off. I can see this being the cause of accidental battery drain.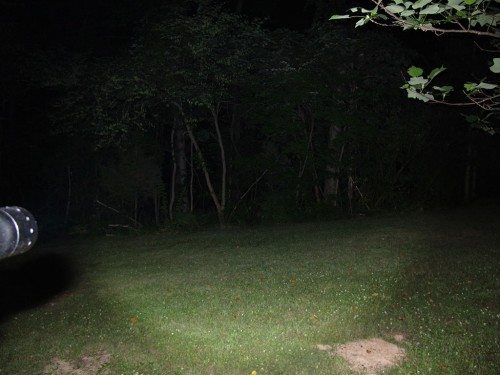 Ok, on to the real reason why I wanted to check out this particular flashlight… As we know, most flashlight beams are circular like we see above.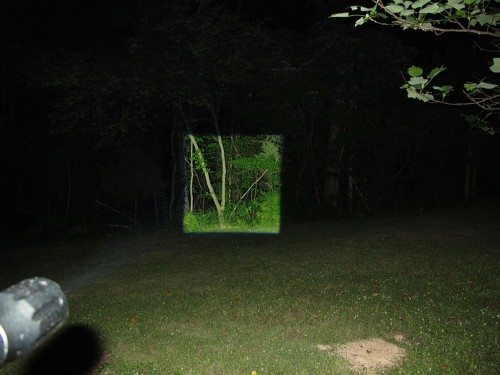 The Bushnell HD's beam is a perfect square. The two images above were taken within seconds of each other, pointed towards the wood line of my yard. You can barely make out the Y shaped tree in the image from traditional flashlight, but the tree is fully illuminated using the Bushnell HD flashlight. To be as fair as possible when comparing the HD with a traditional flashlight, I used the LED Lenser P7 because it provides 167 lumens and the Bushnell HD provides 165 lumens.
It takes a bit to get used to seeing a square beam of light. It's almost disorienting in a strange way. Unlike traditional lights that have a brighter area in the center, that tapers off at the edges, the square beam of Bushnell HD has the same brightness from edge to edge. This s great because you can see very clearly in the area you're pointing the light. But, it's probably not a good choice as a tactical flashlight because the bright beam makes the area outside the square appear very Black, allowing objects / people to go unnoticed. The light kind of gives you tunnel vision in that respect.
I like the Bushnell HD because it provides a clearer and brighter beam of light than all my other flashlights. It's great for trying to see critters in the wood line at night. The flashlight feels good in hand is simple to operate. As long as you remember to turn it completely off with the tail cap button when you're done using it. The thing I dislike most about this light is that it runs on  two 3-volt CR-123A Lithium batteries instead of good old AA's. CR-123A's are expensive unless you buy in bulk and are not as readily available as AA's. Since the batteries only power this light for about 90 minutes, that means you'll be swapping cells on a regular basis. At least they include your first pair with the purchase of the light.
I'll keep this light around for using outdoors and as a conversation starter, but its size and short battery life will keep it from being a flashlight that I'll grab for every day tasks. I will continue to grab the LED Lenser P7 to use around the house.
Update 05/26/16
I stopped using this flashlight when the first set of batteries died which was pretty quick after I posted the review. Jeanne has asked about the flashlight on more than one occasion, but I never did buy new batteries for it. I really wish the flashlight could plug in to recharge. I know I can buy rechargeable CR-123A batteries, but I'm lazy and that would mean removing the batteries, putting them in a charger and then reloading them. I do miss the crazy square light beam though and often think about pulling it back out to try it again.