We use affiliate links. If you buy something through the links on this page, we may earn a commission at no cost to you. Learn more.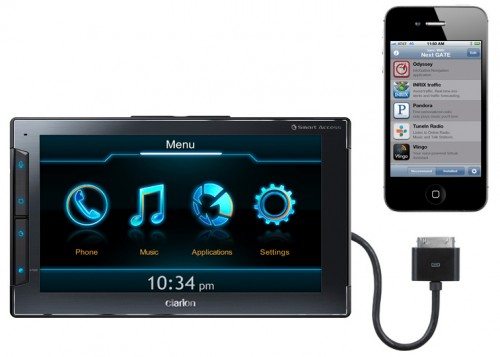 The Next GATE from Clarion is an in-vehicle intelligent controller for  your iPhone 4/4S.  "Clarion is proud to launch such an innovative product that enables consumers to conveniently access their information and communicate while on-the-road," states Frank Pierce, Vice President, Clarion Corporation of America. "The Next GATE offers an in-vehicle information solution delivering value-added connectivity for exclusive in-vehicle applications."  You'll be able to access apps on the iPhone or use original apps developed for the Next GATE on the 7″ WVGA LCD touch screen.  The device is equipped with a microSD slot, a built-in speaker, blue LED buttons and indicator, auxiliary audio output, built-in microphone, an optional external microphone and a 7-inch digital WVGA touch panel LCD monitor.  You can even charge your iPhone through the provided cable.  The Next GATE has Bluetooth for hands-free calling, with voice activation and voice dialing.  It's all plug-and-play – you won't need professional installation.  The Next GATE has a suggested price of $269.99 and is available at Amazon, Best Buy, and Crutchfield.
Read the full press release to learn more about the Next GATE.